RIT student Emily Mahoney awarded prestigious Goldwater Scholarship
Third-year chemistry student among fewer than 400 recognized nationwide this year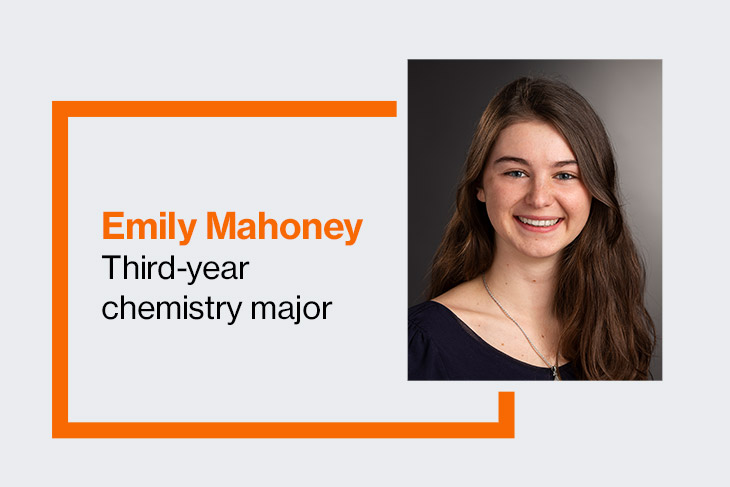 A Rochester Institute of Technology student has been awarded one of the preeminent scholarships for undergraduate students in the fields of the natural sciences, engineering and mathematics. Emily Mahoney, a third-year chemistry student from Cazenovia, N.Y., is one of 396 students nationwide named 2020-2021 Goldwater Scholars. The award is based on academic merit and research experience, and virtually all intend to obtain a Ph.D. as their highest degree.
Mahoney has been conducting research in the laboratory of Hans Schmitthenner, research faculty in RIT's School of Chemistry and Materials Science, since her freshman year. The research focuses on synthesizing targeted molecular imaging agents for the detection of various cancers, including a dual-dye system for use in enhanced photoacoustic imaging of breast cancer. This research has resulted in presentations at the RIT Undergraduate Research Symposium and authorship on a poster that was presented at the 2019 World Molecular Imaging Congress. Mahoney is also a coauthor on a journal article published in Photochemistry and Photobiology Science.
"I was so thrilled to have been considered for this award, and now being chosen is a true honor," said Mahoney. "It has greatly improved my confidence in my research abilities and drives me to work even harder in exploring my field. I am overjoyed and would like to thank my professors, mentors and family for being the best support system I could ask for."
Mahoney spent the fall semester abroad at the University of Oxford studying advanced organic synthesis and thermodynamics and kinetics. She is a member of the RIT Honors Program, the Chemistry Research Scholars Program, a RIT Recognition Scholar, John Wiley Jones Outstanding Student in Science and an RIT Outstanding Undergraduate Scholar. Mahoney has received other awards including a Richard Rose NRS Scholarship, College of Science Alumni Endowed Award, and School of Chemistry and Materials Science Outstanding Second Year Award.
Outside the classroom, Mahoney has served as Student Government College of Science Senator and Director of Programming. She was also the treasurer and fundraising lead for the RIT College of Science Student Advisory Board. She has been in an RIT a cappella club, is a member and secretary of the RIT Alpine Ski Team, and while at Oxford was a member of the St. Edmund Hall Boat Club.
This summer, Mahoney tentatively plans to be conducting research at the Memorial Sloan Kettering Cancer Research Center. Her long-term plans include obtaining a Ph.D. in organic chemistry and conducting research to help solve pressing global problems in biological chemistry or sustainable materials.
In partnership with the Department of Defense National Defense Education Programs (NDEP), the Barry Goldwater Scholarship and Excellence in Education Foundation announced this year's winners from a pool of 1,343 nominees. Since 2005, RIT has had a total of 29 Goldwater Scholars and seven honorable mentions.