RIT student entrepreneur wins business competition
Seven RIT student teams presented their ideas to distinguished panel of judges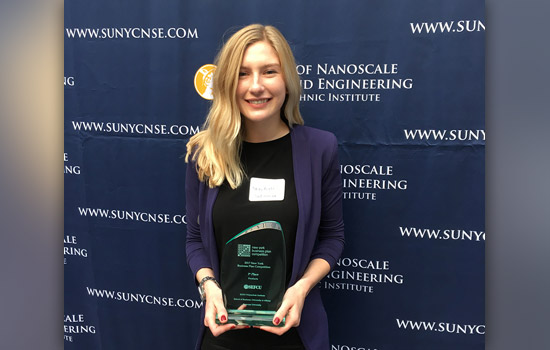 Dana Wolcott
Kailey Bradt, a student in RIT's Master of Science in product development program from Corning, N.Y., won first place and $10,000 in the "Products" category at the eighth annual New York Business Plan Competition, sponsored by SUNY Polytechnic Institute and the University at Albany. The competition was held in April at SUNY Poly's Albany NanoTech Complex and featured 103 teams that were selected to compete after making it through regional semifinal rounds that were held across the state.
According to Bradt, her entry—OWA Haircare— is a waterless shampoo that saves water, plastic and energy. All ingredients have a safety rating of 1, the safest rating that can be achieved on the Environmental Working Group's Skin Deep database. The ingredients are naturally derived, not sourced from animals, making the product completely vegan.
"Winning this competition really meant the world to me," said Bradt, a graduate of RIT's chemical engineering program. "I've been talking about starting a sustainable cosmetic company since I was 16. When I had the idea for this shampoo, I really felt like the time was now. I decided to leave my job in Los Angeles, return to RIT for graduate school, and create a business. I received a lot of positive feedback so I decided to take it a step further and apply to the New York Business Plan Competition. I can't even begin to describe the moment they announced OWA Haircare as the products category winner, it seemed like a dream. This is validation that there is a business around my idea and only makes me more motivated to continue chasing my dream."
Follow OWA Haircare on Facebook and Instagram at owahaircare.
In addition to Bradt's win, seven other student teams from Rochester Institute of Technology presented in five categories.
They were:
Advanced Technology category
AWARE—Ethan Kersat and Emmanuel Dodoo
Gaia— Brent Chase and Liam Herlihy. Gaia also won an undergraduate Excellence Award in this category.
Social Entrepreneurship/Non-profit category
B.U.S.— Evan Oslakovich and Sophia Dower
Sheltered Hearts—D'Asia Session
NYSERDA Clean Technology category: Printed PV - James Sinka and Dmitry Liapitch
Services category: The Hive - Adolf Akuffo-Afful, Amber Dillman and Kadijah Williams
"All of us at the Simone Center are very proud of the achievements of Kailey Bradt and all of the other students who have worked so hard to prepare for this competition," said Dana Wolcott, lead innovation coach at RIT's Albert J. Simone Center for Student Innovation and Entrepreneurship. "Competitions like these give our students opportunities to pitch their businesses to industry experts and other entrepreneurs, help them determine the viability of their innovative ideas and to see how their plans stack up against students from across New York state. Entrepreneurship is important to RIT students and we are happy to help them support them in every way."
A panel of national venture capitalists, angel investors, and investment bankers selected the winning teams and offered invaluable feedback for each team that took part in the competition.
Students from 60 colleges and universities competed in the overall competition, including the following institutions that were represented in the final round of the competition—SUNY Polytechnic Institute (including teams from both its Albany and Utica campuses), Syracuse University, Clarkson University, Binghamton University, RIT, Cornell University, Marist College, Siena College, SUNY Geneseo, University at Buffalo, Hofstra University, University of Rochester, United States Military Academy, Columbia University, Farmingdale State College, Fashion Institute of Technology, New York University, University at Albany, Buffalo State College, Canisius College, CUNY Zahn Innovation Center, Daemen College, Dutchess Community College, Hobart and William Smith Colleges, Long Island University, Medgar Evers College, Mt. St. Vincent, Pratt MWP, Rensselaer Polytechnic Institute, Stony Brook University, SUNY Cobleskill, SUNY New Paltz, SUNY Plattsburgh, Utica College, Wells College, and CUNY Baruch College.
Since the competition's inaugural event in 2010, more than 2,100 student teams from 75 New York state colleges and universities have competed, claiming more than $2,300,000 in cash and in-kind prizes. The competition enables each student-led team to explain their innovation in a set amount of time, with teams competing against others whose products, services, or developed ideas fall within a similar category, or track.
More information about the 2017 New York Business Plan Competition can be found at: http://www.nybplan.com.
Topics