RIT students and prospective employers network at the Fall Career Fair
A record 5,260 students and alumni met with more than 260 employers from across the U.S.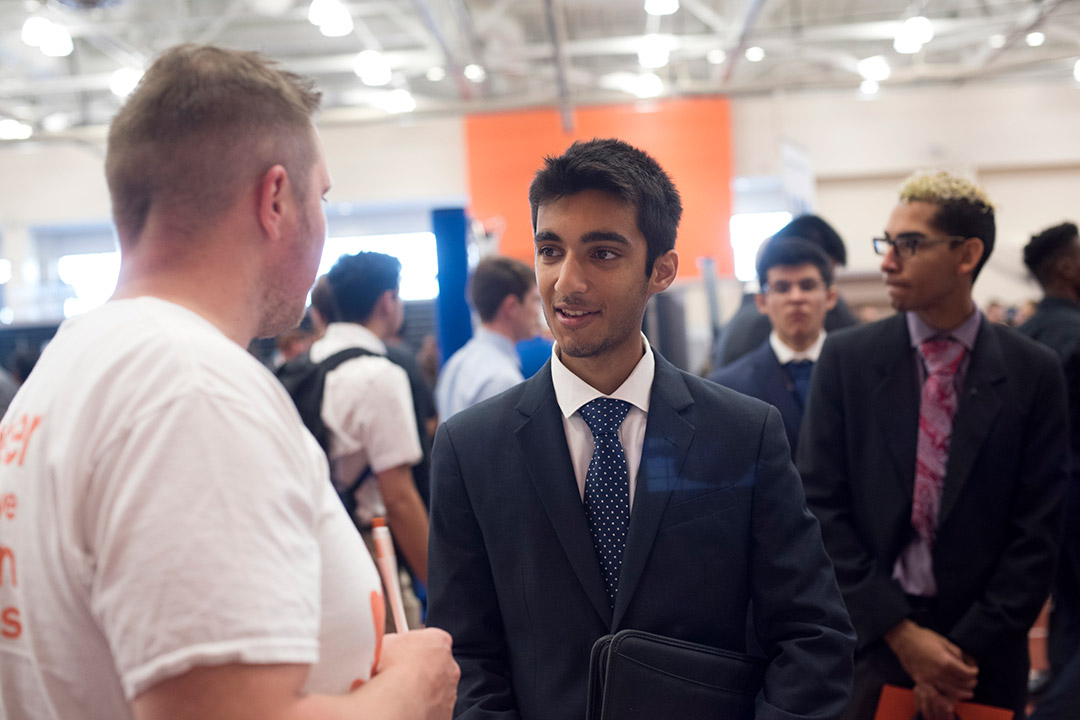 A. Sue Weisler
Networking is the key that opens many doors to permanent or co-op employment, and it was on display in many ways at Rochester Institute of Technology's Fall Career Fair. A record 5,260 RIT students and alumni attended the fair in the Gordon Field House on Wednesday, where more than 260 employers from across the U.S. met to recruit skilled, diverse RIT students.
Networking began Tuesday afternoon, when employers attended The Affinity Reception with underrepresented student groups.
One of those students, Andrea Green, from the Rochester suburb of Pittsford, is a member of Women in Business. She plans to graduate in December with a bachelor's degree in new media marketing, and she talked with several employers, hoping to land a job as a digital marketing specialist or strategist.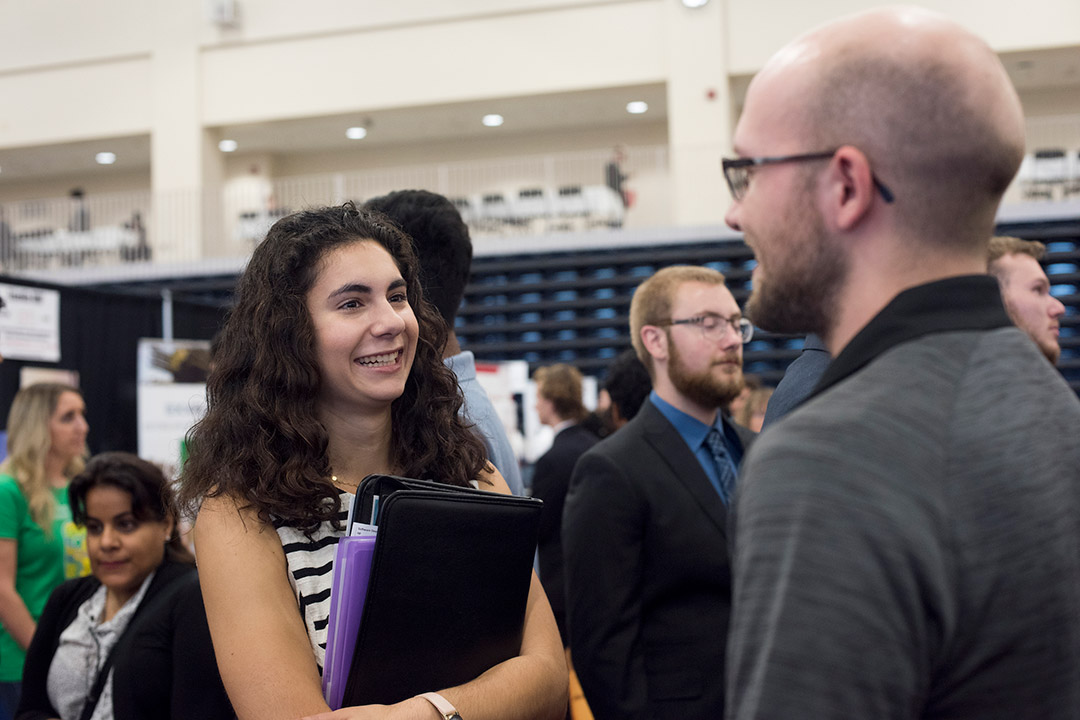 A. Sue Weisler
"I'd love to stay in the Rochester area," she said, but she wasn't limiting her options.
During the actual career fair, she visited several prospective employers. First was a recruiter from Wegmans Food Markets, who told her they were only looking for students interested in co-ops at this time. Still, Green handed a recruiter her résumé, he put a sticky note on it and promised to pass it along to their marketing department.
"I thought at least I'd try," she said.
Green has attended previous job fairs, and although they didn't directly result in a co-op, they did help her improve her soft skills.
"It showed me how to approach recruiters, how to follow up with them and how to maintain those networking relationships," she said.
Ansel Amanna, a third-year student from New Hartford, N.Y., didn't expect to see his friend, Yosef Boutakov, who graduated from RIT in the spring with a degree in finance and economics, recruiting for the United States Postal Service at the fair. They had been in the Honors Program together in the Saunders College of Business.
"I had no clue you were going to be here," Amanna said, then asked about possible co-op positions the postal service offered in supply chain management, one of Amanna's two majors.
Boutakov, one of 411 RIT alumni returning to recruit for their companies during the fair, told Amanna the benefits of working for the postal service, but said their co-ops that would fit him are available only in the summer, so he suggested Amanna touch base at RIT's career fair next spring.
"I'm definitely going to apply for that," Amanna said. "It was great seeing you!"
It was the first career fair for Liam Barry, a second-year computer security major from Camillus, N.Y., who came dressed in a suit and orange bow tie.
"This is a lot bigger than I thought, but it's really well organized," he said.
Barry handed out about 10 résumés and was encouraged about his prospects of finding a co-op. "All of the employers had a lot of good things to say about RIT," he said. "One company said they built a branch in Rochester just so they could have a closer connection to RIT students."
Sarah Bruet, a recruiter for Fast Enterprises, a software company based in Centennial, Colo., said her company has attended RIT's career fairs for nine years and have eight RIT alumni working for them full-time.
"RIT students are very strong candidates, very smart, have had great experiences from their co-ops and are better prepared to go out into the real world," Bruet said.
She said alumni have returned to RIT to talk to students about their experience with the company, which is another way they've found students to hire.
"We do a lot of presentations," she said. "At RIT, we speak in classrooms and with student organizations. We meet a lot of students from RIT at those events and take advantage of a one-on-one meeting rather than being one of many we meet at the fair."
Maria Richart, director of RIT's Office of Career Services and Cooperative Education, said at least a third of all RIT students in co-ops continue working for their company on a full-time basis after their co-op ends.
RIT holds other career fairs throughout the year focusing on accounting, civil engineering, work and study abroad, packaging science, liberal arts, and the National Technical Institute for the Deaf.
Video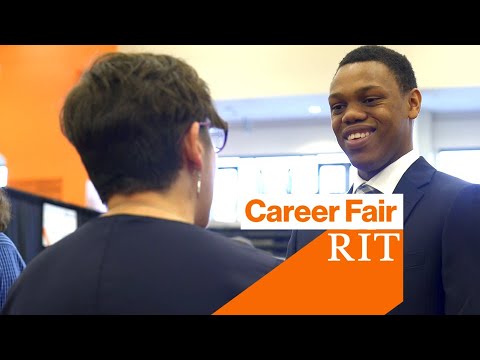 Topics