RIT students receive fellowship award
Two students awarded David Pasto Co-op Fellowship Award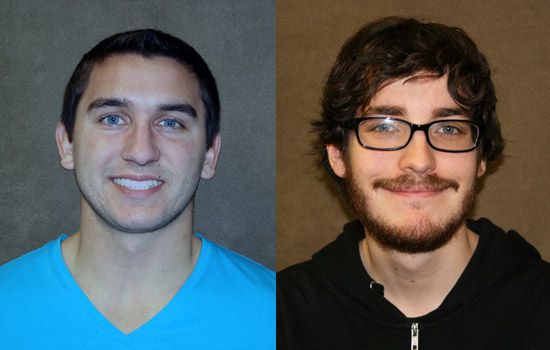 Susan Tontarski
Two RIT students have been awarded a David Pasto Co-op Fellowship Award. The Pasto award is given each year to chemistry students who show an interest in conducting research through RIT's College of Science.
Fifth-year student Kyle Grimaldi, from Gloucester, Mass., and third-year student Anthony Carestia from Leonardo, N.J., were selected as the Pasto Award recipients for the 2011–2012 school year. The students will receive a $3,000 stipend and will spend an entire academic quarter conducting research full-time.
Grimaldi will work alongside Lea Michel, professor, chemistry department, in collaboration with Dr. Michael Pichiero's lab at the Rochester General Hospital Research Institute. His project, "Using Biomedical Techniques to Elucidate the Properties of a Protein Vaccine Candidate," will characterize proteins and evaluate their potential for use in a vaccine used to fight ear infection-causing bacteria.
Grimaldi has worked with RIT's chemistry department since his junior year and has played on RIT's varsity soccer team since his freshman year. He plans to attend medical school in 2013 to continue his education in chemistry.
Carestia will be working for Christina Collison, professor, chemistry department, on "Studies Toward the Total Synthesis of Trocheliophorlide A." His research project will focus on trying to synthesize an unsaturated side-chain within a butnolide compound that is found in soft coral from the Red Sea.
As a previous winner of a summer fellowship award, Carestia spent this past summer conducting research for pharmaceutical company GlaxoSmithKline. Post graduation, Carestia plans to pursue a doctorate in chemistry.
##