RIT students take top awards at Game Dev Challenge
Winners receive total of $50,000 at event hosted by RIT's MAGIC Center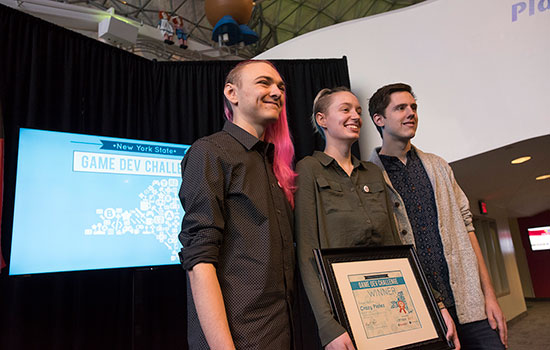 Rochester Institute of Technology students took top honors at the second annual New York State Game Development Challenge held April 12 at The Strong in Rochester, N.Y. The contest, hosted by RIT's Center for Media, Arts, Games, Interaction and Creativity (MAGIC) and sponsored by Empire State Development, presented awards in student and independent developer categories. RIT President David Munson and Empire State Development Regional Director Vincent Esposito were on hand to announce the winners.
Earning first place in the student developer category was Aesthetician Labs, a team of RIT students that includes Noah Ratcliff, a third-year game design and development major from Columbus, Ohio; Aidan Markham, a third-year game design and development major from Rochester, N.Y; and Sam Cammarata, a second-year game design and development major from Holland, N.Y. Their game, Crazy Platez, is described as a high-octane, Rochester-themed game in development that encourages players to race to deliver "plates" to residents and refill tanks before they run out of gas.
Taking second place was Team Odyssey, a group of RIT students that includes Alexander Woodward, a fourth-year game design and development major from Centerville, Ohio; Stephen Callan, a third-year game design and development major from Pittsburgh; Justin Levine, a third-year game design and development major from Somers, N.Y.; and Edward Opich, a third-year game design and development major from Conesus, N.Y. Their game, Odyssey, is a 2D action-adventure shooter being developed for Windows. The game follows the story of a space mercenary exploring a universe slowly descending into chaos. It focuses on storytelling, world-building and fast-paced combat. The gameplay is built around a unique shielding mechanic, and the artistic style expresses a classic pixelated feel.
Other award winners were:
Student developer category: Third place: Rensselaer Polytechnic Institute; Team Tunacat—Fanghong Dong, a second-year games and simulation arts and sciences major from China, and Hongyang Lin, a second-year games and simulation arts and sciences major from China, for Mastery.
Independent developer category
First place: Razbury Games—Dean Razavi, from New York, N.Y., for From Rust.
Second place: Snow Day Software—Colby Breidenstein and Brian Russ, from Buffalo, N.Y., for Hovership Havoc.
Third place: Imaginary Monsters—Peter Lazarski, from Rochester, N.Y., for Abyxsis. Lazarski is a 2005 graduate of RIT's graphic design program.
The challenge, which began Jan. 19 and ended March 1, gathered game ideas from students enrolled in New York state colleges and universities as well as independent developers residing within the state, with an eventual goal of bringing some of these games to production.
Twenty-five entries were received, including 13 from college students and 12 from indie game developers. First-place winners in both categories each won $12,000; second-place winners in both categories each won $8,000; and third-place winners in both categories each won $5,000. The money is to be used to aid in the development and production of their games. Winners will also be included in an on-site incubator at RIT, NYU or RPI for up to one year and will have access to a mentor network. Entrants were judged on their game idea pitch, game prototype, business plan, mentorship plan and development timeline.
The challenge is an initiative supported by Empire State Development and created by RIT, which was recently named one of three Digital Gaming Hubs in New York state. The objective for the Digital Gaming Hubs—which also include RPI and NYU—is to increase the economic impact to New York state by fostering innovation and creating collaborative activities that spur new games or companies as well as providing resources and mentoring to encourage students and entrepreneurs to enter the growing gaming industry. In addition, the gaming hubs will assist existing companies with gaming concepts, technologies and trends and host events focused on assisting the gaming community.
"We are incredibly lucky to have such rich industry talent and network of support throughout the state," said Robert Mostyn, New York State Game Challenge administrator and Digital Games HUB Coordinator at RIT. "Together with our friends and partners we are working to put New York state on the national map of a great place to make games. And this challenge, and the developers that we are going to recognize today, are a very important part of this network—and we are excited to continue growing that today."
Empire State Development President, CEO and Commissioner Howard Zemsky said, "The Game Dev Challenge highlights RIT's emerging role as a digital media hub. By encouraging students and independent developers to design and produce innovative digital games, competitions like these are creating new jobs and opportunities in the Finger Lakes region and across the state."
David Nathanielsz, general manager of Velan Studios Inc. in Troy, N.Y., was one of nine contest judges.
"It was a pleasure to evaluate the submissions," said Nathanielsz. "The range of new ideas among the student entries was impressive. This category demonstrated the talent and creativity of students in our New York state colleges and universities. I can't wait to see how their games evolve and mature over the coming years as they continue to work and push our industry forward. I'm very excited because the future is bright for these students and our industry."
RIT's MAGIC Center is a nonprofit university-wide research and development laboratory and a commercial production studio that assists in efforts to bring digital media creations up to marketplace standards and commercialization. Faculty, staff and student researchers, artists and practitioners come together to create, contextualize and apply new knowledge in a multitude of related fields and disciplines as appropriate not only to STEM or the arts and humanities, but their intersection. RIT's MAGIC Spell Studios, which will move into a new building in the fall, focuses on nurturing and growing new companies and publishing and distributing their projects.
In addition, RIT's game design and development program is consistently ranked among the top in the country, and its alumni are leaders across the technology industry, including in computer science, software engineering, computing and information science and imaging science.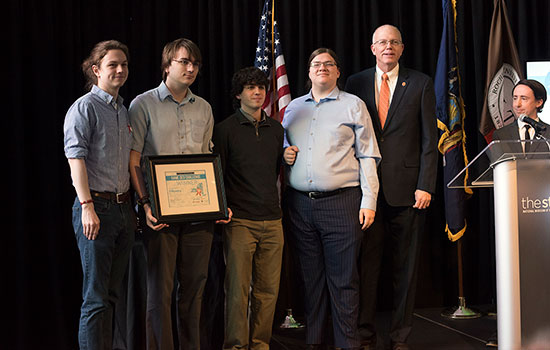 A. Sue Weisler
Video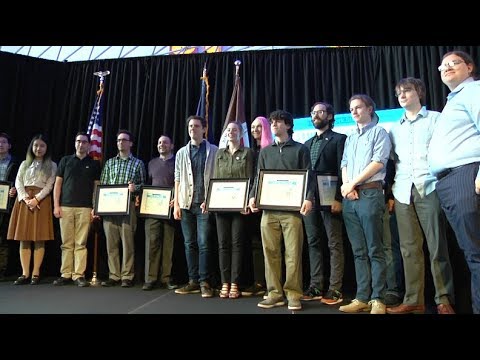 Topics