July 27, 2021
by Shelly Meyer
RIT study explores whether goldfish can identify a 3D object viewed from different orientations
Kaitlin Gunther will present her research at this year's Undergraduate Research Symposium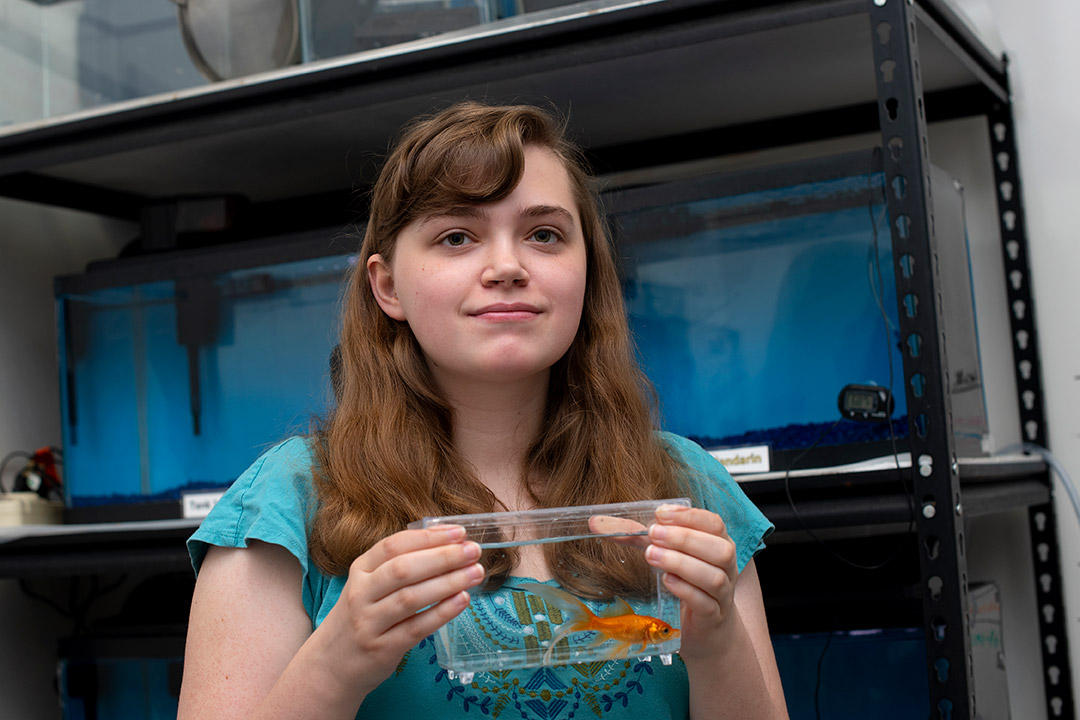 Kaitlin Gunther, a fourth-year psychology and computer science double major from Webster, N.Y., is trying to better understand how fish view the world.
Read more
RIT will showcase a variety of research projects undertaken by students and faculty-mentors over the 2020-21 academic year during the annual Undergraduate Research Symposium, held virtually July 29 through Aug. 4. Read more about the symposium.
Her research, conducted in RIT's Comparative Cognition and Perception Lab, explores the ability of goldfish to recognize a 3D object viewed from different orientations. Gunther is specifically interested in whether goldfish recognize colorless objects as accurately as they recognize colorful ones.
Gunther will present her research, Visual Discrimination of Rotated 3D Unicolor Objects in Goldfish, at RIT's virtual Undergraduate Research Symposium.
Caroline DeLong, a psychology professor in RIT's College of Liberal Arts, led the initial research studying this phenomenon with colorful objects with help from graduate and undergraduate students in her lab. They found that the goldfish, when provided color cues, were able to achieve very high accuracy regardless of whether the objects were 3D or 2D.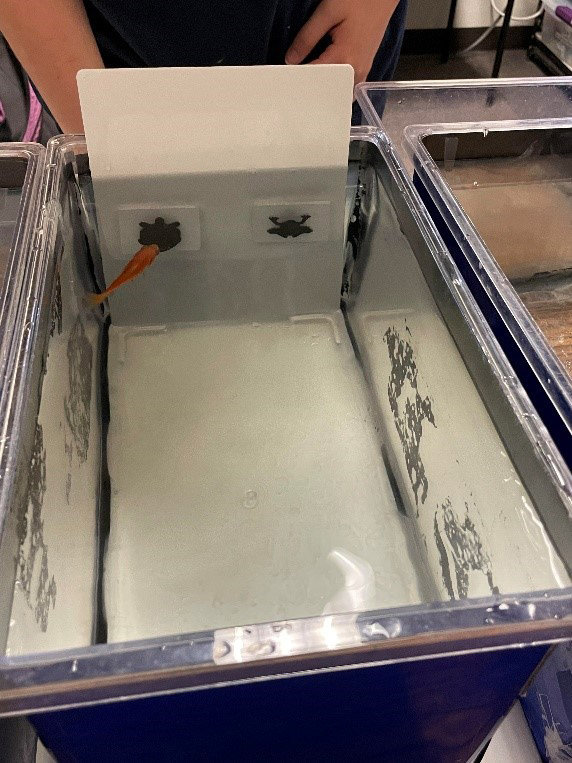 Continuing this research, Gunther trained goldfish to identify colorless objects by tapping them with their nose.  Either a 3D model of a turtle or a frog, both painted black, were inserted into the fish tanks. When the fish identified the correct object (half were trained to identify the turtle and half were trained to identify the frog), they were rewarded with food. The fish were then presented with the same objects at different orientations to see if they still recognized them.
"In past studies, goldfish have demonstrated the ability to discriminate between objects rotated in different planes in the presence of color cues, but what happens if we remove color as a factor?" Gunther said. "We're exploring whether they retain object constancy even when the object in front of them is in black and white."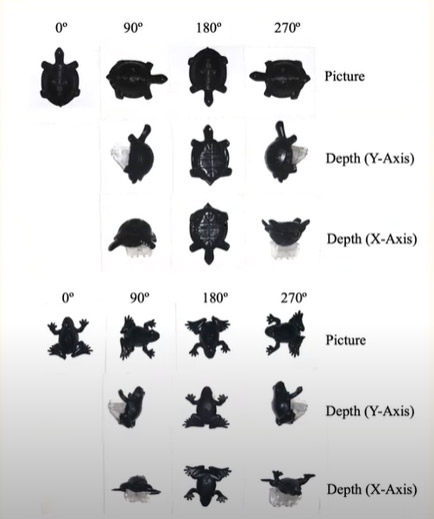 Six goldfish participated in Gunther's study. One fish was successful in identifying a black turtle when viewed from various orientations. By comparison, DeLong's previous research found all six fish were successful in identifying a colorful object from various orientations.
"We're continuing to collect data, but we have three preliminary conclusions. First, some goldfish are able to successfully discriminate between rotated 3D stimuli that lack color cues, but many fish struggle with this task. Second, the lack of color cues seems to make it more difficult for fish to learn to discriminate between 3D stimuli. And third, color appears to be important for visual object discrimination of rotated shapes in goldfish."
Next, Gunther plans to explore whether goldfish have the ability to visually differentiate between pictures of goldfish and other objects, such as geometric shapes and other fish species. The study will provide insight into whether goldfish use vision to identify other individual goldfish.