RIT team redefines 'telemedicine' for live remote-surgery broadcasts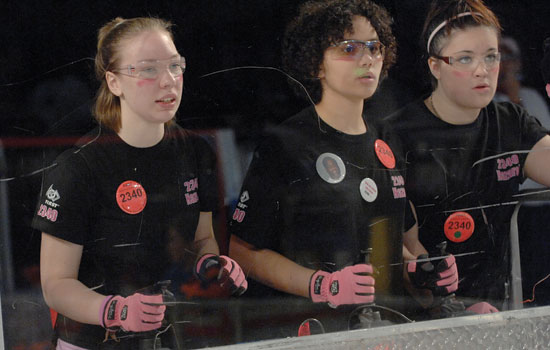 Submitted photograph
Imagine a scenario where doctors from different hospitals can collaborate on a surgery without having to actually be in the operating room. What if doctors in remote locations could receive immediate expert support from top specialists in hospitals around the world?
This could soon become a reality thanks to research by a multi-university partnership that is testing the live broadcast of surgeries using the advanced networking consortium Internet2.
The team, which includes researchers from RIT's Office of Research Computing, recently tested the technology, which allows for the transmission of high quality, real-time video to multiple locations using a secure, high-speed network. An endoscopic surgery at the University of Puerto Rico was transmitted to multiple locations in the United States. The experiment also included a multipoint video conference that was connected to the video stream, allowing for live interaction between participants.
Results from the test were presented at the Collaboration Special Interest Group at the Internet2 Member Meeting in New Orleans.
"The University of Puerto Rico has been performing this type of transmission between two sites for more than a year, but we can now utilize a combination of technologies that allows us to transmit to multiple sites simultaneously," notes José G. Conde, director of the Center for Information Architecture in Research, at the University of Puerto Rico Medical Sciences Campus.
The researchers utilized a 30-megabit-per-second broadcast-quality video stream, that produces incredibly precise and high-quality images and configured it to be transmitted via multicast using Microsoft Research's ConferenceXP system. This level of real-time video was not possible in the past due to slower and lower quality computer networks. The team also utilized a Polycom videoconferencing system to connect all parties.
The team will next conduct additional tests over Internet2 with different surgical procedures and an expanded number of remote locations. The researchers' goal is to transfer the technology for use in medical education and, ultimately, actual surgical and diagnostic applications.
"Today, surgeons often need to travel to both examine patients and conduct surgeries," adds Khanna. "Conversely, patients in rural areas are often lacking access to specialized care and may need to be transported to specialists at medical centers, sometimes immediately for a critical diagnosis. Given the growing capacity of Internet technologies, the development of live remote surgery could revolutionize medicine and greatly enhance the care patients can receive while reducing overall costs to the health care system."
The research is being funded through the National Institutes of Health and includes Johns Hopkins Hospital and the University of Michigan School of Medicine. Visit RIT's Research Computing website for information.
Topics