RIT welcomes new students to campus
Enrollment expected to surpass 19,000 for the first time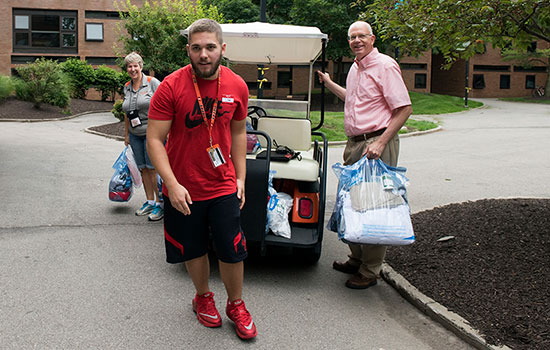 A. Sue Weisler
Rochester Institute of Technology this week welcomes its most academically qualified freshman class, with an average SAT score expected to exceed 1300 for the first time. The new students are also expected to set total RIT enrollment at more than 19,000, the highest in history.
Although official enrollment figures won't be determined until mid-September, about 2,900 new students are expected, from 46 states and Washington, D.C., Puerto Rico, the U.S. Virgin Islands and 43 countries, with the most international undergraduate students coming from China, India and Canada.
Of those new students, 53 were ranked first in their high school graduating class; 56 students had a perfect SAT math score; and six new students had a perfect ACT score.
Among the new students are 67 Ph.D. students and 12 Fulbright scholars.
In addition, approximately 500 students are transferring to RIT from other colleges and universities, and approximately 1,000 new graduate students have enrolled this year, said Ian Mortimer, senior vice president for Enrollment Management.
Graduate students represent 48 countries including India, China, Saudi Arabia, the Dominican Republic and Iran.
Mortimer said the number of new students enrolled shows a momentum of controlled growth at RIT.
"Over the past decade, RIT has grown, become more selective and focused on providing access to one of the most high-quality and relevant educations in the world," Mortimer said. "This year's entering cohort exemplifies the balance of all these measures. The decision on where to invest valuable family resources requires evidence of quality, community, outcomes and value, and because of the commitment by our faculty and staff, momentum is only getting stronger."
New students will move into their residence halls starting at 8:30 a.m. Tuesday. A picnic for new students by visiting RIT chefs is planned at 3 p.m. outside the Gene Polisseni Center. Tickets are $18.
Also Tuesday, the popular Goodbye, Goodbuy! sustainability sale is held from 10 a.m. to 5 p.m. in the Clark Gym, offering literally tons of items at thrift store prices collected from students who moved out in the spring, including clothing, furniture, appliances, school supplies, electronics and more. The sale will continue through the week.
At 10:30 a.m. Wednesday, new students will participate in the Tiger Walk as they are cheered on by RIT faculty, staff and parents when they enter Gordon Field House to attend the convocation starting at 11 a.m. A Family Ice Cream Sendoff is planned at 4 p.m. Wednesday outside the Polisseni Center.
And students, faculty and staff are encouraged to attend RIT President David Munson's welcome address from 9 to 10 a.m. Friday in Ingle Auditorium.
For more information, go to the RIT Orientation page.