New students urged to dream and change the world
New students expected to push RIT global enrollment past 19,000 for the first time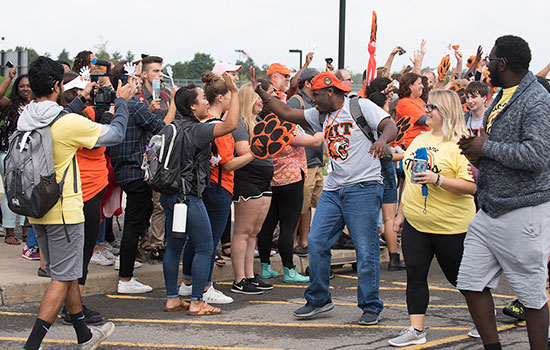 A. Sue Weisler
Get involved, know your fellow students and professors, and take advantage of as many opportunities as you can.
That was a main theme expressed during the Convocation for New Students at Rochester Institute of Technology today, as the university welcomed its most academically qualified first-year students, who had an average 1300 SAT score.
The new students are also expected to set a total RIT enrollment record at more than 19,000 for the first time. The new students come from 46 states and Washington, D.C., Puerto Rico, the U.S. Virgin Islands and 43 countries. Total international students come from 51 countries, with the most students coming from India, China, Saudi Arabia, Dominican Republic and Iran.
The convocation, in the Gordon Field House, immediately followed the Tiger Walk, a tradition where new students are welcomed with cheers and high-fives by fellow students, faculty, staff and alumni as they parade into the field house.
Ellen Granberg, RIT's provost and senior vice president for Academic Affairs, said the new students – which include approximately 2,900 freshmen, 1,000 graduate students and 500 transfer students – bring a wealth of experience and talent that will enrich our community.
"The greatest opportunity ahead of you is the teaching and learning that is RIT's hallmark," Granberg said. "RIT's outstanding faculty are committed to helping you take full advantage of the educational opportunities that await you. They will make sure that the education you receive is rigorous, cutting-edge, personal, relevant and second to no other university experience.
"The faculty are your partners in scholarship, research and ultimately, career development. They care deeply about you and your intellectual growth; they will challenge you and push you beyond your comfort zone to ensure that learning and growth occurs. Your obligation is to accept this challenge; to be engaged, and in fact, to challenge them as well."
RIT President David Munson summed up RIT as a university where technology, the arts, and design intersect in ways that will improve our communities, our nation and our world.
"We have RIT Tigers all around the globe shaping and improving the world," he said. "And now it's your turn. We are ready to provide you with an amazing array of opportunities to complement your academic life with offerings in almost any area you can imagine."
Munson said RIT students are curious and want to learn how to turn their ideas into action.
"They are passionate about what they do and have a real sense of purpose," he said. "I envision that for all of you and I am excited about how your passions and purpose will evolve and emerge. But to get there, you will have to work really hard and be willing to push yourself farther than you ever have before."
While RIT may be challenging, it is full of support, he said. "No matter where you come from – small towns, big city suburbs, inner cities, rural areas, other countries – there are people and organizations here to help you. Whether you are the first in your family to attend college or the 10th, we have structures in place to help you navigate RIT's systems and processes. If you feel like giving up at any point, don't. Just reach out to your faculty, classmate, lab partner, academic adviser, RA, roommate, friend, coach…and they will be ready to help you through the tough times. Be involved in creating things that never before existed in an effort to improve the world. Make lots of friends. And yes, have fun along the way."
Student Government President Bobby Moakley said every student has the capacity to influence the world. But they can't do it alone.
"Over the next few years of your life there will be lots of ups and lots of downs but you will have an invaluable tool to help you: the people sitting right next to you," Moakley said. "Our community is made up of so many different backgrounds, and so many different perspectives. … This room is brimming with people who are dedicated to helping this community thrive. Regardless of race, ethnicity, gender, or sexual orientation, RIT welcomes you with open arms. I sincerely hope that seeing many others like yourself gives you the slightest sense of confidence."
He said RIT is "paving the way for real change in our world. By working with the City of Rochester, our international campuses, major industries and many others, RIT students are providing innovative solutions to questions never answered before," Moakley said. "We are all part of a much larger community that is revolutionizing the way we serve. We have students coming up with solutions for climate change. We have students curing the next big disease. We have students building Rochester's nonprofit network. We have students fueling social movements such as Black Lives Matter and the March for Our Lives. We have students registering thousands to vote. We have students changing the world."
Moakley asked the new students to figure out their niche at RIT.
"You can be a dancer, a climber, a researcher, a race car engineer, an esports commentator or even captain of the Quidditch Team," he said. "By jumping headfirst into what you're passionate about, you will find people you love. You will find your community. Who you are right now does not have to define who you will be a year from now. Take this opportunity to find what it is you love, and to experience new things."
Sandra Johnson, senior vice president for Student Affairs, also told students to be engaged in their new community and embrace each other's strengths and differences.
"Each of you has a wide range of ambitions, expectations, dreams, passions, and goals.  We do not expect – nor do we want – for you to be alike. I want to encourage you to embrace your dreams and continually create new ones," she said. "Nurture your dreams in your classes, in late-night conversations with your peers in the hallways of the residence halls, by attending a performing arts or cultural event on or off campus, by being a member of a club, organization or athletic team, by working on a group project, or by studying abroad. Truly the opportunities here at RIT are endless."
She asked students to write a dream on a piece of provided paper, which they folded into airplanes and tossed them in the air as a group.
"Maybe it's to do research with a faculty member, or to study abroad, help your team win the league championship, perfect solar energy to power an airplane, join the Formula One electric car team, or to design a piece of furniture that can be modified over time as people age," she said. The planes represent "the innovation that happens at RIT and the creativity enveloped in every corner of the campus."
Philip Gelsomino, a lecturer in finance and accounting in the Saunders College of Business who last spring was awarded the Outstanding Teaching Award for Non-Tenure-Track Faculty, told students to experience all they can that RIT and the Rochester region has to offer, and to make an effort to know other students and faculty members.
"Being part of the RIT family is the experience of a lifetime, so I encourage each of you to get out of your comfort zone and meet new people," he said. "Yes, that means the loud ones like me, the quiet ones, the athletes, the nerds, and of course let's not forget, the scariest of all people here on campus, the professors."
Gelsomino said developing relationships with professors should be a priority for students.
"Allow us to work with you in exploring your inquisitiveness, allow us to help you hone your skills, and welcome us to join the journey with you that takes you out of your comfort zone," he said. "It's risky, we all know that. But generally speaking, the greater the risk, the greater the reward."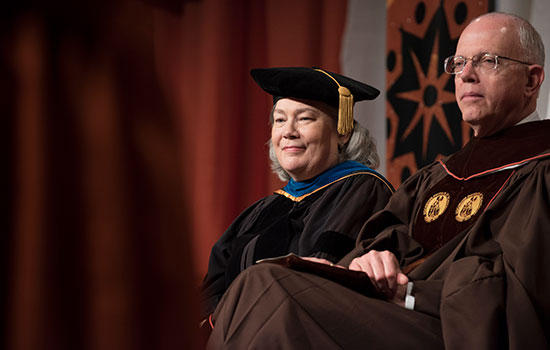 A. Sue Weisler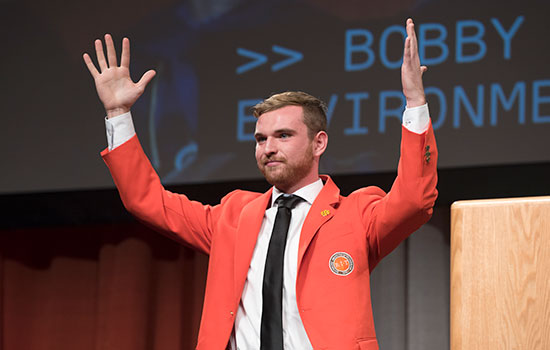 A. Sue Weisler