RIT welcomes newest class of City Scholars
RIT continues successful scholarship program adding 15 of the district's top students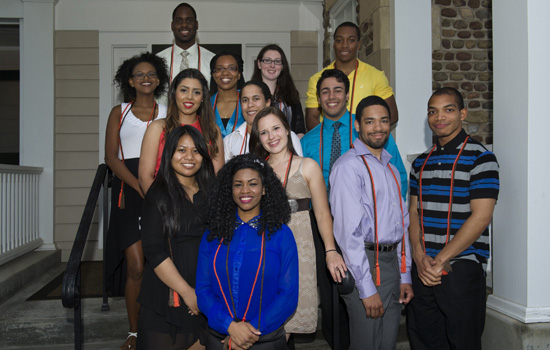 The newest class of Rochester City Scholars will be welcomed to Rochester Institute of Technology at a ceremony at 4 p.m. Friday, Aug. 22, at Liberty Hill, President Bill Destler's residence, 2201 Lehigh Station Road.
This year, 15 students from the Rochester City School District will be part of the fifth class entering the program. The students are graduates of East High School, the School of the Arts, All City High School at Marshall and Wilson Magnet High School.
According to the Rochester City School District, financial challenges prevent more than three-quarters of its students from attending college. Nearly 90 percent of the district's families earn $21,000 or less annually. Recognizing these obstacles, RIT President Bill Destler championed the Rochester City Scholars Program. He and his spouse, Rebecca Johnson, are the founding supporters of this initiative that launched in 2010. The scholarship program, for those meeting eligibility requirements, covers full tuition at RIT for the students.
This year marked several milestones for the program. In May, students from the first class of scholars graduated from the university and have since gone on to careers or graduate school. And in July, the Destlers pledged $1 million endowment to the Rochester City Scholars program to ensure the future of the program.