RIT wins $1.4M to help homeless with opioid addiction, mental illness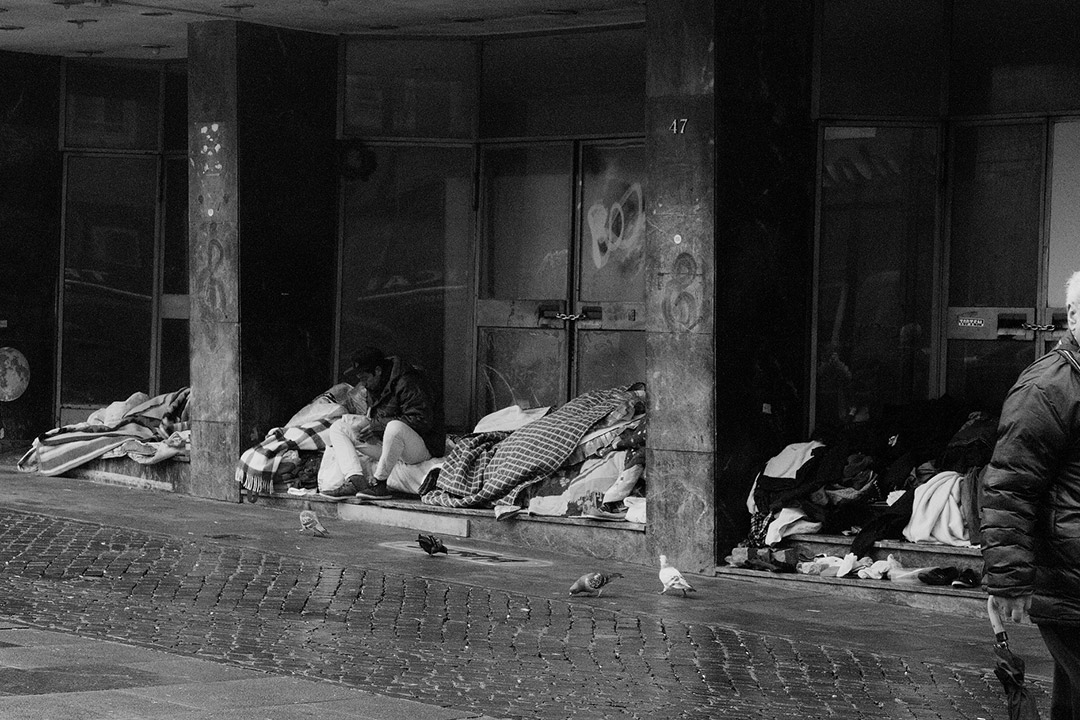 Tanja Mason/Pixabay.com
Making addiction treatment and mental health services accessible to homeless people via TeleHealth is the focus of a federally funded program at Rochester Institute of Technology.
The goal is to improve treatment outcomes for the underserved population by increasing the number of qualified clinical psychologists trained to deliver care through TeleHealth devices, such as tablets and smart televisions. RIT will train doctoral interns in its Priority Psychology Internship Program to provide therapy via TeleHealth to clients at the House of Mercy homeless shelter in Monroe County, N.Y. The U.S. Graduate Psychology Education Program is funded by a $1.4 million grant from the U.S. Department of Health and Human Services.
The grant award makes RIT's clinical psychology internship one of the first programs in the area to include formal training in telepsychology for homeless individuals, according to Caroline Easton, professor in RIT's School of Behavioral Health Sciences, and lead researcher on the grant.
"We will be able to train interns to use innovations in technology and the use of telebehavioral health to target addiction and co-occurring mental health, such as trauma, that is common among the homeless," Easton said. "This will provide a mechanism for easy access to care for the homeless."
According to a report issued in April by the National Alliance to End Homelessness, 91,897 people across New York state were homeless in 2018. In Monroe County, nearly 835 people have been homeless on any given night. Monroe County has an estimated population of 742,474.
Access to traditional care is challenging for people without a permanent residence. "The poorest of the poor lack transportation and other supports needed to access care, like money and insurance cards," Easton said. "I believe we are doing some very innovative work, and our goal is to recruit interns from across the United States to train in this area through our clinical psychology internship program. We are increasing our training slots from seven to 14 starting July 1, and we want to draw in the best of the best intern candidates to recruit to this region upstate New York."
The American Psychology Association recognizes the use of technology to administer remote mental and behavioral health care. This can be done via phone, videoconferencing and email communication. Easton and her RIT colleagues Cory Crane and Cassandra Berbary are also exploring the use of kiosks to display her "avatar assisted cognitive behavioral therapy" and job simulation skills training.
"This includes a caring and genuine avatar-therapy coach developed at RIT for individuals struggling with addiction and conflict," Easton said. "Digital coaches used in conjunction with cognitive behavioral therapy represent a personalized and self-guided approach for learning healthy coping skills without judgment or stigmatization."
According to the Monroe County Heroin Task Force, 642 reported overdoses with 97 fatalities have occurred this year to date. The Monroe County Office of the Medical Examiner, in July, attributed 195 deaths in 2018 to the use of heroin, fentanyl or other related substances.
The number of opioid drug overdoses and fatalities last year underscores the need for more specializations in the addiction field, Easton said. "Our interns will be trained to administer telehealth technology to improve access to health services and improve patient outcomes. We will be helping other client populations that struggle with addiction, but we are especially laser focused on helping the homeless."
The Priority Psychology Internship Program in RIT's College of Health Sciences and Technology provides clinical and research experience for people who have earned their doctoral degrees in clinical psychology. Interns learn to administer Easton's integrated approach to treating co-occurring addiction/substance abuse and domestic violence among male offenders.
Benefits of the Health and Human Services grant funding extend to RIT's clinical partners—Rochester Regional Health, Hillside Children's Home—where interns administer addiction treatment—and Coordinated Care Services Inc., where interns provide consultation and program evaluation.
Easton's method, the Substance Abuse-Domestic Violence Behavioral Model, focuses on reducing substance use while building healthy coping skills for handling negative emotions. The client-centered approach is grounded in cognitive behavior theory and has measurable outcomes, confirmed through randomized control trials in 2006–2010 and 1998-1999, funded by the Donaghue Foundation and the National Institute of Drug Abuse.
Easton's model connects the dots between intimate partner/domestic violence, mental health and substance abuse. Clinical psychologists in the United Kingdom and in Australia have adopted her method as an alternative to court-referred programs that treat anger management, mental health and/or substance abuse as unrelated issues. This confrontational model, based on accountability, backfires and leads to high rates of re-offense and relapse, according to Easton.
Topics