RIT Women's Hockey Plans Move to NCAA Division I
Tigers, national champions at Division III, would join College Hockey America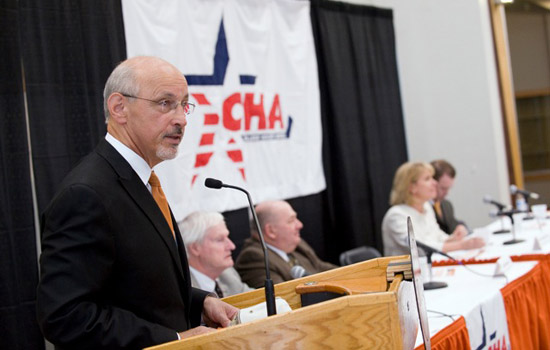 A. Sue Weisler
Rochester Institute of Technology is applying to move its nationally recognized Division III women's hockey program to Division I. The announcement follows RIT winning its first NCAA Championship on March 17.
The Tigers would join College Hockey America for the 2012–2013 season. RIT has received unanimous approval from the conference's colleges and universities, says Bob DeGregorio, commissioner of the CHA.
"We are very excited to have RIT join College Hockey America," says DeGregorio. "They have had a very successful women's ice hockey program at the Division III level and it is only fitting for them to elevate their women's program to Division I. It is my belief that RIT, with the continued support of the administration, will meet the challenges of becoming a Division I women's ice hockey program. I believe that they will compete immediately for both the CHA and the National Championship when they become eligible to do so."

College Hockey America was created in 2002 and is currently comprised of Syracuse University, Mercyhurst College and Robert Morris University. Penn State and Lindenwood University are set to join the league in 2012.
"This is an exciting day for the RIT family as we unveil plans to elevate a women's team to the Division I level," says RIT President Bill Destler. "We're honored to be joining College Hockey America and to be associated with the exceptional schools in this conference. Today's announcement is a significant milestone for the program and the university."
Destler adds: "Founded in 1975, women's hockey has a proud tradition at RIT as evidenced by the play this past weekend. Now we begin a new era."

RIT plans to play a Division I schedule beginning in the 2012–2013 season but will not play a full-league schedule. In 2013–2014, the Tigers would play a College Hockey America schedule, and in 2014–2015, RIT would be eligible for NCAA post-season play.

RIT won its first NCAA Division III Women's Ice Hockey National Championship on Saturday. The national champion Tigers finished the season with a 28-1-1 overall record. The 28 wins are a Division III single-season record. RIT won the ECAC West Championship for the second-straight season and finished the season ranked No. 1 in the national Division III poll. RIT was 54-3-3 in its final two seasons of Division III play.

"This is a momentous event in the history of RIT women's ice hockey," says Lou Spiotti, RIT's executive director of intercollegiate athletics. "We are very proud to be accepted into such an elite grouping of colleges and universities in College Hockey America. A debt of gratitude goes out to all those who have helped to make this happen, including our president and his leadership team, our trustees, our coaches, fans and the many hockey alumni who have contributed to our program."

The Tigers have built a winning tradition since the program's inception in 1975.
Since women's hockey became an official NCAA Championship sport in 2001, RIT has become a national power, appearing in the NCAA Tournament three times (2007, 2011, 2012), while hosting the last two NCAA Division III Women's Ice Hockey Championships. Sixteen Tigers have earned AHCA All-American honors during that span. Since the start of the 2006–2007 season, RIT has recorded a remarkable 135-22-10 record.
"We are very excited to make the move to Division I," says RIT Head Coach Scott McDonald, the active Division III all-time leader in winning percentage, who recently completed his sixth season behind the bench. "We see the success the men have had at this level and want to mirror that. We are excited to play new teams and foster new rivalries. The support we receive from the university is second to none."
McDonald was also an assistant coach with the RIT men's hockey team when it made the jump to Division I in 2005. The men have enjoyed immediate success, culminating with a trip to the NCAA Frozen Four in 2010. The Tigers currently play in the Atlantic Hockey Association.
Destler noted there are no plans to move RIT's 22 other varsity sports to Division I. At the Division III level, the university is completing its first full season in the Liberty League.
Topics