RIT/NTID alumnus returns to 'The Amazing Race'
Luke Adams and his mom, Margie O'Donnell, race around the world for $1 million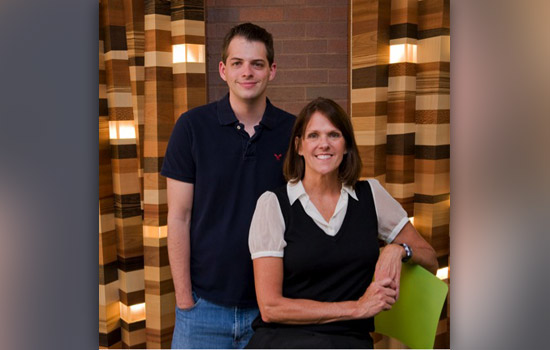 Mark Benjamin, NTID
RIT/NTID alumnus Luke Adams and his mother, Margie O'Donnell, will be featured a record third time on the popular CBS reality show The Amazing Race when the 24th season kicks off on Feb. 23, the network confirmed Monday.
Adams, who received a bachelor's degree in criminal justice in 2008, became the first deaf contestant on the show when he and his mother raced around the world in season 14, which aired in 2009. The show features teams that are given clues that take them around the world, often to exotic locations. The teams are confronted with physical and mental tasks to complete to receive additional clues. The last team to check in each week is usually eliminated. The first-place team shares a $1 million prize.
In season 14, Adams slid down a hill in the Alps with a 50-pound wheel of cheese, ran in his underwear in sub-freezing temperatures in Russia, got bitten by a bird in China and carried a pig on a pole in Hawaii. He and his mother made the finals that season and came in third place, winning $10,000.
They were brought back to appear on the 18th season of The Amazing Race, featuring previous contestants who had "unfinished business." They finished in eighth place.
CBS said the 11 teams for this all-star season were "some of the most memorable duos." If they don't get eliminated, teams will travel through four continents and nine countries, spanning more than 35,000 miles. The race will take them on a mission high above the city in Guangzhou, China; rappelling down the roaring rapids of the Kiansom Waterfall in Malaysia; fighting with Gladiators in Rome; and fueling up vehicles in Sri Lanka.
No team has ever appeared on the show more than twice. Adams and O'Donnell are among three that will be in the race for a third time.

"It was a huge surprise. We did not see it coming," Adams said. "We got the call out of the blue last July. They were like, 'Hey, do you want to do the race again?'"
Adams works as an advancement associate at the Pennsylvania School for the Deaf in Philadelphia. His mother, a registered nurse, lives in Colorado Springs, Colo.
Adams worked at NTID in the summer of 2009 as a co-director of Orientation Assistants for NTID's Summer Vestibule Program, which welcomes incoming students to RIT. While here, Adams entertained audiences by talking about his experiences on the show. O'Donnell also visited Luke in Rochester and spoke to parents here about her experience raising a deaf child and sending him off to college.
Adams was named Deaf Person of the Year in 2009 by Deaf Life magazine and appeared on its cover.
On his first appearance on the show, Adams said he hoped to set an example that deaf people can do anything. "A lot of deaf people think you can't go on TV, or shouldn't apply to different things," he said. "I want to give deaf people hope. That's what I want to do."
For more information, go to http://www.cbs.com/shows/amazing_race/cast/214810/.