RIT/NTID to dedicate labyrinth Sept. 17
Jan Strine Memorial Labyrinth joins few local public installations used for meditation, wellness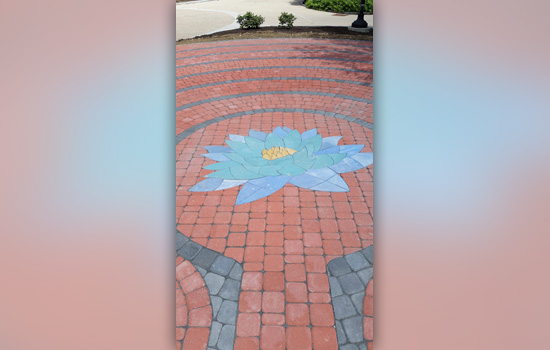 Supplied image
Rochester Institute of Technology students seeking calm in the midst of homework, tests and other college-life stressors have a new sacred place to meditate.
The Jan Strine Memorial Labyrinth, located in Frisina Quad behind National Technical Institute for the Deaf's Lyndon Baines Johnson Hall, will be officially dedicated at 3 p.m. on Sept. 17. Strine, an award-winning assistant professor at NTID for 30 years, was a mentor to deaf students until her death from cancer in 2013 at the age of 67. Prior to her death, Strine became a spiritual minister with the Fellowship of the Spirit and taught a wellness and spirituality course in RIT's Instructional Wellness Program, often discussing labyrinths.
According to experts, a labyrinth is a sacred space set aside for reflection, prayer, meditation or integrating new behavior. The rhythm of focused walking, placing one foot in front of the other, is said to relax the body and refresh the spirit. The experience is unique to each person.
As Strine explained in her wellness classes, "Focused walking meditation elicits a relaxation response that has important long-term health benefits and leads to greater powers of concentration and a sense of control and efficiency in one's life. The use of walking a labyrinth is about change, discovery, movement, transformation, learning and expansion of one's self."
A blue lotus flower representing rebirth and the victory of the spirit is the focal point of the installation's seven-circuit path.