RIT's Battery Prototyping Center part of finalist team for New Energy NY initiative
Teamed with SUNY Binghamton, RIT will contribute to proposal for federal funding to increase battery manufacturing in the region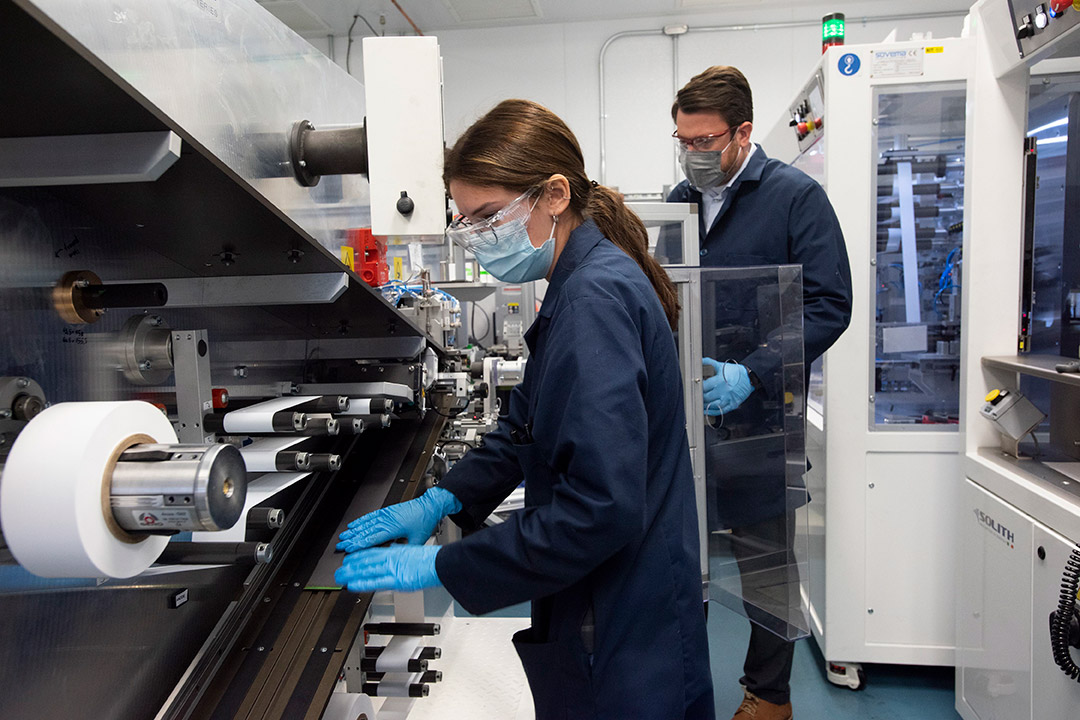 A. Sue Weisler
The Battery Prototyping Center at Rochester Institute of Technology is part of Binghamton University's New Energy NY Project that received Phase I funding of the American Rescue Plan's Build Back Better Regional Challenge.
Funds will be used to develop a broader proposal with partners and further compete for the $100 million available in Phase II of the regional challenge to develop a regional battery manufacturing and energy technology hub.
U.S. Sen. Charles Schumer, a leading advocate of the transformational nature of the New Energy Project, noted its capacity to bring together numerous resources well established in the area—from university and corporate researchers to materials and manufacturing resources.
"Plugging in RIT's state-of-the-art Battery Prototyping Center supercharges our work to win tens of millions in federal investment to transform New York's Southern Tier and Finger Lakes region as a nation-leading hub for battery research and manufacturing," said Schumer. "As the lead negotiator of the American Rescue Plan, I am proud I fought for the New Energy NY project to be selected as a finalist and will continue to fight tooth and nail to secure the final award. This will supercharge the region's growth by creating new clean-energy jobs in Rochester and beyond, while fueling cutting-edge innovations to combat climate change."
Since opening seven years ago, RIT's Battery Prototyping Center has nearly doubled its research and development projects with battery manufacturers from Boston to Silicon Valley. More industries are exploring new materials and designs for lithium-ion batteries and seeking options in the development of novel chemistries, different styles of batteries, testing of new products and support in launching new businesses built upon battery and alternative energy options.
RIT's Battery Prototyping Center is a $2.5 million facility supported through funding by NYSERDA and Empire State Development. Established to support early-stage development of next generation lithium-ion cells and materials, the team has worked with more than 100 customers from academia, government, a variety of industry manufacturers and technology hubs, and often multiple projects with the companies since it began in 2015.
Demand sparked expansion at the center and additional funding in 2018 from Empire State Development for new cylindrical cell and roll-to-roll electrode fabrication equipment. The new equipment broadens the reach of chemistries and form factors available to the center's customers and allows for more efficient processing of materials and electrodes specific to fabrication, cell assembly, and cell qualification.
Since returning to pre-pandemic operational levels, the center has also resumed training seminars for industry workforce development, and its intern and graduate student employees continue to find employment at battery-related companies or research groups.