RIT's Career Fair to feature new and familiar employers
Sixteen companies will attend their first career fair at RIT on Wednesday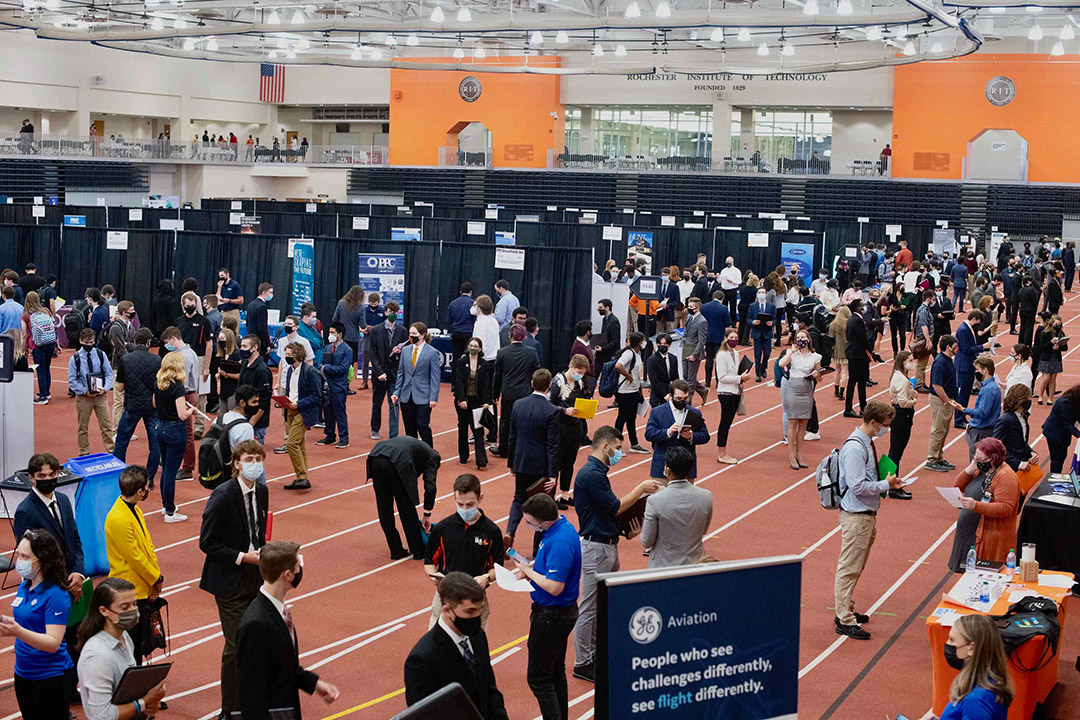 Rochester Institute of Technology students continue to be in demand, as demonstrated by 160 prospective local, regional, and national employers seeking talent for co-op and full-time employment.
The spring university-wide Career Fair will be held from 10 a.m. to 4 p.m. Wednesday in the Gordon Field House. Some 3,000 students are expected to attend.
Due to space limitations, recruiters from 55 additional companies who wanted to participate remain on a waiting list. Many of them will provide additional ways to connect with students in the near future, either with in-person information sessions, virtual events or interviews, posting jobs or collecting interviews.
"This is the largest career fair we've had since the pandemic," said Maria Richart, director of RIT's Career Services and Cooperative Education. "The demand for RIT students has not dwindled."
There are 16 first-time companies attending the career fair, including Pickle Robot, a small Boston-based start-up that manufactures robotic arms to unload trucks; Zamperla, an Italian company that designs and manufactures amusement park rollercoasters and rides; and Airtonomy, a Syracuse-based company that focuses on drones that inspect wind turbines.
Representatives from companies with more familiar names including Datto, Lockheed Martin, Paychex, General Electric, Texas Instruments, and Toyota are also returning.
Also back this year is the Affinity Reception, scheduled from 5-7 p.m. Tuesday at Gordon Field House. Students from diverse organizations set up tables where they can talk with visiting recruiters about their talents and career aspirations. IDI Billing is sponsoring the reception, which gives the recruiters a way to network with a diverse group of students.
More information, including tips for students, can be found on the Career Fair webpage.