RIT's College of Liberal Arts honors students for writing excellence
Departments select top writing by their students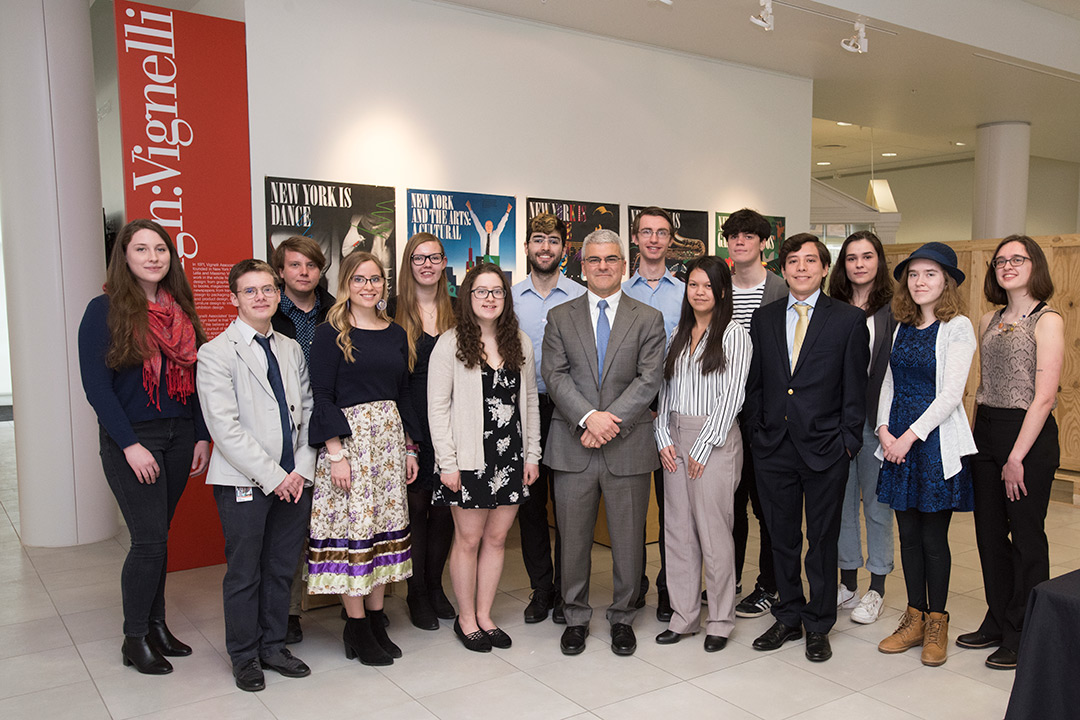 Rochester Institute of Technology's College of Liberal Arts honored student achievement in writing on Friday with the presentation of more than a dozen writing awards for essays varying from sanctuary cities, how democracies can withstand outside meddling, and the excavation, preservation and reconstruction of a London theater where Shakespearian plays debuted.
 "The winners of today's awards are exceptional student writers, nurtured and guided by exceptional faculty," said James Winebrake, dean of RIT's College of Liberal Arts. "One of our primary goals in the college is to help students refine their writing skills. These awards recognize students who have achieved excellence in this area."
Faculty committees in each department within the College of Liberal Arts selected student awardees from a variety of disciplines whose work embodies the ideals and standards of excellence, creative endeavor and scholarship.
The awards include the Henry and Mary Kearse Writing Award, created in 1980 thanks to a donation from Henry J. Kearse, founder and president of the construction firm H.J. Kearse Inc., and his wife, Mary, a longtime member of RIT's Nathaniel Rochester Society.
Other awards are named in honor of Stan McKenzie and Mary C. Sullivan, both esteemed former deans of the College of Liberal Arts.
This year's Kearse Award recipients are:
Alex Carpenter, a third-year civil engineering technology major from Webster, N.Y., representing the Department of Communication, for "Excavation, Preservation, and Reconstruction of the Rose Theatre."
Rhianna Hayes, a fourth-year criminal justice and political science major from Canandaigua, N.Y., and representing the Department of Criminal Justice, for "Sanctuary City Policies in the United States."
Julia Smolowitz, a second-year mechanical engineering and economics major from Marlborough, Mass., representing the Department of Economics, for "Macroeconomic Policy: A Glance into the George W. Bush Administration."
Abby Bratton, a second-year biomedical engineering major from Colorado Springs, Colo., representing the Department of English, for "Wizards and Word Games: Literary Mousetraps in Nobokov's Lolita."
Rachel Sheehan, a third-year new media design major from Rochester, representing the Department of History, for "My Lai."
Bruno Alves Maciel, a fifth-year industrial engineering major from Sao Paulo, Brazil, representing the Department of Modern Language and Cultures, for "The Demon Shadow."
William Leuschner, a fourth-year computer science major from Harrisburg, Pa., representing the Department of Philosophy, for "Withstanding Election Interference: How Democracies can Resist Outside Meddling."
Sebastian Tolmos, a second-year political science major from Lima, Peru, representing the Department of Political Science, for "Habermas, Cosmopolitanism and its Shortcomings."
Nash Lyke, a fourth-year psychology major from Sauquoit, N.Y., representing the Department of Psychology, for "Working for Tomorrow: Effects of Work Experience on Career Optimism in College Students."
Benedicte Adair, a second-year chemical engineering major from Portland, Ore., representing the Department of Public Policy, for "2020 Presidential Energy Policy Proposal."
Jen VanStrander, a fourth-year international and global studies major from Fairport, N.Y., representing the Department of Sociology and Anthropology, for "The Opaque Veil: Analyzing the Social and Legal Issues Faced by Foreign Labor Migrants from Southeast Asia to the Middle East."
Max Proskauer, a fifth-year computer engineering major from Newton, Mass., representing the Science, Technology and Society Department, for "The Cost of Cool: An Exploration of the Impact of Air Conditioning."
Other award winners are:
Avril Griessbach, a first-year industrial design major from Atlanta, Ga., received first place in the Stan McKenzie Endowed Writing Award, for "The Web of Discourse, Authenticity, Truth and Politics."
Darius Serebrova, a first-year medical illustration major from Holliston, Mass., received second place in the Stan McKenzie Endowed Writing Award, for "The Diminishing Gap Between Epideictic and Forensic Rhetorics."
Anna Leah Bowman, a second-year electrical engineering major from Hudson, Wis., received the Mary C. Sullivan Women's and Gender Studies Writing Award, for "Communication Dynamics and the Patient Experience."
Emily Israel-Paniccia, a third-year sociology and anthropology major from Rochester, received the Mary C. Sullivan Women's and Gender Studies Knowledge-Building Award, for "Juvenile Sex Offenders: Gender and Background."