RIT's COVID-19 surveillance testing program uses MIT and Harvard laboratory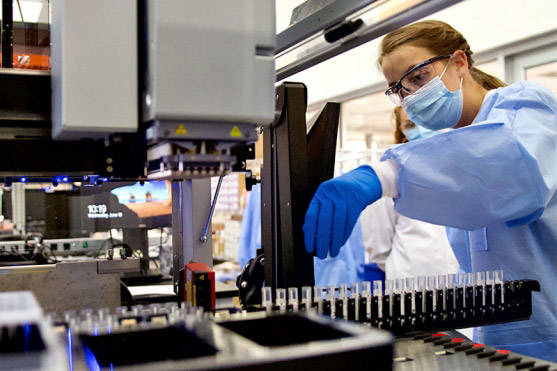 Scott Sassone, Broad Communications
RIT has started randomized testing to monitor the spread of COVID-19 among students and to facilitate a quick response to potential outbreaks on cam​pus.
RIT began surveillance testing the week of Aug. 24, using test kits provided by Broad Institute of MIT and Harvard, a leading genomics laboratory that enables testing at more than 100 public and private colleges and universities, as well as hospitals, nursing homes, and homeless shelters. Broad Institute is high-volume laboratory that offers rapid processing using PCR (polymerase chain reaction) testing, one of the most accurate testing options available.
A randomly selected group of 183 students were tested on Aug. 25. All results were reported as negative. Additional students were tested on Aug. 26 and 27. Again, all results were negative. Groups of students, random or from higher risk targeted groups, will be tested weekly using Broad Institute's self-administered nasal swab test. The testing is simple, painless, and nothing like the deep nasal swab many had prior to returning to campus.
"It is really important to keep student health data private," said Dr. Lindsay Phillips, medical director of RIT Student Health Center. "One of our strategies is to have groups large enough so that individuals cannot be identified because it's private health information."
Students receive email notification from tigertesting@rit.edu with instructions for scheduling an appointment for a self-administered COVID-19 test. RIT is covering the cost.
"If students are selected for testing, they are expected to make an appointment to get tested," said Dr. Wendy Gelbard, RIT associate vice president for Wellness. "We do not consider this to be optional, but rather a responsibility and part of our plan to keep campus safe. We are planning for COVID-19 testing to continue throughout the fall semester."
This surveillance testing is held in the lower level of the Student Life Center. RIT staff members trained to facilitate the process provide students with the test kits—nasal swab and test tube—and package the samples for overnight shipping to Broad Institute. Medical personnel from Student Health Center and RIT Ambulance train and supervise the staff observing the surveillance testing. They also administer the nasal swab test for students under 17 years old.
Test results are returned in one of two ways. Broad Institute emails negative test results directly to students. The Student Health Center contacts students who test positive. Both Broad Institute and RIT report positive results to the Monroe County Department of Health. Aggregate data collected from surveillance testing is folded into the RIT COVID-19 Dashboard, which tracks various metrics Gelbard and Phillips use to monitor the health and safety of the campus community.
Diagnostic testing for COVID- 19 is evolving and a newly formed RIT committee is considering future options, such as promising saliva tests currently in development coupled with opportunities to collaborate with local laboratories, Gelbard said.
"Testing is so new for COVID," Phillips said. "I would say we'll always be looking for the next best test that is available."
RIT is currently using three different types of testing for COVID-19: surveillance testing, wastewater testing, and testing for cause. Surveillance testing is by invitation, as described above. Wastewater testing is a method that monitors waste from on-campus residences and is able to detect COVID RNA fragments for a particular area. COVID-19 particles are shed in waste several days before manifestation of symptoms. Knowing that an area has detectable viral particles will give RIT lead time to test residents in particular living areas.
Testing for cause is done when a person has symptoms suggestive of COVID-19: fever, cough, shortness of breath, loss of sense of smell, muscle aches, and/or diarrhea. Anyone with these symptoms will receive a red pass on the RIT Daily Health Screen and be required to contact the Student Health Center (students) or Rochester Regional Health Occupational Medicine (employees).
"Maintaining efforts to reduce the spread of the coronavirus will likely help us guard against the flu," Gelbard said. We're hoping all our COVID prep will help us limit cases of influenza on campus. That being said, getting your flu vaccine early will be key, as symptoms of flu and COVID-19 are very similar."
Phillips added that RIT students are already practicing prevention. "Prevention is all the things we're already doing with washing hands and mask wearing and keeping socially distant and that all works for flu as well as COVID-19," she said. "An additional part of prevention is vaccines, and a flu vaccine is coming soon to a location near you."