RIT's first computing Ph.D. students cross the stage at graduation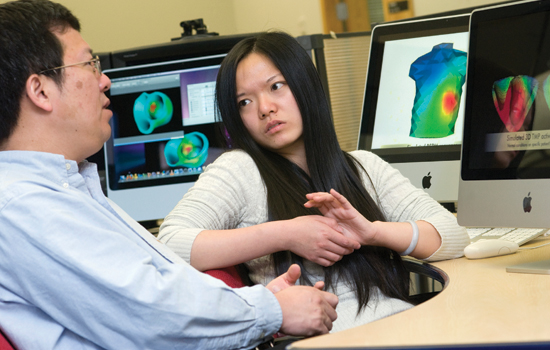 A. Sue Weisler
When Linwei Wang crosses the Gordon Field House and Activities Center stage May 22 and accepts her diploma she, like many other RIT graduates, will already have her next career step solidified. But Wang won't have to travel far to get there.
Wang, who will become one of RIT's first two graduates in the computing and information sciences Ph.D. program, has accepted a tenure-track faculty position in the same program she's graduating from, housed in the B. Thomas Golisano College of Computing and Information Sciences. Following an extensive national search, the faculty search committee determined the best candidate was one of its own.
Nobody would know better than the Ph.D. program director, Pengcheng Shi, who, when deciding to come to RIT in 2006, asked Wang and Chun Lok Wong—his top two students from Hong Kong University of Science and Technology—to join him at RIT so that the team could continue its research on cardiac modeling and imaging. Wong is set to defend his dissertation either in the summer or fall quarter.
"(Wang) is probably the most natural researcher I've ever met," Shi says. "She has this instinct in how to conduct research, how to address a problem and how to come up with alternatives to overcome obstacles. This is something that takes years to teach, if you're lucky. But for her, it comes naturally."
RIT wasn't Wang's only suitor. Shi says that after only one year into her Ph.D. study, major corporations like General Electric and Siemens began offering her jobs. But Wang was attracted to the prospect of continuing her research pursuits.
"I really like research. I like the feeling of making even a small accomplishment. You have to keep moving forward and coming up with new ideas," Wang says. "I think I will like working with students too."
Shi hopes that passion is instilled in future students.
"RIT traditionally does not put too many Ph.D. graduates into the university setting. I'm hoping we can have a balance between industry, government and academia," Shi says. "I think over the long run, that will help our students see research and innovation as part of their life-long pursuit. In my view, that's quite important."
The program has experienced substantial growth since its launch in September 2006. It now has 20 students who work with 37 faculty members in four colleges. Shi says the program has two primary facets. One is an emphasis on computing technology and the second is on how computational thinking can enable, facilitate and inspire research in other domains.
If the program's first two graduates are any indication, it will continue to grow.
Erik Golen is slated to graduate with Wang. He already has a position lined up as a systems engineer for Syracuse Research Corp., where he'll be working on radar and electronic warfare systems.
"I just hope that our current and future students can move in the same directions as this group of students," Shi says. "We may not always get students like these, but this is what we're striving for. Hopefully, we will have more and more of these quality graduates."