RIT's Future Faculty Career Exploration Program celebrates 20th cohort
Program brings diverse participants to campus to network and enhance their career skills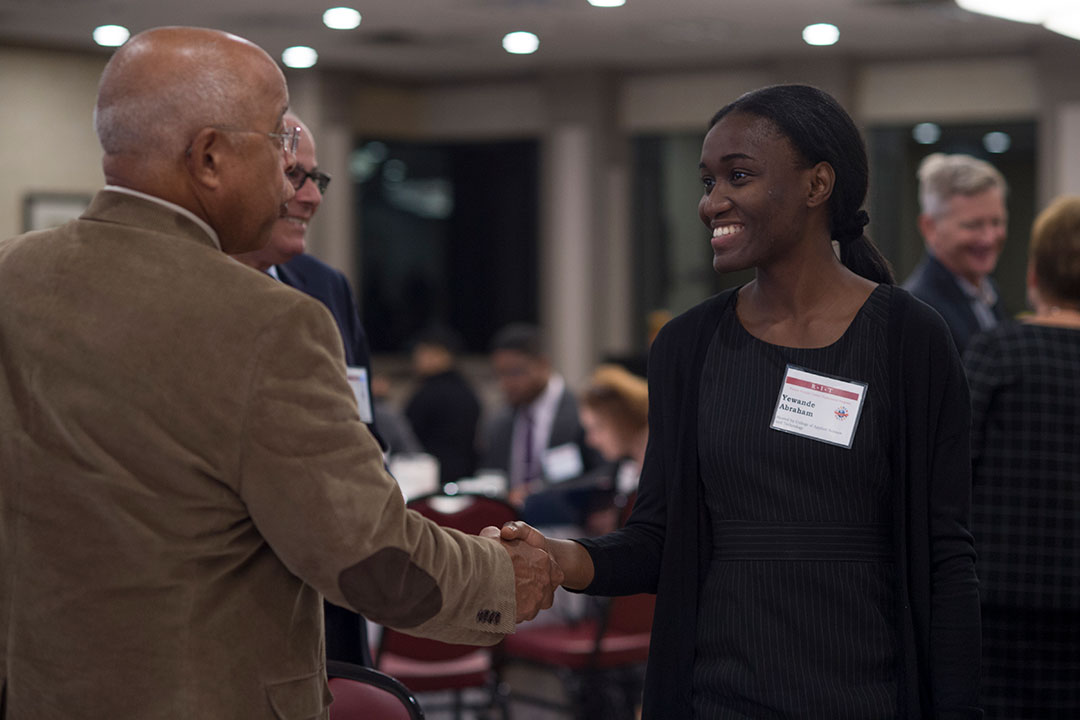 Rochester Institute of Technology's Future Faculty Career Exploration Program celebrates its 20th cohort of diverse academics Sept. 27-30.
The program, hosted by the Office of Faculty Diversity and Recruitment in the university's Division of Diversity and Inclusion, is a rigorous four-day event designed for historically underrepresented scholars and artists of color to experience a behind-the-scenes glimpse into life as a faculty member at RIT. Participants will engage with administration, faculty, and staff across campus while enhancing interview skills, practicing job-talk presentations, and exploring research, teaching, and service expectations of RIT faculty members.
Scholars and artists of all disciplines are welcomed into the program via a competitive, nationwide search process. In the end, participants are better prepared to enter the professoriate, including positions that may become available at RIT.
Paula Buchanan, a Future Faculty Fellow in health systems management within the College of Health Sciences and Technology, was part of the 2018 cohort and now calls RIT home. She sees the program as a great chance for younger academics to get out of the lab and to learn how to present their work.
"It's important for people to be able to communicate about themselves and their research," said Buchanan. "It doesn't matter how academically proficient you are if you can't get in front of a group of people and explain to them what it is you do. The program is like a trial run that might even lead to a position."
Yewande Abraham, an assistant professor in the Department of Civil Engineering Technology, Environmental Management and Safety, also has the initiative to thank for bringing her to a university that supports not only her research but herself as a person.
"When I came to the program, one thing I immediately sensed was a feeling of belonging," said Abraham, who was a member of the program in 2017. "It provided me with an opportunity not only to learn and showcase my skills, but also to establish new connections, and possibly find potential collaborators. Moreover, it was a great avenue to refine my interview skills. I was truly impressed by the warm and welcoming community where people were friendly, eager to share, and always willing to offer their support."
The Future Faculty Career Exploration Program was one of the first faculty diversity and recruitment programs in the nation, and it helps RIT continue to be a leader in diversity and inclusion initiatives, ultimately strengthening the campus environment. Every year, a new group of up-and-coming academics grows their network and skills for future career opportunities. Since its inception, the program has invited more than 400 historically underrepresented scholars and artists to participate, many of whom now serve in faculty leadership roles in academia.
"It is something that makes RIT unique," said Buchanan. "I've only seen a couple of other places in the country that have a program like this."
Both Buchanan and Abraham encourage incoming participants to make the most of the opportunity and learn as much as possible throughout the event. The program is mutually beneficial, as cohorts gain valuable professional experience while RIT identifies diverse, qualified faculty prospects.
"Put your best foot forward," advised Abraham. "Take it seriously like it's a real job interview. You never know what will come out of it. I got a job offer out of it, so you never know. RIT has something very special to offer."
This year, 17 talented scholars and artists will embark on RIT's campus for the program. Learn more about 2023 participants in the FFCEP program guide.
Meet this year's FFCEP cohort
Karen Acros, Ph.D., postdoctoral fellow, University of California Santa Cruz (cognitive neuroscience)
Olaitan Adeleke, Ph.D. student, University of Minnesota (wearable technology)
David Alekhuogie, MFA, visiting faculty, California Institute of the Arts (photography)
Janerra Allen, Ph.D. student, University of Maryland, Baltimore County (electrical engineering)
Kofi Bazzell-Smith, MFA student, University of Illinois (new media)
Mosiah Bluecloud, Ph.D. candidate, University of Arizona (linguistics)
Kianté Brantley, Ph.D., postdoctoral scholar, Cornell University (computer science)
José Capa-Salinas, Ph.D. student, Purdue University (structural engineering)
Chinonso Ezeobi, Ph.D. student, University of Maryland, Baltimore County (electrical engineering)
Alexandra Figueroa, Ph.D. candidate, University of Utah (business)
Jessica González-Vargas, Ph.D., postdoctoral scholar, Pennsylvania State University (industrial engineering)
Govanni Granados, Ph.D. candidate, Purdue University (mathematics)
Yareni Lara-Rodriguez, Ph.D. candidate, University of Puerto Rico Mayagüez (mechanical engineering)
Shaun Little, Ph.D. candidate, North Carolina Agricultural & Technical State University (computational data science & engineering)
Vanessa Núñez, Ph.D. candidate, University of Nevada, Las Vegas (sociology)
Angela Omondi, DrPH, visiting assistant professor, Jackson State University (public health)
Eden Yemesegen, Ph.D. candidate, Pennsylvania State University (architectural engineering)
Topics