RIT's Saunders College of Business launches Leadership Academy
New initiative provides certificate program, guidance for honing critical leadership skills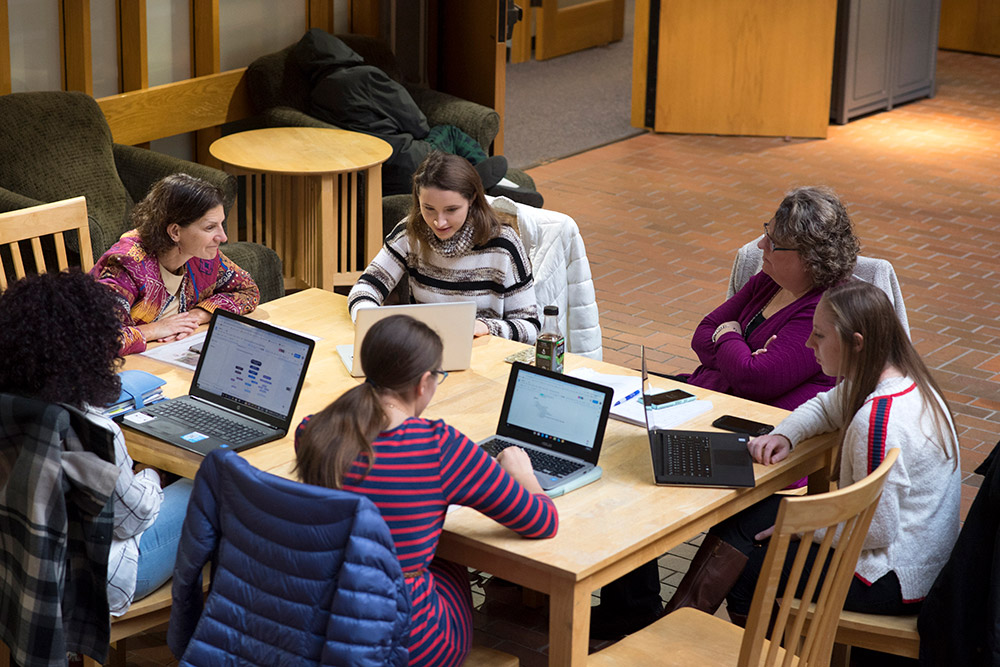 A new certificate program launched by Rochester Institute of Technology's Saunders College of Business is helping to develop strong leaders who are equipped to tackle personal, relational and global challenges.
The Leadership Academy@Saunders, which launched this fall with a college-wide peer mentorship program, is now accepting registrations for the Foundational Leadership for Career Success certificate program that begins in the spring semester. The Leadership Academy, which fosters innovative leadership for bridging business and technology, is designed after the Leader Development Competency Model—an exploration of self. Students will work to understand their own strengths, weaknesses, goals and values, while developing the critical professional skills that are needed to succeed in the field. As the program develops, students will be able to select other focus areas including Leading Teams and Leading Globally. The Leadership Academy is open to students from all majors and colleges.
The Academy curriculum features access to a team of university faculty and industry leaders and will incorporate learning in and out of the traditional classroom setting. Sessions will be held on Tuesday evenings in the spring starting Jan. 28 and include an Imagine RIT: Creativity and Innovation Festival project challenge and a closing celebration dinner. In addition, students will be able to work on effective communication, presentation skills, goal setting, conflict management, self-advocacy, critical thinking and problem solving, and integrity and professionalism. The Academy also hosts programs geared toward alumni and working professionals, including the women-focused Step Forward Leadership Program in January, and events for high school students interested in pursuing business studies. Other customized programs will debut this spring.
Molly McGowan, director of the Leadership Academy@Saunders, believes leadership programs are essential components of business schools. 
"Leadership permeates all aspects of business today, and students are looking to us to help them develop these essential skills," she said. "We begin the program with having our students explore their own strengths and weaknesses because as they become more self-aware, they will be in a stronger position to lead others. Leadership is an awesome responsibility and leaders have the ability to influence change and solve complex problems across diverse organizations."
Research supports McGowan's statements.
"Leader development training is typically most effective for enhancing participants' learning— what they can do, and application of their new knowledge—what they will do," said Michael Palanski, an associate professor of management who is an expert on leader development and the effects of leading in multiple domains including at work, in the community and with family and friends. "These gains in learning and application tend to be higher for novice leaders who voluntarily participate in a leader program, a situation which perfectly describes the students in this program."
Saunders College has already built a strong foundation in leadership development. The college's Women in Business club helps meet the growing demand for women in business disciplines through conferences and networking events; the student-to-student Peer Mentorship Program connects upperclass students with newer members of the Saunders community; and the Leadership Fellows Program offers significant advantages to its members including mentoring and a 50 percent scholarship toward graduate education studies.
Kasey Mathews, an MBA student from Barnesville, Ohio, understands well the importance of developing the leader within. Mathews, who earned his bachelor's degree in management from RIT in 2019, said that the leadership roles he has taken on throughout his academic career have made his collegiate experience more fulfilling.
"I really didn't get involved in many activities during my first year at RIT, aside from going to classes. I was bored and unfulfilled," said Mathews, who is print managing editor for RIT's student-run Reporter magazine, a member of Delta Sigma Pi business fraternity, a Saunders Leadership Fellow, and one of the college's first peer mentors. "However, in my second year, I made the conscious decision to open myself up to new experiences, including becoming an orientation leader and studying abroad. There is so much value in developing yourself during this time here on campus. The Leadership Academy ties leadership opportunities together and is vital in order for students to take those steps toward where they want to go. I encourage the students that I work with as a peer mentor to step into leadership. Leadership builds character."
Registration for the spring cohort is now underway and closes Dec. 6.
 "We want our students to be engaged in an intense experience with a cohort of learners who, together, are building sustainable knowledge," added McGowan. "We believe that having our students develop these leadership skills now will increase their value in the workplace and help them truly stand out from the crowd."