Robin Cass named interim dean of CIAS
Current acting dean of CIAS takes on new responsibilities July 1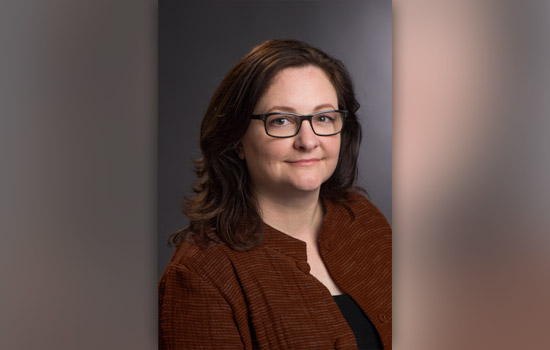 Robin Cass has been appointed interim dean of the College of Imaging Arts and Sciences at Rochester Institute of Technology, RIT Provost and Senior Vice President for Academic Affairs Jeremy Haefner announced today.
Cass has been serving as acting dean of CIAS since Lorraine Justice stepped down on March 31. Previously a senior associate dean of the college, Cass will assume her new responsibilities on July 1, with an opportunity to continue serving in the role through the 2018-19 academic year, Haefner said.
"In Robin's short time as acting dean, I have been impressed with her commitment to the mission of the college, her attention to detail and fairness, and her thoughts about advancing the college," Haefner said. "This appointment follows an internal search process for the position that included terrific input from the faculty and staff of the college. This input was a major consideration in my decision to appoint Robin."
Cass has been a faculty member in the glass program in RIT's School for American Crafts within CIAS since 1998. She has been instrumental in forging new international partnerships for the college with schools, including the Central Academy of Fine Arts in Beijing in China and the University of Amsterdam in the Netherlands.
As a member of the Council for the Representation and Engagement of Women Faculty (CREW), Cass helped initiate the Advance Connect grant funded "20/20 Research in Focus Colloquium," a multi-college showcase for female faculty from across RIT to share their research. Her own research interests include creativity in education, assessment in the arts and embodied learning.
"I am both excited and humbled by this opportunity to move the college forward during this period of transition," Cass said. "CIAS is such a vibrant community of talented individuals; I'm really looking forward to working with our extraordinary students, faculty and staff in this new role."
In addition to her administrative appointments, Cass is an internationally recognized artist. She earned her BFA from Rhode Island School of Design and her MFA from Alfred University. From 2004 through 2010, she also served on the board of directors of the international Glass Art Society.
As a widely acclaimed artist, Cass works primarily with hot glass, and her current pieces explore themes of discovery, display and wonder. She has exhibited extensively both nationally and internationally, and her work can be found in a number of public and private collections in the United States and abroad. In recent years, her work has been shown in Tianyuan, China, and Osaka, Japan. Her artwork can be seen at http://www.robincass.com/.