Rochester Prep Charter High School opens Monday
Rochester school developed in partnership with Uncommon Schools and RIT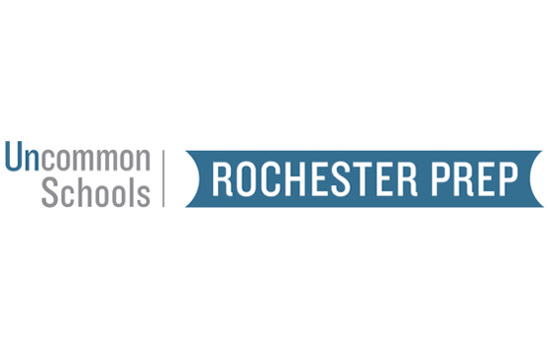 Rochester Prep Charter High School, a new school developed in partnership between Uncommon Schools and Rochester Institute of Technology, will open its doors on Monday.
The charter high school, focused on increasing the number of Rochester students who receive bachelor's degrees from college, will launch with 45 ninth-graders and 10 faculty and staff, housed in temporary space at 175 Martin St. Rochester Prep High School is subleasing the third floor of the building from the Rochester City School District, which has offices and runs programs in the building.
"We are incredibly excited about the opening of our high school," said Anna Hall, chief operating officer for Uncommon Schools, an award-winning charter management organization. "It's going to feel special for our students, a program that builds on what they've already learned, giving them marketable academic and personal skills that will help them succeed in college and in life."
The partnership, announced in September 2013, brings together a recognized leader in charter management organizations with the resources of one of nation's largest private universities.
"RIT committed to this partnership as a way to raise the level of discussion about urban graduation rates to include emphasis on K-12 preparation for success in college," said RIT President Bill Destler. "We will step up with resources and support to help Rochester Prep High school ensure that its students not only go on to college, but graduate with a degree and the tools for a successful career."
As part of the partnership, RIT faculty and staff are serving on an advisory board to the new school. RIT is currently training its students to serve as tutors and mentors to Rochester Prep students. The RIT students will be paid for their time and also receive professional development from Uncommon Schools and Rochester Prep. And to fulfill a New York state requirement for a class in the visual arts, RIT will help to offer the school's first Graphics Design course, which will include trips to the Henrietta campus for exposure to RIT's computer and technical labs and resources.
"That's game-changing for our students," Hall said. "They will be exposed to a professional graphic design lab and introduced to all aspects of graphic design. That not only improves their skills, but also introduces a new concept of what's possible in computing."
The partnership was made possible by a generous donation from longtime RIT Trustee Ronald L. Zarrella, who is contributing the funding necessary to support the development and delivery of RIT's contributions to the partnership. Zarrella, a strong supporter of educational initiatives, has been particularly involved in programs that promote STEM (science, technology, engineering and mathematics) education, including serving on the national board of FIRST Robotics for 15 years and as a co-founder of Finger Lakes FIRST Robotics. He is currently a member of the Rochester Prep Board of Trustees.
The school, the fifth in Rochester operated by Uncommon Schools, an award-winning charter management organization, will add a grade each year, ultimately growing by 2018 to about 500 students in grades 9 through 12. The high school will serve students already enrolled in Uncommon's four Rochester Prep schools, which currently have approximately 1,000 students in grades kindergarten through 8. The 175 Martin St. site has room for the school to expand until a permanent location is found.
Rochester Prep Charter High School will be under the direction of Principal David McBride and Director of Operations Laura Wilkinson.
Uncommon Schools, which currently manages 38 schools in five cities, including three high schools, has been recognized as one of the top charter school management organizations in the nation, recently receiving the Broad Prize for Public Charter Schools. Its schools serve more than 9,900 students. More than 78 percent of students are low income and 98 percent are African-American or Hispanic. Across Rochester Prep schools, 84 percent of students were eligible for free and reduced price lunch in 2012-2013, the latest figures available.
RIT has long been involved in supporting urban education, and the university will maintain its affiliations already established with the Rochester City School District, including its Rochester City Scholars scholarships and Middle College readiness skills programs.