November 30, 2021
by Shelly Meyer
Saunders College of Business adds sports and entertainment management minor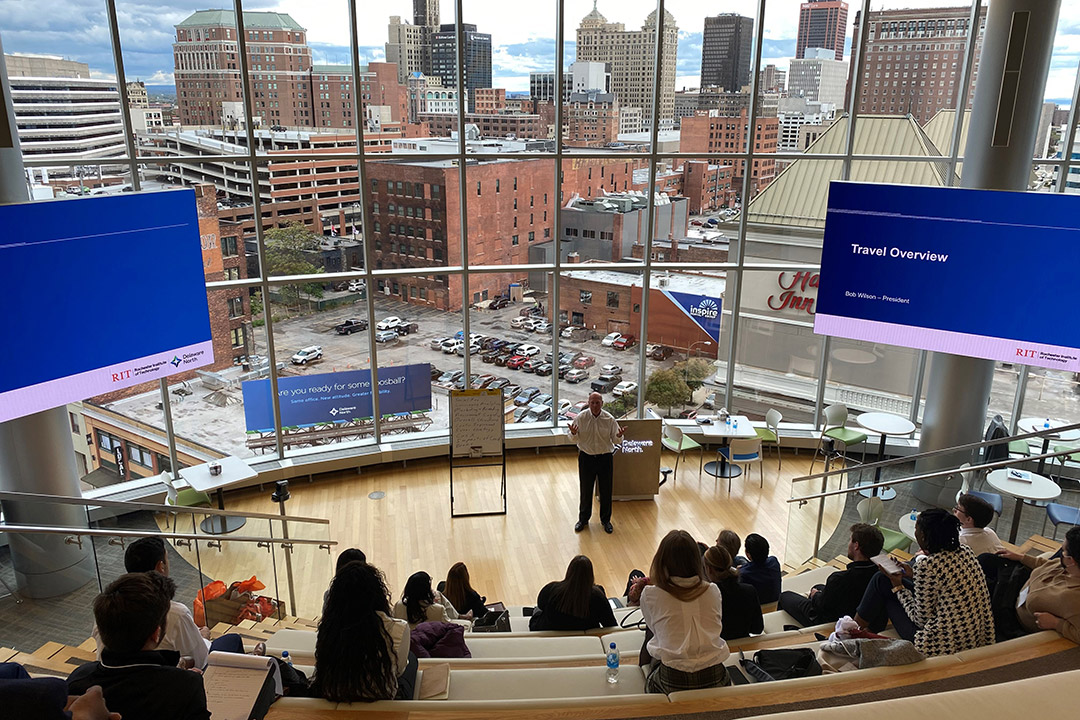 RIT's Saunders College of Business will launch a new sports and entertainment management minor this spring.
The minor will focus on the business and management of sports and entertainment organizations and provide students with applied skills in business strategy, analytics, customer service, negotiations, and event and venue management.
"The new minor will prepare our students to lead and manage in the sports and entertainment management industries," said Dean Jacqueline Mozrall. "The program will produce business professionals with the skills to deliver and manage highly effective experiences for consumers as well as employees across an incredibly broad range of enterprises—from major league sporting events to wine-tasting festivals to the Olympics and Broadway venues. The opportunities and needs in these arenas are endless."
While developing the program, Mozrall and her team conducted focus groups and interviews with current students, alumni, and potential employers to better understand the needs within these industries.
The goal, she said, was to develop a curriculum that sets Saunders College students apart.
"The sports and entertainment management minor will build upon the strengths of Saunders College at the intersection of business and technology," she said. "Our students will learn how to apply emerging technologies and various data analysis tools to optimize the consumer experience."
Building upon strong expertise in customer service and hospitality, marketing analytics, and the foundational principles of business, students may take courses in: customer experience management, professional selling, and marketing analytics.
Students are also able to customize their program through the selection of electives in areas such as negotiations, business law, and information systems. The minor provides a culminating capstone experience that includes case-based analysis of contemporary issues in sports and entertainment.
"This minor supports the development of today's sports and entertainment offerings, which have evolved beyond traditional spectator activities to experiences that integrate the digital and live senses," said Rick Lagiewski, assistant professor of international hospitality and service innovation. "It will also help formalize academically the many world-renowned events RIT has participated in, including the PGA Golf Championship, the Rochester Lilac festival, the Rochester Jazz Festival, and many others."
In preparation for this new program, the college has developed relationships with sports and entertainment organizations in the Western N.Y. region and beyond.   
In October, Mozrall and a group of students, faculty, and staff visited Delaware North, a global hospitality and entertainment company based in Buffalo, N.Y. that serves a large number of major league sports venues, entertainment complexes, national and state parks, airports, casinos, and more. The group interfaced with the executive leadership team across all facets of the company.
The college has also visited Pegula Sports and Entertainment, a sports and entertainment company based in Buffalo, N.Y., which owns the Buffalo Bills, Buffalo Sabres, and Rochester Americans. There, they learned about the company's marketing strategies and toured the facilities. 
While developing the program, Saunders College has also been engaging with alumni with successful careers in the sports and entertainment industries to cultivate opportunities for students.
As an example, Sean Bratches '91 (business administration) visited campus in September as the 2021 Fram Signature Lecturer. After graduating from RIT, he went on to lead brand development and marketing at EPSN and more recently at Formula 1.
Mozrall says the college will continue engaging these alumni as guest speakers and through company visits to enrich the program.
"We are so grateful for our alumni and their willingness to give back to Saunders College and our programs and students. Their engagement always makes us better—and we will be able to create some wonderful opportunities in support of this new minor through the engagement of our alumni working across these industries," added Mozrall.
Students can register for the new sports and entertainment management minor next semester. The minor will be offered through the International Hospitality and Service Innovation department. While developed and designed for business majors, the minor is open to all RIT students.
More information can be found on the sports and entertainment management minor webpage.
Topics