Scientist to give talk on Mars rovers Nov. 14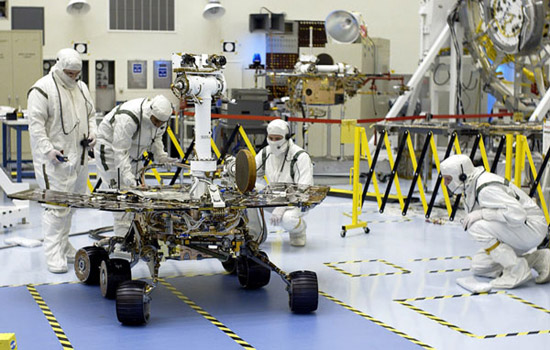 NASA
One of the lead scientists behind NASA's Mars Exploration Rover Project will give a talk at RIT this week as part of the RIT's College of Science Distinguished Speaker Series.
Steven Squyres, the James A. Weeks Professor of Physical Sciences at Cornell University, will present "Roving Mars: Spirit, Opportunity and the Exploration of the Red Planet" at 1 p.m. Nov. 14 in the Chester F. Carlson Center for Imaging Science auditorium. The event is sponsored by the John Wiley Jones Science Endowment Fund.
Squyres will provide a summary of the missions of twin robotic explorers Spirit and Opportunity, from their initial conception through their development, launch, landing and operations on the surface of Mars. He will describe the challenges facing the team of more than 4,000 engineers and scientists who developed the robotic explorers to search for evidence of water on Mars and conditions suitable for life. His talk will also detail results from NASA's follow-on mission with the rover Curiosity.
Squyres has participated in many of NASA's planetary exploration missions, including the Voyager mission to Jupiter and Saturn, the Magellan mission to Venus, and the Near Earth Asteroid Rendezvous mission. He is active with the Mars Express, Mars Reconnaissance Orbiter and Mars Science Laboratory missions, a member of the Gamma-Ray Spectrometer Team for the Mars Odyssey mission, and a member of the imaging team for the Cassini mission to Saturn.
He chaired the most recent planetary decadal survey for the National Research Council. Squyres has also served as chair of the NASA Space Science Advisory Committee and is currently chair of the NASA Advisory Council.
To request interpreting services, go to http://myAccess.rit.edu.
For more information, contact Susan Tontarski, COS Events and Web Specialist, at sjtsse@rit.edu.