Seed-funding awards aid research initiatives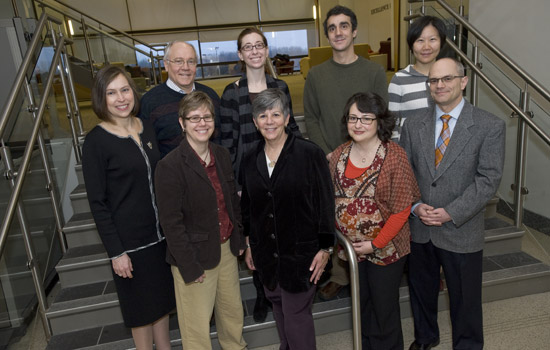 A. Sue Weisler
RIT's Sponsored Research Services is again offering its assistance to some of the university's newer research participants. Fourteen principal investigators have been awarded $5,000 each in seed funding to support their explorations.
The recipients and their winning proposals are as follows:
Poorna Kushalnagar, research assistant professor of imaging science, development and validation of quality of life among adults with hearing loss instrument
Hans Schmitthenner, professor of imaging science, molecular scaffolds for targeted molecular imaging agents
Wei Le, assistant professor of computing and information sciences, analyzing graphical-diffs to understand and verify changes of software
Ivan Puchades, professor of electrical and microelectronic engineering, development of MEMS resonators, filters and switches
Mark Wambach, assistant professor of information and computing studies, MOTE: mind on task experiment
Michael Schrlau, assistant professor of mechanical engineering, manipulating nanoscale objects from a remote location
Christine Monikowski, professor of ASL and interpreting education, access services in post-secondary education
Susan Lane-Outlaw, assistant professor of secondary education, a descriptive study of separate day schools for the deaf
Raja Kushalnagar, instructional faculty in information and computing studies, viewing devices: enhancing classroom access
Amanda Bao, assistant professor of environmental management and safety, investigating an innovative hybrid nano-fibered concrete subject to compression
Hinda Mandell, assistant professor of communication, conflicted messages: Nazi relics in contemporary Jewish homes
Patricia Taboada-Serrano, assistant professor of chemical engineering, combined cyclic voltammetry and scanning probe microscopy as a tool to investigate ion removal
Jennifer Adams, associate director for the Center for Education Research Partnerships, online learning among deaf and hard-of-hearing students in developmental English at NTID
Tywanquila Walker, assistant professor of psychology, baby steps: an early childhood intervention program for parents and infants
The awards resulted from participation in the annual Grant Writers' Boot Camp, which provides insights into the fundamentals of securing external research funding. Attendees at last November's two-day workshop came prepared with individual proposals eligible for seed funding.
"I am very pleased that we could make seed funding awards to 14 of the 26 participants this year," says David Bond, director of Sponsored Research Services. "I wish we could have made more. The quality of the proposals was extremely high across the board, and I'm sure each of the participants will be fully engaged in research and scholarship."