Shark Tank's Kevin O'Leary will kick off RIT's J. Warren McClure Lecture Series
'Mr. Wonderful' will discuss the 'Cold Hard Truth' during a virtual lecture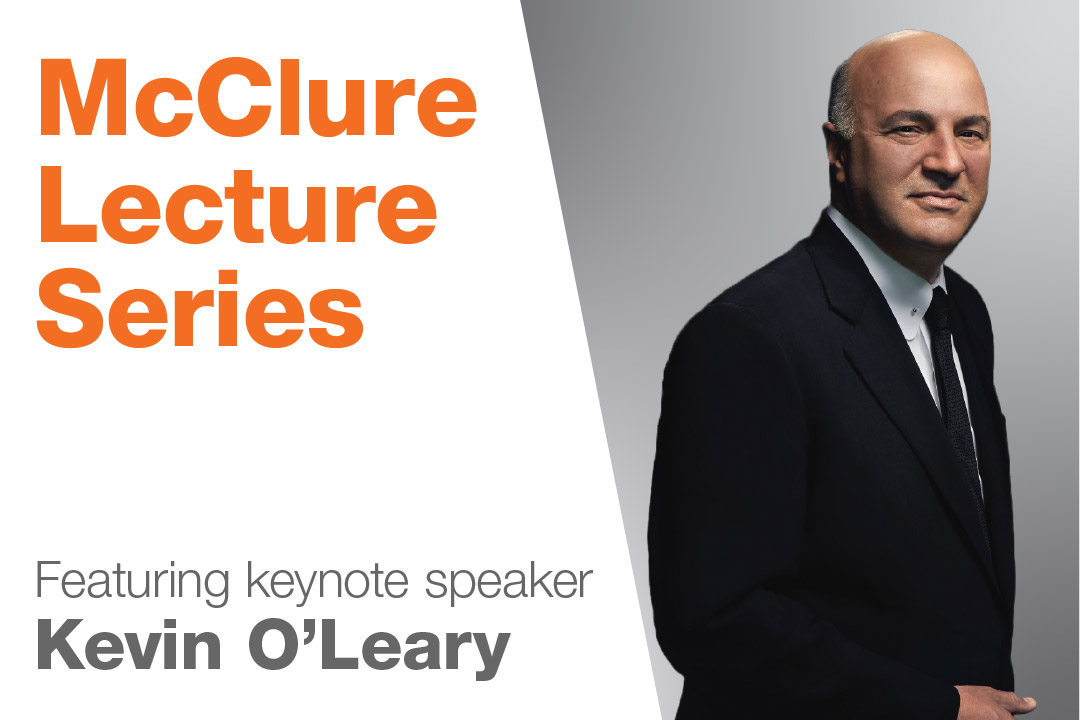 RIT's Saunders College of Business will welcome Kevin O'Leary, aka Mr. Wonderful, star of ABC's Shark Tank, as the 11th J. Warren McClure Lecture Series keynote speaker on Thursday, April 8. The virtual event is open to the general public and will feature a one-hour lecture followed by a brief Q&A.
"Saunders College of Business is excited to bring Kevin O'Leary, one of the most successful entrepreneurs in North America, to the RIT campus, albeit virtually," said Rajendran Murthy, J. Warren McClure Research Professor in Marketing. "He has inspired many budding entrepreneurs with invaluable advice on Shark Tank and throughout his career. Our students are eager to hear from Mr. Wonderful first-hand."
O'Leary's many accomplishments include co-founding SoftKey Software in 1986, launching the O'Leary Financial Group and O'Leary Fine Wines, becoming a founding SPAC investor and director of Stream Global Services Inc., and holding investments in more than 30 private venture companies across a wide variety of sectors.
He has also authored three No. 1 best-selling books, and appeared on a number of television programs, including Discovery's Project Earth, CBC's Dragons' Den, and ABC's Shark Tank.
RIT alumni have appeared on Shark Tank several times over the years, seeking an investment from O'Leary and the other Sharks. In 2020, SparkCharge, co-founded by Richard Whitney '16 (electrical engineering technology), secured a $1 million deal. Nathan Coleman '09 (marketing) and James Brooks '09 (international business) secured a $500,000 deal in 2017 for their company Elephant Pants.
Nadine C. Habayeb '09 (hospitality and service management) appeared on Shark Tank in 2020 and secured a deal with O'Leary for her popped water lily seed snack brand, Bohana.
"The McClure Lecture Series brings leading experts in the field of marketing to RIT's campus each year," said Dean Jacqueline Mozrall. "Although this year will look different given COVID-19 safety protocols, we are thrilled to honor that tradition by welcoming the incomparable Kevin O'Leary to share his unique perspectives and insights with our students, faculty, staff, alumni, and friends."
During his keynote, which will take place via Zoom at 3 p.m., O'Leary will discuss:
How to find your calling and turn your talents into a profitable venture;
Building a dream team;
Transforming adversity into opportunity;
Making and growing your business –and your money.
The keynote will be followed by a brief Q&A. Questions for O'Leary can be submitted via the registration form. Pre-registration is required to attend. Visit the Saunders College McClure Lecture Series website to register.
Topics