Society of Diagnostic Medical Sonography Recognizes RIT Professor
Spencerport resident Hamad Ghazle designated an Advanced Practice Sonographer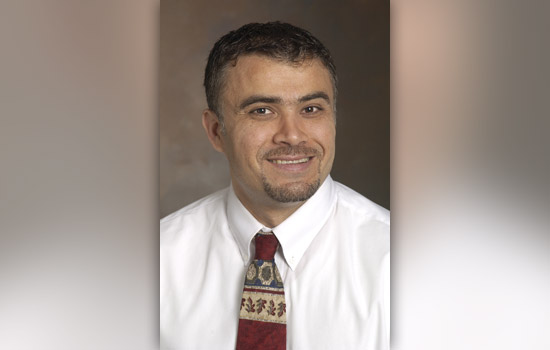 Rochester Institute of Technology professor Hamad Ghazle, director of the diagnostic medical sonography program in the College of Health Sciences and Technology, has been designated an Advanced Practice Sonographer by the national Society of Diagnostic Medical Sonography.
Advanced Practice Sonography designation denotes the most distinguished level of clinical expertise within the profession and serves as a model for recognition of clinical excellence, education, training and standards of excellence in ultrasound specialties. Eligible individuals must meet strict criteria to be considered for membership, including stringent scanning requirements and extensive expertise in specialty areas. Candidates also must meet specialty-specific continuing medical education requirements and publish in ultrasound-related peer-reviewed journals yearly.
According to the Society of Diagnostic Medical Sonography, APS members represent the "gold standard" within the ultrasound profession. The designation is reserved for the most experienced and the most knowledgeable sonographers within the field. RIT's Ghazle has now joined this small, prestigious group of nationally acclaimed allied health providers.
"I am truly humbled and gratified by this honor, and I am even more convinced that I was destined to be in the worlds of higher education and medicine and be a servant to our society and our future generations," Ghazle says. "Throughout these years, I have learned a lot from my family members, colleagues, patients and our wonderful intelligent, caring, imaginative and thoughtful students. I believe this honor should be bestowed on them because this would not have been possible without their guidance, support, care, smiles and challenges."
Ghazle is president of the Rochester Ultrasound Society and a former winner of the Eisenhart Award for Outstanding Teaching. He has a bachelor's degree in ultrasound from RIT and has been on the faculty for 14 years. He also has a master's in health professions from University of Rochester and completed his doctorate in higher education in 2008 from UR.