Student-athlete Vakiener dubbed double threat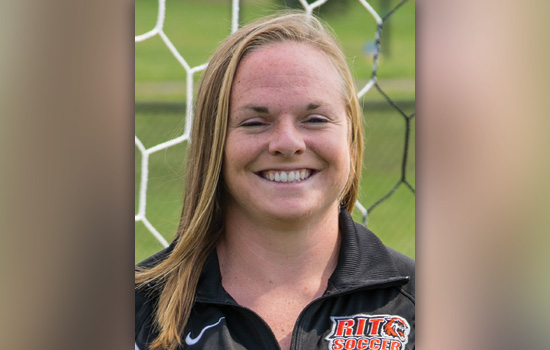 When considering the greatest two-sport athletes, one might think of Bo Jackson, 
Jim Brown or Deion Sanders. 

RIT has its own double threat in Shelby Vakiener, a fifth-year civil engineering 
major from Fairport, N.Y., who is a starting defender for the RIT women's soccer team and, according to coaches and players alike, will go down as one of the finest lacrosse players to don a Tigers jersey.

Vakiener was the star on the women's lacrosse team from 2010 to 2013, finishing her career with seven school records, including most points (351), goals (248) and assists (103).

She was a two-time Intercollegiate Women's Lacrosse Coaches Association regional All-American and a first-team 
All-American in 2013. Vakiener won Empire 8 Rookie of the Year honors 
in 2010, and was the Empire 8 Player of 
the Year in 2011. She was Liberty League Player of the Year in 2012 and 2013. 

"She is the most talented athlete I have 
ever coached," says women's lacrosse Head Coach Jeff McGuigan. "She hates to lose, has great awareness and is always in the right place at the right time."

On the soccer field, Vakiener, the 2013 RIT Senior Female Athlete of the Year, plays defense for the Tigers and was 
instrumental in helping the Tigers make 
the NCAA Tournament for the first time 
in the program's history in 2012. On the pitch, Vakiener is more of a role player. 
But she relishes that as well.

"The lacrosse mentality is different, 
there is a lot of pressure. If you don't 
score, we don't win," says Vakiener. 
"Soccer is a great change of pace. I like 
serving as a role player and helping 
contribute on the defensive end."

"Shelby's experience as a multi-sport athlete has been a tremendous asset to our team and RIT Athletics," says women's 
soccer coach Liz Masterson. "Her work ethic forces everyone around her to be 
better. Even though she plays defense 
for us, she has a knack for the goal. 
An athlete like Shelby is rare."

Playing two sports at RIT along with 
a full class load in a demanding five-year major, one might wonder how Vakiener can 
manage all the 
activity. But she thrives on it.

"The biggest key 
is time management," Vakiener says. "I am more successful in the classroom when I am busy, especially during each season. I am not sure what to do when I am not busy."

Vakiener has been more than successful on the soccer field, the lacrosse field and 
in the classroom. She is a throwback to 
an age when playing two sports was the norm rather than the exception.

"Everything fell into place at RIT," Vakiener adds. "Getting to play both sports, and gaining so many great friendships along the way, is something I'll never forget."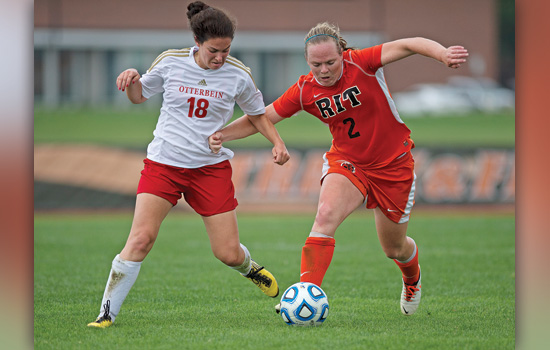 Josh Barber