Student film 'A Life in Boxes' receives award from Directors Guild of America
Tayton T. Troidl receives inaugural Best Documentary Student Filmmaker award from DGA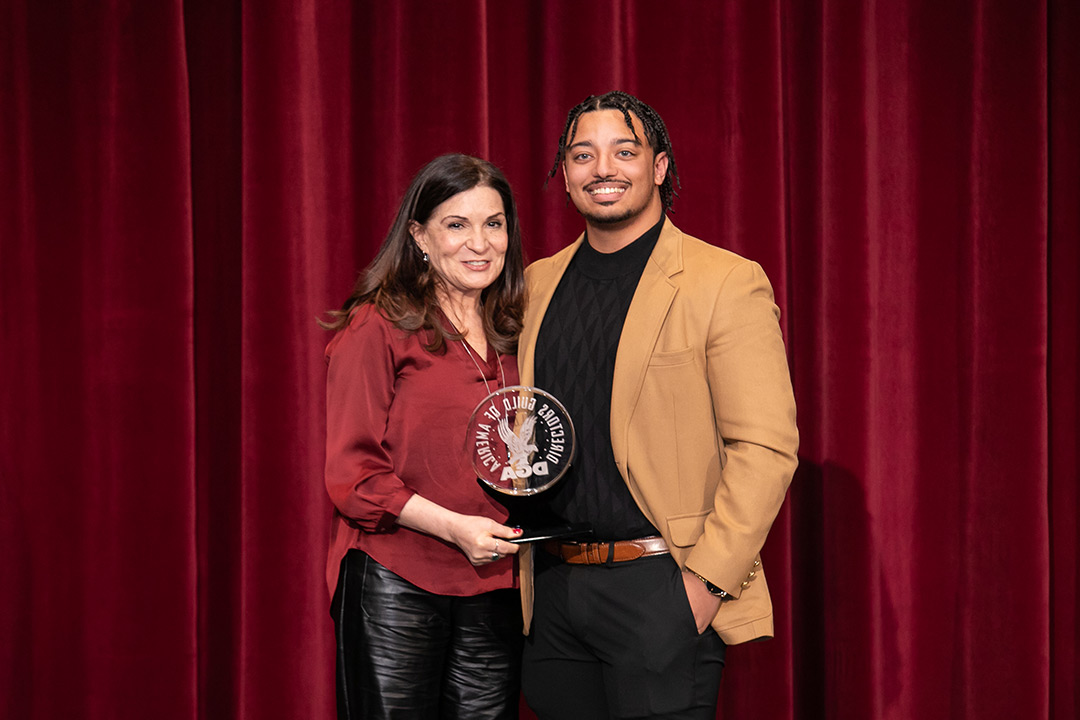 Tayton T. Troidl, a fifth-year film and animation student, received the inaugural award for Best Documentary Student Filmmakers: East Region at the Directors Guild of America (DGA) Student Film Awards. The award ceremony celebrates African American, Asian American, Latino, and women student directors, giving winners a national spotlight as well as a $2,500 cash prize to fund future projects.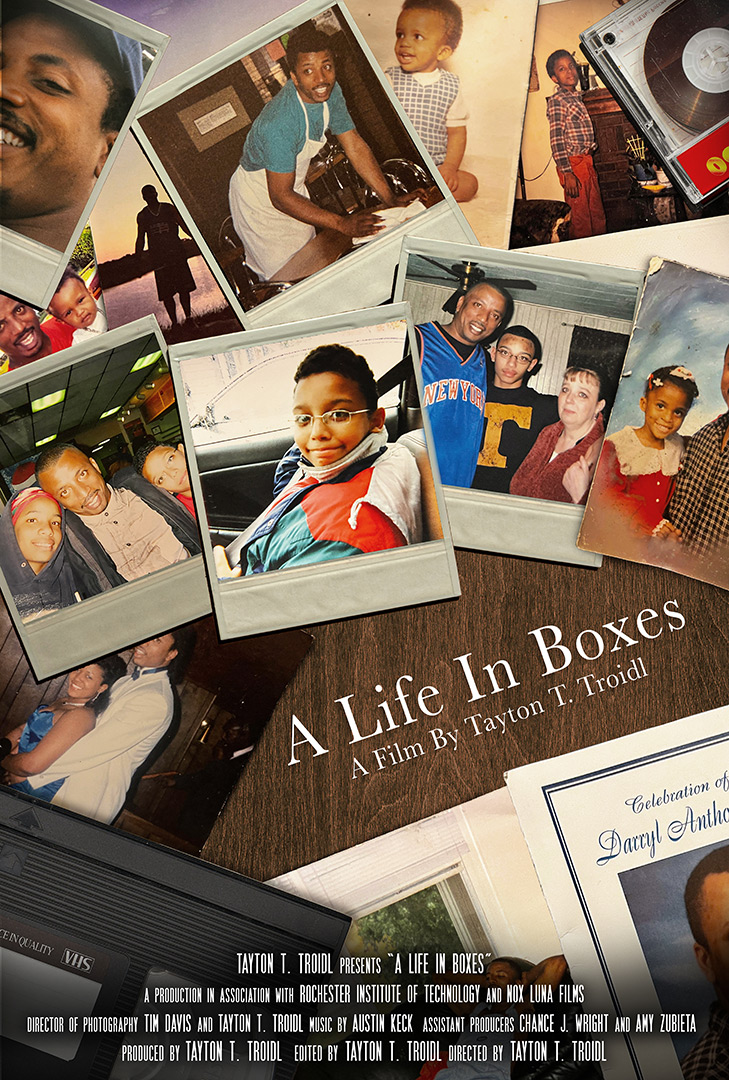 Aaron Mirtes
Troidl received the award for his capstone documentary, A Life in Boxes. The film follows Troidl's journey as he discovers the truth about his father and the life he led. By interviewing his father's family members, friends, and neighbors, Troidl discovers the truth behind the man and comes to understand more about his own life and relationships. Troidl shared that he is honored to be part of DGA history by receiving the first award in this new category.
"During the ceremony we got to see the other four films that won awards, and to realize that I'm on the same level as all these people who produced such jaw-dropping work, it was awe-inspiring," said Troidl. "I still don't know how to process it. I'm also honestly really happy I was able to take my mom to New York City for the first time because I won this award. It's something I'm really proud of."
Troidl describes filmmaking as a "collective art form" and explained that expressing his emotions through media and film is the best way he knew to process things. When his father passed away in January 2021, shortly before the deadline for submitting his capstone proposal, it was clear to Troidl that this was the right topic to pursue for his documentary project.
"I've grown up with all of this, it's almost normal what my situation was. The older I grew I realized it wasn't normal, but it happened to me, and if it happened to me, it's probably happened to other people," said Troidl. "Instead of pushing down my feelings and burying them in another box like my father did, I decided to break that cycle and put our story out into the world."
Troidl's mom, Carole Troidl, was featured in the film and was present throughout much of the filming process. Watching Troidl learn more about his father was hard for her, but seeing the end result filled her with pride.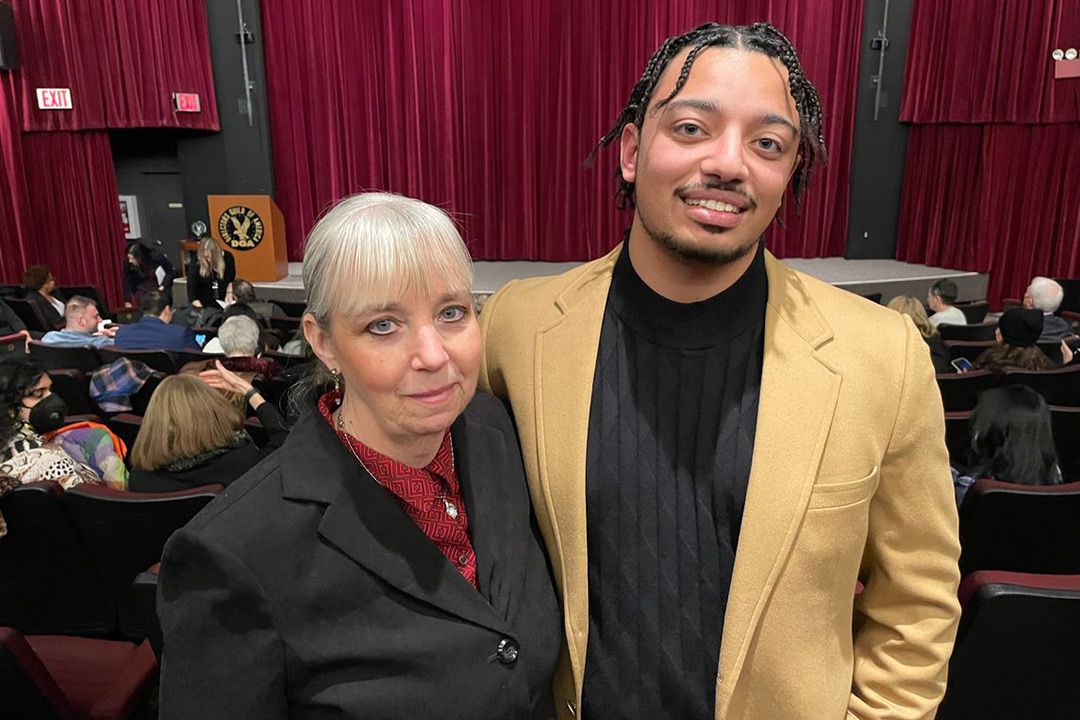 Amy Adrion
"When you have a child, you always hope for the best and you hope that you raise them right and steer them in the right direction. To see where he is today, it's just amazing. I'm so thankful. Thankful to have broken the cycle, and thankful that he's turned into such a beautiful person," said Carole.
The rigorous capstone process and his previous coursework set him up for success when it came to submitting to awards and festivals. Experiencing regular critique from professors and peers gave him confidence to share his work with a world of strangers.
"I saw how much blood, sweat, and tears went into his capstone film over the course of his senior year, so it was important to be there to celebrate his achievement," said Amy Adrion, assistant professor in SOFA, who also attended the award ceremony. "Tayton's brave, beautiful film is a particularly striking example of the kind of work being made in SOFA. We have screenings of student films at the end of every semester and I am blown away by the amount of time, energy, and enthusiasm students invest in their films, and that commitment jumps off the screen."
According to Troidl, he owes his success, in part, to the community around him, especially his brother and mentors in the Phi Kappa Psi fraternity who supported Troidl with love, friendship, and, brotherhood throughout his college career, and the Rochester Documentary Group who helped critique and support Troidl during early drafts of the film. When he got the phone call informing him of his win, Troidl reflected on the support he received from his friends, family, and peers in the Rochester film scene.
"When the credits hit in the DGA Theater on 57th Street and I heard the crowd's reaction, all I could think about was that it wasn't useless effort putting this into the world. It meant something to people and it mattered," said Troidl. "Hearing that validation from people that I don't know—from an organization that I wasn't even a part of—it was really heartfelt. I felt like I could really could do it and pursue a life in film."
Troidl extends a special thanks to: The Directors Guild of America (DGA); Rochester Institute of Technology; Rochester Documentary Group; Phi Kappa Psi; Nox Luna Films; Amy Adrion; Chance J. Wright; Amy Zubieta; Gearhead Rentals; North Collins Jr/Sr High School; and Baker Road Educational Center.