Student Government president finds her path to help improve students' lives
Talks planned on transportation, finance, mental health, entrepreneurship and sustainability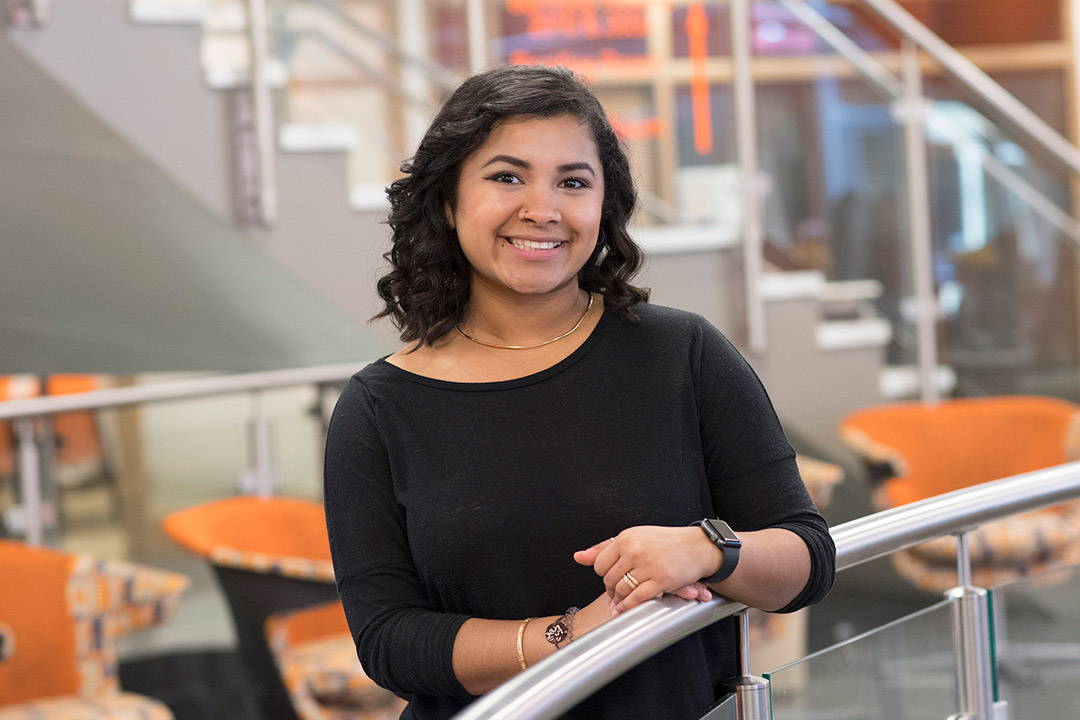 A. Sue Weisler
Anika Aftab says she's never been an aggressive person, but it's not unusual to find her punching a bag while practicing boxing at a local gym at 5 a.m.
Aftab, who was elected as this year's Rochester Institute of Technology Student Government president, is a self-described social butterfly, likes routine and structure in her life, but also is ready for adventure. She recently went skydiving and took a job consulting for nonprofits this summer in Guatemala.
She was born in Bangladesh and moved to Queens with her family when she was 4. Her family now lives in West Hempstead, Long Island.
She remembers visiting RIT for the first time, thinking she wanted to become a physician.
"I was sitting in the gym and remember thinking, 'this is what I want,'" she said. She joined the Delta Phi Epsilon sorority, played intramural field hockey, completed the Saunders Student Accelerated Program through the Simone Center and was a multicultural representative for Academic Success.
She enjoyed college, but admitted she struggled a lot during her first year. She was a biomedical science major, but found she didn't think that was the right fit for her. She then discovered RIT's School of Individualized Study, where she was allowed to tailor her own studies to match her interests.
"I knew I had strengths in some areas, but engineering, I was never good at that. But I knew I could learn about it and pursue my own field. I knew I could be more well-rounded at RIT than I could at any other school," she said.
She graduated this spring with a bachelor's degree in applied arts and sciences through SOIS with concentrations in organizational strategy and health care administration, and has returned to RIT to pursue a master's degree.
"I took my neuroscience knowledge and put it into business in a way," she said. "I want to combine people and organizations and make them more efficient and effective."
Last year, she was the Student Government senator representing SOIS.
"It was a great way to develop leadership skills and be more involved and create that impact," she said. "Also, I wanted to give back to SOIS because they changed my personal and career life in the best way possible."
Student Government vice president this year is Liam Megraw, a fourth-year environmental science major from Mantua, Ohio.
During their term this year, Aftab would like to see RIT students have more options to create their own minors. "When you get out of college, you're not a cookie-cutter engineer or computer scientist," she said.
She'd also like to create more workshops for students to develop skills they haven't had the opportunity to build, and to continue the college's sustainability efforts by giving back to the community and RIT's FoodShare program.
"No student on a college campus should be homeless or hungry," she said.
She wants to hear from students during the year who have ideas to improve their college experience, and plans are underway to conduct a series of "town hall" meetings to talk about specific areas of interest. Topics for the first meetings include finance, parking and transportation, mental health, and entrepreneurship and sustainability.
After college, Aftab is considering going into politics and perhaps getting a second master's degree in public policy.
"I believe that policy is where change happens," she said. "I'm the type of person, once there's an opportunity, I need to try my hardest. I don't want to live with any regrets."
Topics