Student named national astronomy ambassador
Valerie Rapson is also elected president of Astronomy Section of Rochester Academy of Science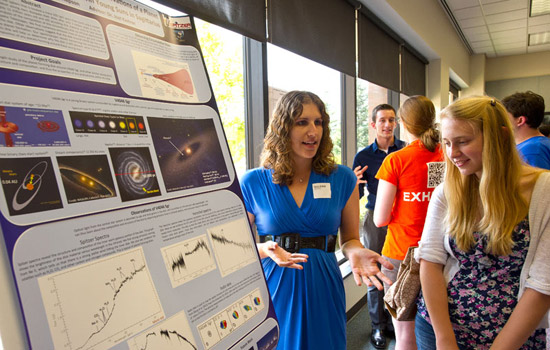 A. Sue Weisler
Rochester Institute of Technology graduate student Valerie Rapson was invited to join the American Astronomical Society Astronomy Ambassador program.
Rapson, a resident of Greece, N.Y., is a Ph.D. student in RIT's astrophysical sciences and technology program.
The Astronomy Ambassadors program cultivates a select group of early career astronomers like Rapson, providing them with professional development, mentoring and outreach training. The society looks to its ambassadors to promote a broad interest in astronomy to the public and inspire young people to pursue science and engineering careers.
"I am very excited and honored to be selected as an astronomy ambassador," Rapson says. "This program will help me become a better educator and explore new and inventive ways to communicate science with the public. It's incredibly important for scientists to share their work with the public effectively, so that we have continued support and funding for our research. Outreach also gets the public engaged in and excited about new discoveries, and entices young students to become scientists in the future."
Rapson conducts research on star and planet formation under her mentor and thesis adviser Joel Kastner, a leader in his field and professor in RIT's Chester F. Carlson Center for Imaging Science and the School of Physics and Astronomy.
"It's rare to find an aspiring astrophysicist who can advance the discipline itself while educating the public about how astronomers and astrophysicists explore the universe," Kastner says. "Valerie is that unusual person who excels in both of these worlds. She has a gift for public presentation and interaction; people just get caught up in her sheer energy and enthusiasm, her ability to communicate the excitement of scientific discovery."
Science education and public outreach is a passion for Rapson, the newly elected president of the Astronomy Section of the Rochester Academy of Science. She visits local schools, teaches an introductory astronomy course for high school students during the summer at the University of Rochester, and holds monthly astronomy lessons at senior living communities in Greece, Webster and Pittsford.
Rapson participates in outreach programs at the Rochester Museum and Science Center, runs star shows at the Strasenburgh Planetarium, assists with classes and open houses at the RIT Observatory and creates activities for the annual Imagine RIT: Innovation and Creativity Festival with fellow graduate students.
"As president of the Astronomy Section of the Rochester Academy of Science, my main goal is to keep the club running strong," Rapson says. "I want to make sure everyone in the Rochester area who has an interest in astronomy knows about our club and all that we have to offer. I plan to work on promoting the club to the public, as well as K-12 schools and local universities, in hopes that the younger generation will become more involved in astronomy and the sciences in general."
Rapson will attend the Astronomy Ambassadors workshop Jan. 4-5 in Washington, D.C., the weekend prior to the 223 American Astronomical Society meeting.
Topics