Student presents plastic research in D.C.
Auburn resident Laura Parisi attended prestigious event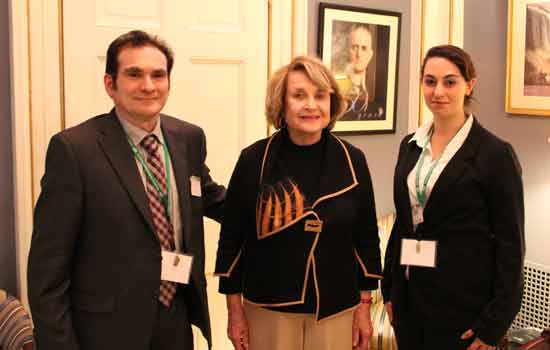 Laura Parisi capped her undergraduate career at Rochester Institute of Technology at the Posters on the Hill event in Washington, D.C., April 28–29.
Parisi, from Auburn, N.Y., is an honor student and a senior chemistry major in RIT's School of Chemistry and Materials Science. Her poster, "Plastic Produced with a Renewable Material: Eugenol," summarized two years of research she conducted with her adviser, Massoud (Matt) Miri, professor of chemistry at RIT.
Parisi was one of 60 undergraduate researchers selected from 600 applicants to present her project to the scientists and members of Congress attending the annual event, sponsored by the Council on Undergraduate Research.
Parisi and Miri's research investigated renewable resources for creating commercial-grade plastics. Polyethylene—a ubiquitous plastic—is a polymer, or large molecule, made up of repeating units of the chemical compound ethylene typically produced from oil or natural gas. Scientists like Parisi and Miri are experimenting with new sources of commercially produced, renewable polyethylene.
"We synthesized copolymers of ethylene with the renewable compound eugenol, which is a liquid derived from clove oil and in a variety of other plants," Parisi said. "Since ethylene can be produced from sugar cane, ethylene/eugenol copolymers could be produced as completely renewable plastics."
Eugenol is currently used in the dental industry for its antiseptic properties, she said.
"The copolymers we produced would have potential for food and medical packaging and other applications," Parisi said.
Parisi and Miri met several congressmen and women, including Reps. Louise Slaughter and Dan Maffei, as well as members of the American Chemical Society and fellow scientists.
"Laura did an excellent job presenting our research project and promoting funding for research on sustainable polymers and for undergraduate research in general," Miri said.
After graduating this May, Parisi will pursue her Ph.D. in chemistry at the University at Buffalo, State University of New York.