Student spends time abroad in New Zealand
Student Spotlight Malachi Schultz, third-year imaging science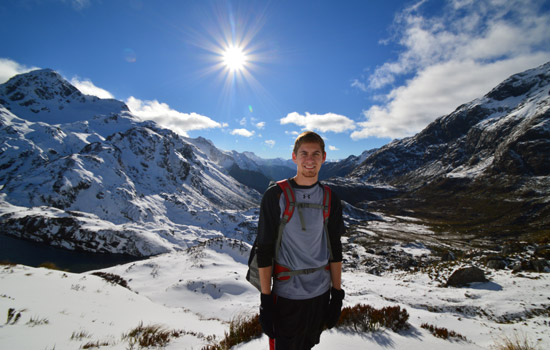 Malachi Schultz is a third-year imaging science student. He is currently enrolled in a five-month study abroad program in New Zealand. When he is back at RIT, he is a member of the RIT men's ultimate frisbee team, a resident advisor and an alumnus of the Brick City Singers a cappella group.
Question: Where are you from?
Answer: I am from Honeoye Falls, N.Y.
Q: What brought you to RIT?
A: RIT is the only school in the world to offer my degree and it is one of the best private schools in the country. The great academics, price and the push for internships and job placements made it the perfect fit for me.
Q: Why did you want to study abroad?
A: I have always wanted to travel and New Zealand was my top choice because of my desire to hike. Plus, it was the setting for Lord of the Rings and I couldn't pass up scenery like that.

Q: What has your time in New Zealand been like?
A: My time in New Zealand has been about 80 percent hiking to 20 percent classes but I have learned so much about Kiwi (New Zealand) culture and about the rest of the world from my fellow international students.
Q: What type of classes are you taking abroad?
A: I am taking mostly business classes to fulfill my business minor.
Q: What has been your favorite experience from your time abroad?
A: My favorite experiences have been the amazing scenery and ruggedness of this land but also the amazing people from all parts of the world I have met along the way. I have also really enjoyed the weeklong road trips with friends where we sleep in our cars and just hike for days.
Q: What have you missed the most about home?
A: I have really missed having someone else cook for me! I've also missed some of the traditional American activities that I never realized I loved so much until I wasn't able to experience them, like summer barbeques, bon fires, autumn leaves and apple cider.
Q: What has been the biggest difference for you between New Zealand and home?
A: The biggest difference for me between New Zealand and home is their view on time. New Zealanders and Europeans in general are not in a rush to get anywhere like Americans are. It's taken some getting used to but I've learned that when they say they want to leave, if you add an extra hour onto that time, that's when they will actually be ready.
Q: What are your plans for after graduation?
A: After graduation I plan on pursuing a master's degree in business administration. I also want to travel to Europe and Africa.