Student Spotlight: International student studies at three RIT campuses through global scholars program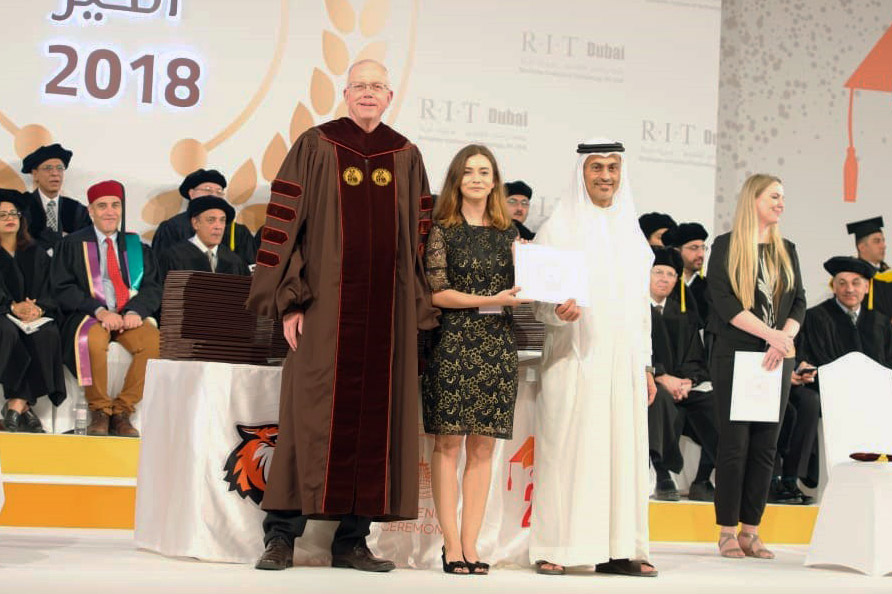 In the past four years, fourth-year international business student Ioana Ifrim has studied at three different RIT campuses around the world. She has been a student at RIT Dubai, RIT Croatia in Zagreb and the RIT campus in Rochester.
Growing up in Dorohoi, Romania, Ifrim had always dreamed of getting out of her country and seeing the world. This became possible though RIT's Global Scholars program, which offers RIT students at international campuses an opportunity to study at the Rochester campus for up to two semesters.
Why did you choose to go to a RIT campus?
I had family in Dubai, so I used to visit all the time. I absolutely loved the city, so I decided to study there. I was researching the options I had and RIT popped up on my web browser. I saw that they had these international opportunities and the RIT Global Scholars program is what really drew me in to RIT. I stayed in Dubai for about two years. Then I moved to Croatia for a year and a half. Although I didn't study at the Dubronvik campus, I did visit it.
Since you have studied at three different RIT campuses, how do they differ?
The first thing that comes to my mind is size. Both the campuses in Croatia and Dubai are very small compared to Rochester. They have about 1,000 people at each location, compared to Rochester which has about 15,000 students—basically, everyone knows everyone there. The size of Rochester allows for more opportunities. In Croatia, the athletic community isn't as well rounded as it is here. In Dubai, they have men's and women's basketball, volleyball and soccer. I'm not really into sports, but I have noticed that.
Which campus has been your favorite so far?
Definitely Rochester. I'm only going to be here for a semester, so it's the shortest amount of time out of the three campuses. I probably would have loved it more if the weather wasn't always so snowy all the time—but I absolutely enjoy it. I am trying to get involved in as many clubs and organizations as I can while I'm here. I am collaborating with RIT Student Government, since I was involved with it on the Dubai campus. I have a part-time job as well. Rochester just offers a lot more than the others, but I still love each campus that I have been to.
What made you want to join Student Government in Dubai?
My first experience with Student Government was very random. During my freshman orientation I met with the president of Student Government. He convinced me to join since I seemed to really like getting involved. I applied to the board not expecting anything, but I landed the job as an events coordinator. I loved the teamwork aspect of Student Government and the work environment. It was a good experience to include in college life. I wasn't intending to run for president, but I started to think about it being a possibility as the deadline approached. I ran on a ballot with my friend as my vice president, but we didn't expect to go very far. We ended up winning and it was honestly an amazing experience that I will never forget.
Do you know what your plans are for after you graduate?
I will probably work a few years before I get my master's degree. I plan to get it in media production. I've done theater my whole life and was in drama club at my high school. I've always been passionate about film and the production of movies. The ultimate dream would be to become an executive producer at Warner Bros., but I know it will take a lot of hard work for that to come true.
Is there any advice you want to leave behind as you depart RIT?
I definitely suggest that sometime in people's college experience, they should study abroad. It's a great way to meet new people and explore different cultures. It allows you to be more open minded and create a broad network of ideas.