Student Spotlight: Participating in the ASCE Concrete Canoe competition
Meet Brady Smith, a fourth-year civil engineering technology student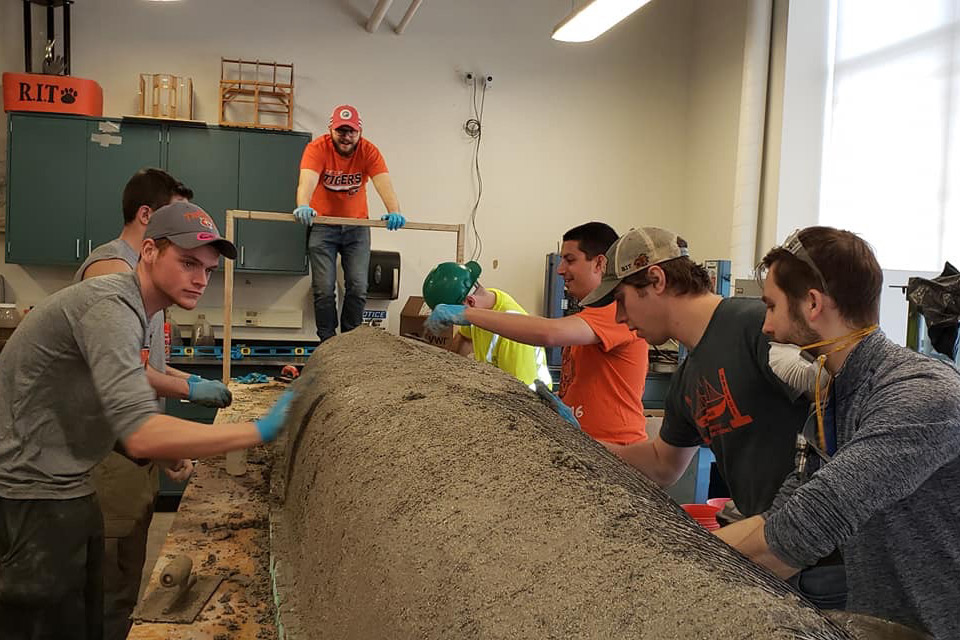 Brady Smith, a fourth-year civil engineering technology student, is the captain of this year's Concrete Canoe team. Smith and the rest of the RIT team will be hosting the regional Upstate New York American Society of Civil Engineers (ASCE) student conference this weekend, April 18 to 20. They will compete in a race to earn a spot at the National Concrete Canoe competition from June 7 to 9 at the Florida Institute of Technology in Melbourne, Fla.
The ASCE has hosted this annual competition since the early 1970s and encourages innovation by inviting students from colleges across the nation to design, construct and race concrete canoes. This is Smith's third year participating in the competition.
In addition to serving as the captain of this year's concrete canoe team, Smith is also the president of the RIT ASCE chapter and is completing a co-op at The Pike Company in Rochester working as an estimator and assistant project engineer.
Smith, from Holley, N.Y., is just one member of the large team of civil engineering technology students working on RIT's concrete canoe. Other members include: Wesley Foster, fifth-year; Briana Clark, third-year; Chelsea Parkes, fourth-year; William LaRose, fifth-year; Daniel Carpenter, fourth-year; Trevor Green, fourth-year; Lucas Terrana, fourth-year; Calvin Leu, first-year; Corey Hurley, fourth-year; Austin Goodwin, fifth-year; Brennan Verges, third-year; Greg Delahoy, fourth-year; Michael Salvatori, fourth-year; and Kayla Baker, third-year.
For more information about the ASCE Concrete Canoe competition, go to https://www.asce.org/event/2019/concrete-canoe/. For more information about how to get involved with the RIT Concrete Canoe team or the RIT ASCE student chapter, email Brady Smith at bxs4062@rit.edu.
Question: Why were you interested in getting involved with the ASCE?
Answer: I was interested in getting involved with ASCE because I had heard about the opportunities that it presented for getting involved in the field that I am studying. It has not disappointed, as it has provided me with many leadership opportunities, conferences and professional experiences.
Question: What attracted you to the Concrete Canoe competition?
Answer: I was attracted to the concrete canoe competition because of how unconventional and peculiar the whole competition seemed. Each year the team creates a concrete canoe that actually floats, and I wanted to be a part of something that seems impossible to most people. The team atmosphere was also very positive and encouraging, which helped make the decision to join easier as a freshman.
Question: How are you guys able to make a concrete boat float?
Answer: The concrete canoe floats due to the unit weight of the concrete being less than the unit weight of water. The unit weight of water is 62.4 pounds per cubic foot, and the unit weight of our concrete mix is about 62.0 pounds per cubic foot. Through water displacement and buoyancy properties, the shape of the canoe also helps the canoe float. However, it is also required for us to completely fill the canoe with water, submerge it and have it float back to the surface under its own power to prove that the canoe really does float on its own.
Question: You are the captain of the team this year; what responsibilities do you have in this role?
Answer: As captain, I created and helped maintain a project schedule, organized meetings and team activities, handled paperwork and required submissions, made sure we had the necessary materials and, overall, just made sure everyone knew what had to be done and who had to complete it.
Question: How do you and your team prepare for the competition?
Answer: To prepare, we have regular paddling practices, practice presentations and spend countless hours preparing the actual canoe and display.
Question: What has been the biggest obstacle you and your team have faced so far?
Answer: The biggest obstacle has been balancing the responsibilities of being involved multiple different clubs and organizations. Almost everyone on the team is involved in at least one other club or activity, and we all had to find a balance between everything. This made it difficult to follow the aggressive schedule we had hoped to follow and we encountered a few setbacks with mix design and our anticipated pour day. In the end, we had to keep pushing and get everything done on time. A deadline is a deadline, and the entire team put in the necessary hours to complete the project in the time that it needed to be done.
Question: What are you most looking forward to at the competition?
Answer: Showing off our product and competing against the other schools. The student conference is our opportunity to show off our hard work and compete against other schools and students who worked just as hard as we have. With the conference being hosted by RIT this year we should have an abundance of support, which will make the event that much better.
Question: You are the team captain, the ASCE President and you are helping to host the RIT ASCE student conference all while you are on co-op. Is it difficult balancing all these responsibilities?
Answer: Yes. Balancing all of the different clubs and responsibilities was one of the most difficult things I have had to do since coming to RIT, but I knew when I signed up that it would not be easy. Being on co-op and being off campus made it even more difficult, but I had a strong group of friends and teammates who were still on campus that I could trust and communicate with in order to accomplish what needed to be done. 
Question: How can someone get involved with ASCE or the concrete canoe team on campus?
Answer: It is easy to get involved in either ASCE, the concrete canoe team or both! We are always looking for new members and they do not have to be civil engineering students. There are many different aspects of the canoe team that students from all different majors can get involved in; from the art and design involved in the canoe display and academic paper, to the actual design of the canoe in the "Inventor" program. There are a lot of opportunities for project management, hands-on experience and fundraising as well. All students have to do is express interest in one of the clubs and we would be glad to welcome them.