Student Spotlight: Student creates artwork to sell at Shop One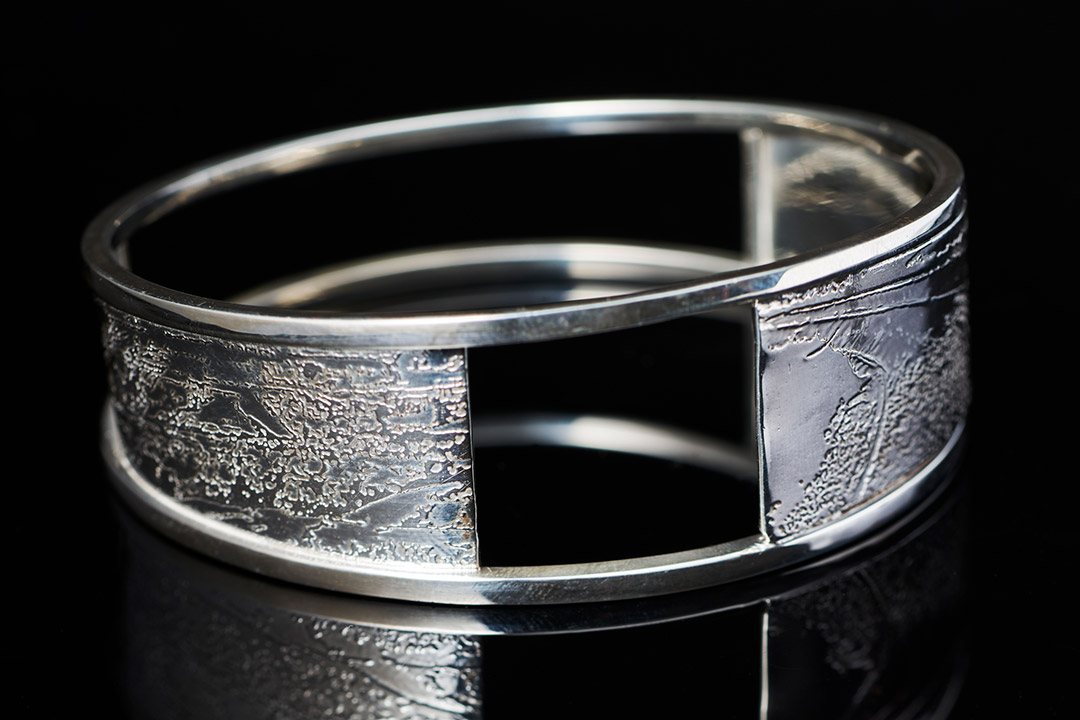 Maddy Schoenfeld says that the beauty isn't in the creation of the piece, but in the experience of the wearer. The fourth-year metals and jewelry design student tries to incorporate this idea into every piece of artwork that she sells at Shop One, the contemporary design shop on campus.
Schoenfeld has been selling her work at Shop One for a year and just recently took on a job working at the shop this past month. From West Milford, N.J., her craving to use her hands to create beautiful artwork has been in her mind from an early age.
What brought you to RIT?
I'm a transfer student from Savannah College of Art and Design in Georgia. I transferred to RIT about a year and a half ago. Although the weather was a lot nicer in Georgia, I ultimately wanted to come to RIT because it has the best metals and jewelry program. It just feels like I'm at home here.
What made you want to work at Shop One?
I have been selling my work here and thought it was a very interesting place. I recently got a call regarding a position opening here, so I immediately accepted. It's been a fun and rewarding experience that I have really enjoyed. I like how I get to play with all the jewelry here. I get to set up the displays making the storefront look pretty and easy to access all the work to those who come to shop here.
Have you always known that you wanted to become an artist?
I would say that I was a very young child when I started to like art. I started to play around with metals and it sparked something inside me. I decided to pursue jewelry making instead of ceramics, which I've been doing for longer, because I just felt excitement when I created jewelry.
What's your favorite jewelry piece you've ever made?
I made a bracelet that actually sold here at the shop—it was an etched sterling silver photograph of the Badlands in South Dakota. I thought it was a beautiful piece, but it was very painful to make. It took a very long time—super frustrating—but it came out so good. I create jewelry for my production line that are 3D printed, small pieces, that I can recreate. Then I have some very unique stuff as well. I was also at Rochester Fashion Week this year and my project took about six months to make—it was unbelievable. There will never be anything that looks like that ever again.
Do you have a dream in mind for this line of work?
It has certainly evolved. I thought that I wanted to design for other people, but it turns out I really don't like doing that. I've had a lot of industry jobs and they are just not for me. I enjoy making my own work. I teach at the Adorned Studios, in downtown Rochester. I really love doing that. I also got the opportunity to teach at RIT this past summer. I teach once a month right now, but it is going up to three classes a month in March.
What do you plan on doing after you graduate?
That's a very difficult question to answer. I'm looking at my own studio spaces right now. Then I am going to continue to teach at the Adorned Studios and hopefully work full time for a local jeweler. But who knows, I'll have to see where the wind takes me.