Student wins microbiology research fellowship
Lucas Dailey is a resident of Webster, N.Y.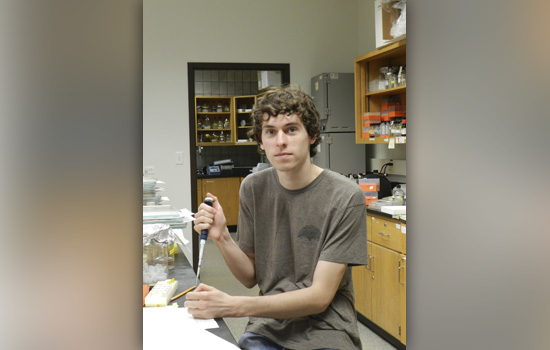 Photo provided
RIT College of Science student Lucas Dailey was awarded an American Society for Microbiology Undergraduate Research Fellowship.
Dailey, from Webster, N.Y., is a fourth-year student majoring in biotechnology and molecular bioscience. He is also a member of the RIT Honors Program.
The society selected 43 students out of 94 applicants who are interested in graduate careers in microbiology. Award recipients receive a stipend of up to $4,000, a two-year student membership to the society and travel funding to the ASM's Research Capstone Institute and Microbe 2016 in Boston on June 16-20, 2016
Dailey and his mentor, Michael Savka, professor in RIT's Thomas H. Gosnell School of Life Sciences, are investigating "the overexpression of novI in Novosphingobium sp. Rr2-17 to identify the complement of acyl-homoserine lactone communication signals."
"My research involves looking at something called 'quorum sensing signaling,' which is a way that bacteria communicate using chemical signals to coordinate actions in a colony," Dailey explained. "Each bacterial cell makes some signal and, once there is enough of it, all of the bacteria respond together. I am looking at the different signals produced by one particular bacterial strain, Novosphigobium sp. Rr2-17, that is unusual in the variety of signals present."
Dailey worked full-time on this project during the summer in Savka's laboratory. "Lucas is continuing this academic year on the project and will present his final work at the ASM Annual Meeting in Boston in 2016," Savka said. "He also presented at the RIT Undergraduate Research Symposium in August."
The American Society for Microbiology is the largest single life science society, with a membership exceeding more than 39,000 scientists and health professionals.