Students present findings at Graduate Showcase
More than 100 master's and Ph.D. students presented their latest findings at the Nov. 3 event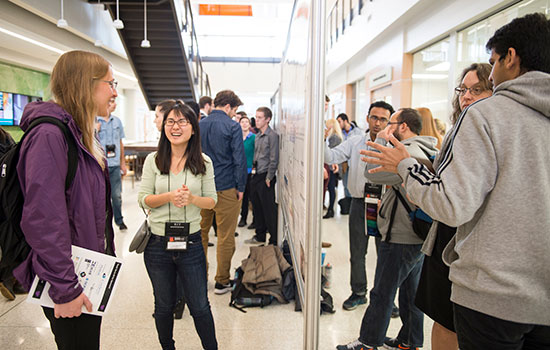 Elizabeth Lamark
More than 100 Rochester Institute of Technology master's and Ph.D. students presented their latest research projects and creations at the 10th annual Graduate Showcase on Nov. 3. Hundreds of attendees had the opportunity to learn about the graduate students' cutting-edge findings on topics varying from cybersecurity to Paleolithic cave art.
"This event highlights the creative, innovative and entrepreneurial research and scholarship of graduate students from our colleges and degree-granting units," said Twyla Cummings, dean of Graduate Education. "RIT has reached an exciting juncture in its transition to a student-centered research university. Research, experiential learning and creative endeavors are key goals of our strategic plan. The Graduate Showcase assists in achieving our strategic goals and is a recognition of the learning excellence that we engage in at RIT."
RIT President David Munson, who delivered the keynote address, said that RIT's increased emphasis on research is "a particularly good fit for our community of what we refer to as 'makers.' We create things that never existed before. We've done that for a very long time. That's basically the mantra of RIT—do new things, make stuff that never existed before. And our making should include making of new knowledge. We are now fully involved in discovery, which might take the form of a new material in photonics or for energy storage, a new design methodology or maybe a new theory about how black holes combine and how the universe evolves. Opportunities to engage in these quests provide wonderful learning opportunities for our students—both graduate and undergraduate—and they offer a chance to put our creativity to further use."
Twelve students were awarded for their outstanding oral presentations, and the top three poster presentations were recognized as well. Kevin Cooke, a Ph.D. student from Green Township, N.J., studying astrophysical science and technology, delivered one of the award-winning presentations. He has been working on the project, "Tracing the Assembly of the Most Massive Galaxies in the Universe," for more than two years and saw the showcase as an opportunity to reach new audiences outside his realm of expertise.
"All researchers need to be able to communicate their results effectively to a general audience," said Cooke. "Communicating the value of the research we do is an important component in building trust for science and also important for getting people as excited for science as we are. The showcase provides an excellent stage to give me experience in explaining my work to the general audience and specialists at once."
A full list of presenters and award winners is available at www.rit.edu/academicaffairs/graduateshowcase.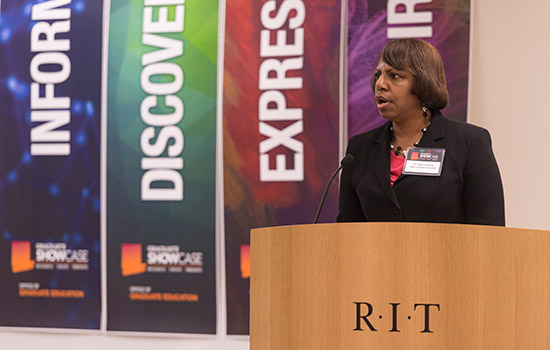 Elizabeth Lamark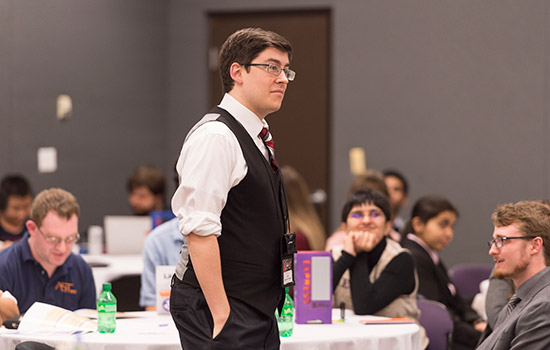 Elizabeth Lamark