Students, researchers take a bite out of food waste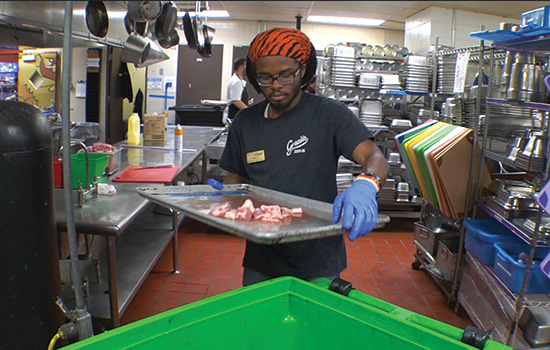 RIT Production Services
With Earth Day approaching on April 22, here's some food for thought: it's estimated that approximately 40 percent of edible food in the United States goes to waste. And food production uses roughly 25 percent of all the fresh water consumed in this country, as well as 300 million barrels of oil.
Across the United States, the volume of food waste generated from municipal sources continues to grow, and while efforts to divert organic waste have also been expanding, "there remains a significant gap," according to Callie Babbitt, an associate professor in RIT's Golisano Institute for Sustainability (GIS).
"As a result, food waste is the single largest fraction of the waste stream that is ultimately landfilled," said Babbitt, who last year received a nearly $1 million award from the National Science Foundation (NSF) to research sustainable solutions for minimizing and managing the growing and complex challenges of food waste generated across the food supply chain.
RIT, a city unto itself, is combating food waste across all corners of the campus and beyond—through the work of GIS researchers such as Thomas Trabold and Babbitt, engineers at the New York State Pollution Prevention Institute (NYSP2I) and programs in the university's dining halls and the Thomas Gosnell School of Life Sciences.
Enid Cardinal, senior sustainability adviser to RIT President Bill Destler, called food waste a prime target among a wide array of university sustainability initiatives, which include an aggressive goal of carbon neutrality by 2030.
"Curbing this waste could go a long way in meeting the food needs of the world's growing population," Cardinal said. "We need to do better."
Reducing waste in dining halls
All of RIT's large dining facilities work collaboratively with Recover Rochester, a club launched in 2012 when a student doing a research co-op at GIS on food waste took a closer look at the university's food practices. Through that program alone, RIT annually donates about 15,000 pounds—that's 7.5 tons—of food to Rochester-area shelters and meal centers.
RIT FoodShare, using an active Facebook group, targets leftover food from the many campus events. Event hosts post to the Facebook group notifying people when there is leftover food. The program also features a no-questions-asked food-sharing center.
"During move out, we collect a lot of non-perishable food through Goodbye, Goodbuy!," said Cardinal, referring to unopened food items that students donate to RIT's popular campus-wide recycling program. "We've sent about 4,000 pounds (two tons) of food from the collection to the FoodShare Center."
Cardinal noted that during RIT's 2016 fiscal year, the sum total of composting activities at Grace Watson Hall combined with The Commons, Brick City Café and the RITZ Sports Zone added up to 181 tons of material diverted from the landfill.
"We've been working with other schools to help start similar programs," she said. "Food waste is not an issue unique to RIT, and these programs are replicable elsewhere."
Researchers digesting data
Last summer, RIT and Synergy Biogas, a high-tech anaerobic digester located on Synergy Farms in Covington, N.Y., conducted a three-month pilot program led by Jeff Lodge, associate professor in RIT's Thomas Gosnell School of Life Sciences. The project explored the environmental benefits of using microalgae to clean agricultural wastewater and produce biofuels. Microalgae consumes contaminants in wastewater and produces an algal biomass that Lodge and his three-student team used as a feedstock for renewable energy.
According to Lodge, the Synergy project continues to employ the team's algae to treat the effluent coming from the anaerobic digester that is treating food waste and dairy manure, producing lipids for biodiesel production. Another project is looking at converting food waste—primarily cheese and yogurt whey—by yeast fermentation to produce lipids for biodiesel production and use the sugars in the waste to make bioethanol.
Also last year, NYSP2I, the statewide research and technology transfer center located at RIT and sponsored by New York's Department of Environmental Conservation, led important initiatives such as the development of a food system sustainability roadmap for New York and assisted companies with implementing wide-ranging projects designed to reduce food waste.
NYSP2I also hosted a workshop on waste, water and energy for statewide brewers, drawing representatives from dozens of breweries from all corners of the state.
Like RIT, many restaurants, hotels and institutions have begun diverting waste cooking and frying oil into biodiesel production, which can often provide significant savings over the costs associated with grease removal and disposal.
GIS researchers Trabold and Babbitt also have been invited by technical publisher Elsevier to co-edit a book titled Sustainable Food Waste-to-Energy Systems. The book, scheduled to be published in 2018, will feature chapters on the latest developments in anaerobic digestion, fermentation, bio electrochemical and thermochemical conversion technologies. It also will include contributions from current and former sustainability Ph.D. students as well as researchers from leading universities.
Cardinal believes that when the campus and community are treated as living laboratories for sustainability, students have the opportunity to examine how complex global challenges are manifested at the local level.
"A variety of stakeholders are engaged as they examine the issues, evaluate tradeoffs and formulate potential food waste solutions," she said. "Sometimes those experiences turn into careers."
Video extra
GIS launched a three-part video series about food waste at last November's Disruptive Innovation Festival—an online, open access event sponsored by the UK-based Ellen MacArthur Foundation (EMF). GIS collaborated with RIT Production Services to produce the videos, with funding support from NYSP2I and EMF. Go to bit.ly/GISfoodwaste.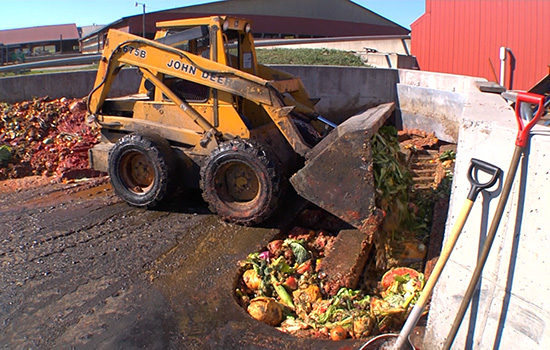 RIT Production Services