Students win Geospatial Intelligence Hackathon
Team modeled spread of Ebola virus through West Africa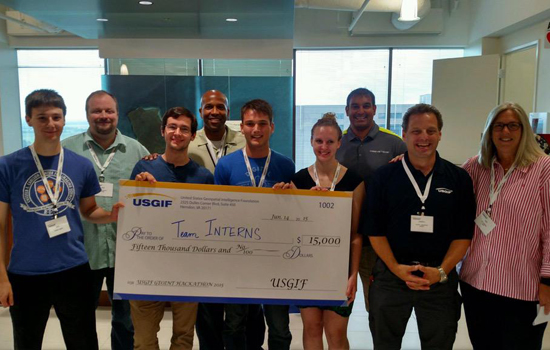 Rochester Institute of Technology students were on the winning team at the recent U.S. Geospatial Intelligence Foundation's GEOINT Hackathon held at DigitalGlobe offices in Herndon, Va.
Briana Neuberger, from Herndon, Va., and Dan Simon, from Longmeadow, Mass., are fourth-year students in RIT's Chester F. Carlson Center for Imaging Science. Neuberger, a SMART (Science, Mathematics And Research for Transformation) scholar, is also majoring in industrial systems engineering at RIT.
They were among seven teams of 30 developers and data scientists challenged to develop a model for the transmission of Ebola in West Africa that could extend to other scenarios and geographies. The solution had to explain unaffected areas of West Africa and predict locations of additional outbreaks.
Both Neuberger and Simon are working as interns in the geospatial industry. Neuberger is with the U.S. Department of Defense, while Simon is at OGSystems. Their team, dubbed "The Interns," took first place and $15,000 for modeling the spread of the Ebola virus through the West African coast.
"All teams were challenged to use large datasets to predict the spread of the virus," Simon added. "Our team went beyond that and developed a Python library that would be able to model human-spread disease."
The Interns included R. Blair Mason, a senior studying computer science and aerospace engineering at the U.S. Naval Academy, on internship with the Naval Research Laboratory; and Paul Warren, a computer science major at Stanford University, on internship at OGSystems. Members of the winning team also received free registration to the Geospatial Intelligence Foundation's GEOINT 2015 Symposium on June 22–25 in. Washington, D.C.
The GEOINT Hackathon, held June 12–14, was sponsored by DigitalGlobe, Esri and OGSystems, and included judges from USGIF, NGA, DigitalGlobe, Esri and OGSystems.
"I very much enjoyed the fact that USGIF, OGS, DigitalGlobe and ESRI sponsored the Hackathon," said Neuberger. "It was a great opportunity to participate more in the geospatial community and I look forward to other events they may hold in the future."