Students win grand prize in business contest
Justin Hillery and Sean Petterson are co-founders of Strong Arm Technologies Inc.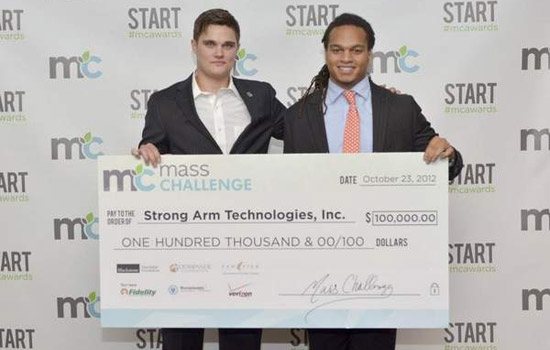 Rochester Institute of Technology students Justin Hillery and Sean Petterson, the co-founders of Strong Arm Technologies Inc., out flexed their entrepreneurial muscle in competition, winning $100,000 in the MassChallenge startup business contest.
Strong Arm Technologies Inc. was one of four grand prize winners out of 26 finalists. MassChallenge is the world's largest startup accelerator and competition supporting high-impact, early-stage entrepreneurs. The awards ceremony was held Oct. 23 in Boston at the Boston Convention and Exhibition Center.
Hillery, of Brighton, N.Y., is a fifth-year multidisciplinary studies major and Petterson is a fifth-year industrial design major from Mount Sinai, N.Y. They invented a lifting system consisting of a form-fitting garment that incorporates load-bearing straps to help workers lift objects with significantly less risk of injuries.
"It feels pretty amazing to be recognized at this level," Petterson says. "Our hard work is paying off. This prize money and additional financing we've received from angel investors in the Rochester and Boston areas are going to carry us through our final design process and hopefully through the initial production of the lifting system next spring."
Strong Arm Technologies has been collaborating on field-testing of its prototype with a Fortune 20 company that is one of its customers. Strong Arm is also working with design firms around the world including one in Stockholm, Sweden, to fine tune the product's design to ensure its wear by users for up to 12 hours. The startup company has applied for two patents, with four more patents to be filed.
Among the judges for the MassChallenge competition were: Wyc Grousbeck, CEO and co-owner of the NBA's Boston Celtics; Paul English, founder and CTO of Kayak.com; and Colin Angle, co-founder, CEO and chairman of the board of iRobot Corp.
"It was nerve-wracking and exciting at the same time to present our prototype to business executives that have achieved so much success," Petterson says. "We were excited when the owner of the Celtics told Justin and I that we had incredible energy."
The 2012 MassChallenge accelerator received more than 1,200 applications from 35 countries and 36 states.
This is the latest in a string of competition wins this year for the Strong Arm co-founders. They were the grand prize winners of the 2012 New York State Business Plan Competition, earning $50,000 in cash and $20,000 worth of in-kind services. Hillery and Petterson also earned top honors at the 2012 Rochester Regional Business Plan contest, netting a grand prize of $25,000. In September, they won a GREAT (Greater Rochester Excellence and Achievements in Technology) Award from Digital Rochester. And the two placed first overall at the Open Minds Competition, part of the National Collegiate Inventors and Innovators Alliance conference held in March in San Francisco.
Topics