Successful first flight for RIT SPEX group
The sky isn't the limit for students interested in space experiments and exploration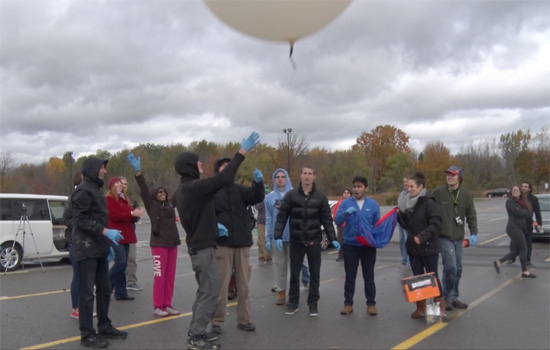 David Wivell, RIT University News
Early Sunday morning, more than a dozen Rochester Institute of Technology students assembled in a campus parking lot to launch a scientific experiment to the edge of space.
Plans for the launch, using a high-altitude weather balloon, began several months ago, as members of RIT SPEX – short for RIT Space Exploration Research Group – designed the container, constructed the experiments and arranged clearances with the Federal Aviation Administration.
Ultimately, the group of 30-40 members from five of RIT's colleges hope to submit an experiment to be considered by NASA to test in outer space.
The team meets regularly to discuss projects, often in the office of Professor Mihail Barbosu, lead advisor of the group and head of RIT's School of Mathematics in the College of Science. Members of the group have been involved in designing deployable solar cells, stands for telescopes, and biological payloads for a satellite.
But Sunday's launch was their first project to become reality.
"We're starting to make things on campus and sending them to the edge of space," said RIT SPEX Flight Director Anthony Hennig, a fifth-year mechanical engineering major from Richmond, Va. "Everything we're doing, we're learning a lot from it."
In preparation for the launch, members gathered around a small blue tarp and added hand warmers to the payload box to keep seven batteries and a Go-Pro camera warm in the extreme subzero temperatures of the high atmosphere. Some students were in charge of the helium flow, others were checking signals from a laptop, and one was in contact with the airport control tower.
In a process resembling an operating room, students donned blue latex gloves and called out for tape, scissors and plastic ties when they were needed.
Typically, such balloons pop around 100,000 feet as the gas expands at altitude, and the payloads return to earth downwind via parachute.
Almost as soon as they began to pump helium into the balloon, a cold, gusty wind brought rain. The students' arms acted as a cradle as the balloon grew bigger and was buffeted by the wind.
"This is more fun than a rocket launch. You can't touch a rocket," said Dorin Patru, an associate professor of electrical engineering and technical advisor for the group.
After receiving FAA clearance, the balloon was released but it barely rose. The payload box and silver radar reflector (made of cereal boxes and aluminum foil) crashed to the ground.
The students ran after the balloon, grabbed it, returned it to their tarp and filled it with more helium. Ryan Portocarrero, a fourth-year computer science major from Lewisburg, Pa., was mission operation director, in charge of contacting the control tower. He sheepishly called back to report a "launch failure."
"This is a story either way," said flight director August Allen, a fifth-year biomedical major from Holland Patent, N.Y.
After more helium was added and FAA clearance was again granted, the balloon was released amid cheers from the students.
"This is pretty awesome," Hennig said as their project flew out of sight, rising about 500 feet per minute at first.
After the launch, the students gathered at mission control, a room at Kate Gleason College of Engineering, where they monitored their balloon's voyage from a website that received tracking information from their experiment. About two hours after launch, it had sailed over the Adirondack Park, going 145 mph at 40,000 feet. It slowed to about 20 mph over Vermont as it reached 75,000 feet, but resumed a speedy trek of 85 mph as it reached New Hampshire at 97,000 feet.
"Everyone here is pretty excited," Allen said. "We're sort of taking bets if it will get to 100,000 feet."
That almost happened above Lake Winnipesaukee, N.H., five hours after leaving RIT, when the balloon reached 99,228 feet before popping. It drifted into Maine, with the last transmission still thousands of feet above Sebago Lake.
"We estimated it probably landed somewhere around Gray, Maine," Allen said. Amateur radio operators were contacted in hopes of assisting in the recovery – the device will emit a low-level radio frequency for a few days that can be picked up by people in the area, and students notified the sheriff's office.
"Our best hope now is that someone will find it and return it to us," Allen said. "If we recover it, we can collect more data."
Still, the team was thrilled with the success of its first mission.
"We weren't predicting it to travel as far as it did," Allen said. "It gave a lot of people hands-on experience working with systems and government agencies. We're all ready to start on the next balloon launch."
Follow RIT SPEX on Facebook for more information about their meetings and projects.
Topics