May 9, 2022
by Rochelle Allan
Tea business bubbling for alumni entrepreneurs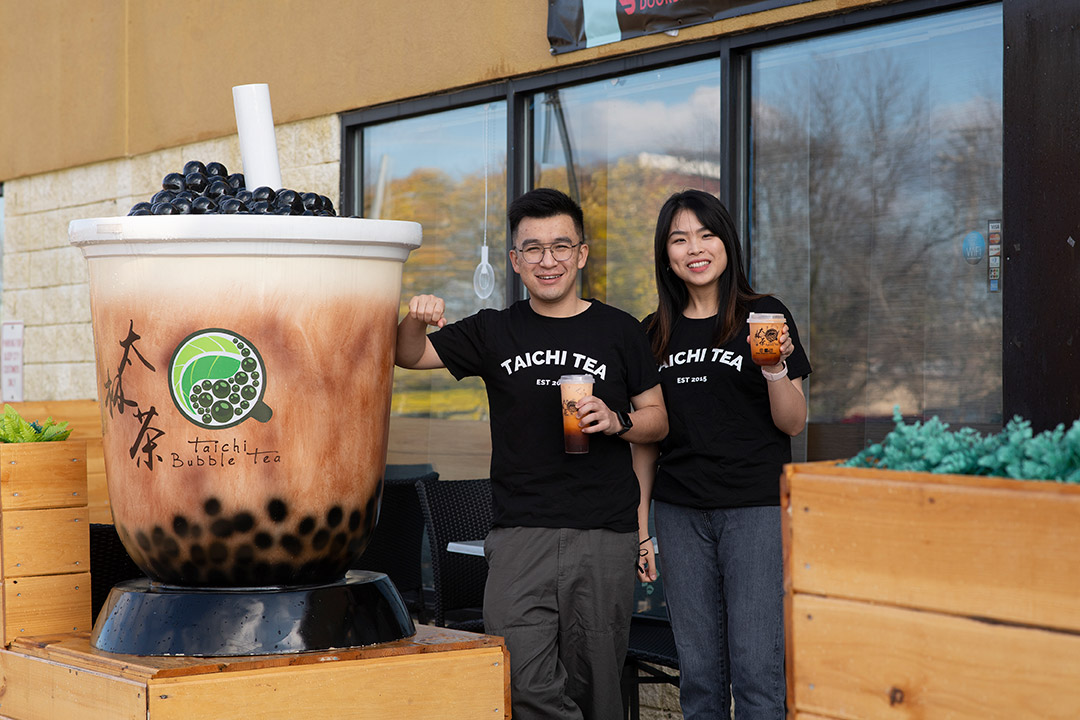 Chinese tea culture, with its rich history existing since before the third century, has always been a lifelong passion for Tian Tian and Zining Chen.
The graduates of RIT's advertising and public relations program (2017) and master's in entrepreneurship program (2019), yearned to share their culture in a new and exciting way—by founding Taichi Bubble Tea. 
The Rochester-based chain, which specializes in the unique drink that commonly consists of tea accompanied by chewy tapioca balls, or boba, has been rapidly expanding across the United States, with 13 stores in Chicago; Atlanta; Chattanooga, Tenn.; and Annapolis, Md., to name a few. More locations are in the works.
Chen, who is from China, said that the bubble tea franchise actually evolved from their first venture, which brought the authentic Poke bowl and sushi burrito experience to Rochester.
"We were on the lookout for branding opportunities and wanted to make sure we kept up with the latest trends in major cities," he said. "At the time, the sushi burrito and Poke bowl created a lot of buzz in New York City, but no one was doing this in upstate New York."
Their first franchise store, under the Taichi brand, opened in Buffalo, N.Y., in 2017.
In 2018, they opened a location in the bustling College Town area of Rochester, where they also introduced the community to traditional Japanese Ramen.
At the same time, bubble tea was becoming popular in Asia, and Chen realized the earning potential of bringing the product to U.S. markets, specifically on the East Coast.
"There were a few Chinese restaurants that sold bubble tea on the side, but none were dedicated to the specialty," he explained.
Chen and his team, which consists of several RIT alumni, introduced the drink to Rochester, and the future continues to look bright. Chen is also pursuing a second master's degree in marketing analytics in order to move toward data-driven methods to help his business grow.
"Data-driven analytics is where the world is heading, and I want to make sure the Taichi brand grows with it," he said. "When we started the brand, we were only undergraduate students, and we had to learn to cope with multiple responsibilities from an early age."
Tian said that their team has learned something new every step of the way, but the biggest takeaway is the importance of time management and the lessons they learned while at RIT.
"I think what RIT offers its students is very practical, and I've been able to use what I learned in class, specifically marketing and advertising, and apply it to Taichi right away," Tian said.
"I'm really happy about where Taichi is today, but I won't call it a success just yet. We have a long way to go and we're working on it."
Topics