Technology helps reduce sports concussion injuries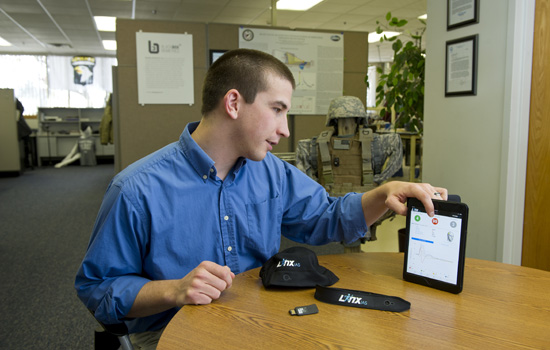 A. Sue Weisler
RIT Associate Professor David Borkholder and his team at BlackBox Biometrics have developed a technology that measures whether an athlete may be at risk for a concussion.
The Linx Impact Assessment System (IAS) was introduced in January at the Consumer Electronics Show in Las Vegas, where it received three CES Innovation Honoree Awards. Linx IAS uses a sensor about the size of a stick of gum that slides into a headband or skullcap. The sensor is plugged into a USB port and reports the impact forces it has encountered. The data can be used to determine whether medical attention should be sought.
Up to 3.8 million people per year are affected by a sports- or recreation-related brain injury, according to a 2013 Institute of Medicine report. More than 173,000 Americans under 20 years old are treated for sports concussions each year, according to the Centers for Disease Control and Prevention.
Linx IAS combines wearable technology with a mobile application to provide athletes, parents and coaches with real-time data and analysis of potential impact-related head injuries. The wearable technology weighs about the same as a nickel and fits easily into a custom skullcap or headband, allowing it to be worn in a sports environment. The companion mobile app, which will be available for Apple and Android devices, allows for impact monitoring and sideline testing, giving the user the ability to detect head impacts across sports and over time.
"It took our team two years to perfect this design, which will help parents, coaches and athletic trainers to monitor athletes' impacts to the head, whether they are students in high schools or professionals," Borkholder said.
Linx IAS is the latest technology from BlackBox Biometrics, which also manufactures the Blast Gauge System for military and law enforcement personnel to measure the exposure of blast overpressure, which can lead to head trauma.
"As industry leaders in measuring concussive forces, we are thrilled to have adapted our battlefield technology for athletes everywhere," said BlackBox CEO Rick Spotts.
Borkholder said Linx IAS is expected to be sold via LinxIAS.com and Amazon.com this spring.
Topics