Thousands enjoy Brick City Weekend events
More than 6,700 attend men's hockey game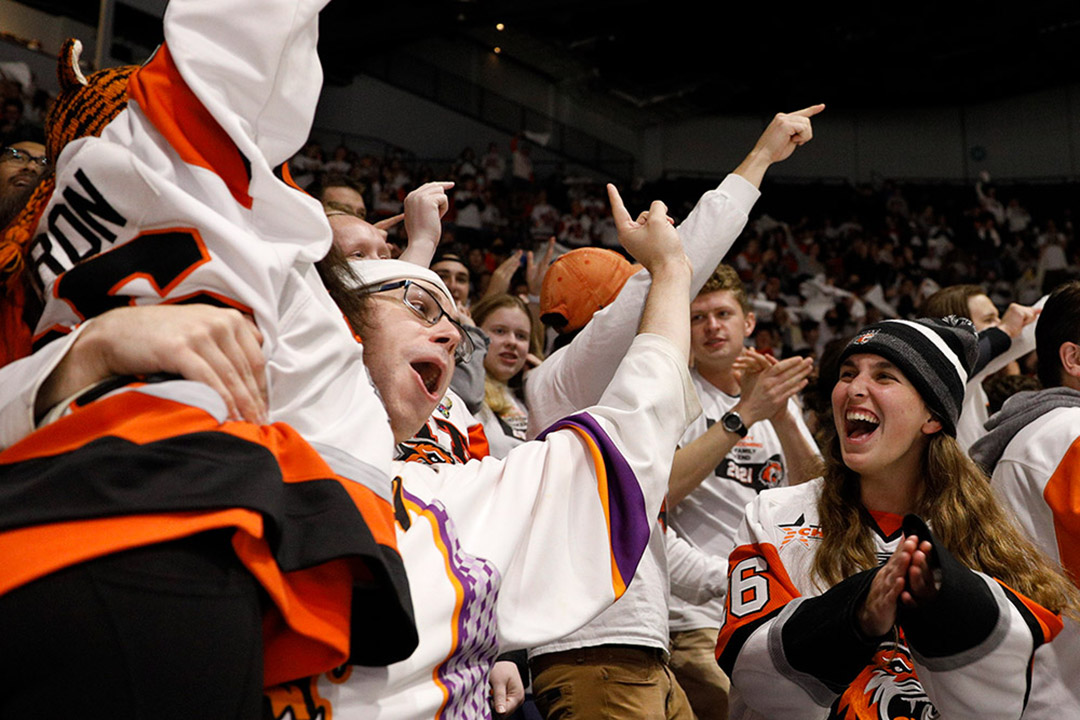 This year's RIT Brick City Homecoming and Family Weekend saw a return of in-person events including entertainment, men's and women's hockey, a comedian and speakers, escape rooms, axe throwing, tours, a 5K run and walk, open houses, and more.
Photo Gallery
See some of the weekend's highlights in this photo gallery.
A highlight was the men's hockey game, where RIT edged out St. Lawrence 2-1 in front of 6,743 people in attendance at the Blue Cross Arena downtown. The Blue Cross Arena was also a last-minute venue for the women's hockey team that played an exhibition game against Cornell University, where Cornell won 6-1.
Other highlights from the weekend featured numerous performances including the Gospel Ensemble, African Percussion Ensemble, and for the first time this year, pop up performances in the Fireside Lounge with smaller ensembles. That marked the first time many of these groups were able to be in front of an audience since the pandemic started.
Family activities were also popular with RITchie's Runaround Scavenger Hunt, extreme laser tag, and escape rooms. In addition to campus tours and demonstrations, the weekend capped off with the Brick City 5K and performing arts scholars presented a Broadway Cabaret, a series of musical theater and classical and contemporary pieces.
A gallery of photos recapping events includes speaker Tig Notaro, who performed Friday night, the popular New York Dueling Pianos performances, alumnus Alex Kipman '01 (software engineering), open houses, and more.
A variety of virtual programs specifically for alumni were also held during the week leading up to Brick City Homecoming and Family Weekend.
Vanessa J. Herman, RIT's vice president for Government and Community Relations, said she was excited for students and families to experience a more normal, in-person homecoming, while at the same time, providing virtual tours and livestreamed events for those who couldn't come to campus this year.
"This hybrid approach allows us to engage as many students, alumni, parents, faculty, and staff as possible with fun and creative opportunities to allow us to come together as the resilient, proud, and supportive RIT family that we are," she said.