Thousands enjoy Brick City Weekend events
Speakers, hockey, reunions and tours were among the 100+ events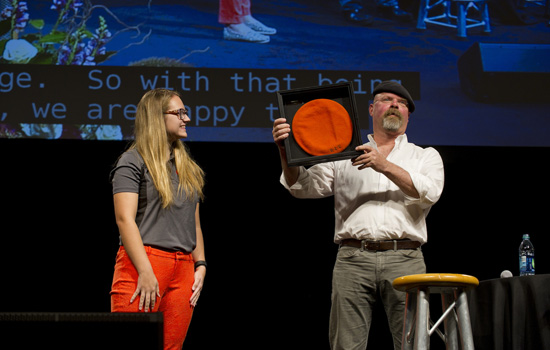 A. Sue Weisler
Some 17,000 students, parents, alumni and their families participated in Rochester Institute of Technology's three-day Brick City Homecoming & Family Weekend.
"We love seeing so many families on campus during Brick City Weekend. This is one of the university's great festival weekends, and it's a great opportunity for parents to reunite with their students and alumni to explore campus if they haven't been back in a few years," said Michelle Lezette, director for Brick City Weekend and Special Events.
Blue Cross Arena in downtown Rochester was sold out with 10,556 fans Saturday night to watch the RIT men's hockey team tackle nationally ranked Bowling Green State University.
And the Gordon Field House was filled for Jamie Hyneman, co-host and producer of the popular Discovery Channel show "Mythbusters." Hyneman was this year's Student Government Horton Distinguished Speaker.
"RIT, you guys are my peeps," Hyneman told the sell-out crowd of 4,800. "Engineering and technology, science and math, it's all here."
Prior to his talk, Hyneman met with members of Student Government for a question and answer session, with some questions more profound than others.
Does he recommend students go directly to college from high school? He said he's not opposed to that.
And how long does it take him to groom his mustache each morning? About 30 seconds, he said.
Other popular speakers on campus over the weekend were Vint Cerf, an Internet pioneer recognized as one of the "fathers of the Internet," and Randi Zuckerberg, founder and CEO of Zuckerberg Media, and former director of market development for Facebook.
This year's reunion was a special one for Jack Page '65, who was celebrating the 50th anniversary of graduation. He and his wife, Barbara, traveled to Rochester from New Smyrna Beach, Fla., where he's retired from running kitchens, working at French's and being a company recruiter.
"RIT is a wonderful institution," Page said. "I'm proud of what it was then when I went to school at the downtown campus, and I'm more proud of what it is now. The youth and vitality is unimaginable."
More than 100 people Friday attended a 30th anniversary gala at the George Eastman Museum celebrating the founding of the College of Liberal Arts' School of Communication. The event also included a tribute to the late Diane Hope, a founder of the school.
And guests Friday night also attended the RIT Presidents' Alumni Ball, during which RIT honored Volunteer of the Year Scott Saldinger '89, '91 and RIT Outstanding Alumnus Andrew Brenneman '86, '88.
Seven individuals and one team were inducted into the RIT Sports Hall of Fame: Randy Bloechl '84, distinguished service; Michael Bournazakis '04, hockey; Caitlyn B. Burr '10, swimming; Rick Cetnar '68, basketball; Michael P. Gargiles '00, multiple sports-track-hockey; Jim Page '72, soccer; Dodi Rabinovitz Perkins '83, multiple sports-hockey, softball, soccer, tennis; and the 1970-71 undefeated men's swimming team.
Many photos were taken of Brick City Weekend events, to view them visit the Huth Photography website.
Topics