Tiger design wins Imagine RIT poster contest
5,000 copies to be printed and distributed at the May 4 festival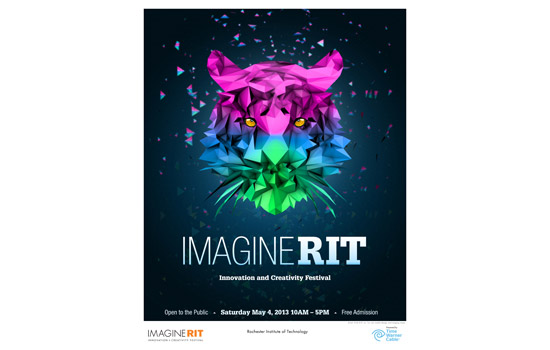 The winning design in this year's Imagine RIT poster contest was created by Trinh D.H. Le, a fourth-year new media design and imaging student at Rochester Institute of Technology.
Her design, a jewel-toned tiger that appears to be fashioned from folded paper, was chosen from among 60 entries in the contest.
Taking second place was a poster created by Teysia Parks, a third-year graphic design major, and in third place was the work of Katie Verrant, a second-year new media design major.
For her winning entry, Le — a resident of Rochester, N.Y. — will receive $500 in Tiger Bucks. And 5,000 copies of the poster will be distributed for free to visitors at the Imagine RIT: Innovation and Creativity Festival, set for 10 a.m. to 5 p.m. May 4 on the Henrietta campus.
Parks and Verrant will also receive Tiger Bucks, and Parks' poster will be printed and sent to some local teachers as part of RIT's K-12 outreach program.
Nearly 5,000 members of the RIT and Rochester communities voted in this year's poster contest.
For more information on this year's festival, go to http://www.rit.edu/imagine/.