Undergraduates unveil research projects
Event featured record number of research projects spearheaded by RIT students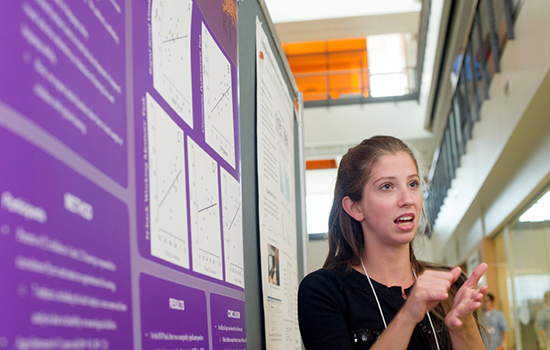 A. Sue Weisler
Rochester Institute of Technology students Sean Maraia and Jacqueline McGraw are hoping their new mobile app will help young children living with mental health issues cope with their feelings and eventually overcome debilitating conditions. The students' app— complete with tools and weapons that enable children to visualize and utilize coping strategies—was among the more than 250 student projects on display at the 25th annual Undergraduate Research Symposium on Aug. 5 at RIT. Organizers reported a record number of research proposal submissions as well as oral and poster presentations.
The event, which took place in Louise M. Slaughter Hall and Sustainability Institute Hall, is structured as a professional research conference. Some of the research themes include biomedical and life sciences; optics, photonics and imaging; energy and sustainability; chemistry and materials sciences and engineering; computer modeling, design and simulation; ecology; and social sciences and humanities.
"The Undergraduate Research Symposium provides undergraduates with the opportunity to present the research and creative projects they have undertaken during the past year," said Caroline DeLong, associate professor of psychology in RIT's College of Liberal Arts, and a faculty mentor for the symposium. "It gives students the chance to participate in a professional conference where they can practice their oral communication skills, which is especially helpful for students who will attend graduate school. Undergraduate students at RIT also have the chance to work closely with faculty mentors, which is one of the most enriching experiences a student can have in college. In some places only graduate students get to work closely with faculty members. Working with two faculty members on research in college set me on my path to becoming a scientist, and I still maintain a valuable mentoring relationship with them to this day."
This year's presentations featured a gamut of far-reaching innovations—from researching automatic speech recognition, to analyzing the effectiveness of exercise apps, to examining the effects of metallization on the electromechanical properties of polymer gel beads.
"It's been very fulfilling to apply what I've learned during my time at RIT in a research setting," said Maraia, a game design and development student from Fairfax, Va. "I believe it's incredibly helpful for students to work with and for faculty mentors, since it gives students a great chance to learn more practical skills than you might normally encounter in a traditional classroom setting. Meeting consistently with our faculty mentors helped me stay on track with the app's development and helped me pivot my focus to the areas of greatest need whenever it became necessary."
The keynote speaker for the symposium was Susan Spencer, a Rochester, N.Y., native and RIT alumna, and president and CEO of ROCSPOT, which is working to implement 100 percent renewable energy in Rochester by 2025.
The symposium is organized by RIT's Office of the Vice President for Research and sponsored by RIT's Office of the Provost.