United Way CHAIRity auction now open
A total of 42 chairs will be sold to the highest bidders; fundraiser open to the public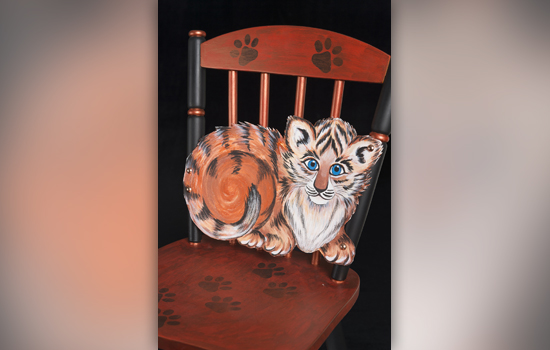 RIT Production Services
Please take a seat! Forty-two ordinary chairs have been transformed into beautiful works of art and are available to the highest bidder—in support of the 2016 United Way of Greater Rochester campaign.
The second annual CHAIRity Auction to benefit Rochester Institute of Technology's 2016 United Way Campaign runs from March 8-18, and the public is welcome to participate. Bidding starts at $50 a chair.
"All of these are chairs have become repurposed in support of RIT's ongoing sustainable initiatives," said Lynn Rowoth, RIT's 2016 United Way campaign coordinator and senior director of special events and conferences. "RIT's United Way Steering Committee members collected the chairs from campus, people's homes and garage sales—and now they are like collectible pieces of art transformed into usable keepsakes."
Last year, RIT's CHAIRity fundraiser raised $4,000 during the auction that featured 29 chairs and a banjo donated by RIT President Destler, said Carol Reed, senior associate director/manager of Campus Center Facilities who organized both the 2015 and 2016 auctions with Wendy Hagele-Stapf from RIT's Center for Residence Life.
"This year we've nearly doubled the number, and again the artists chose United Way agencies in the Rochester area that they wanted to support—ranging from Lollypop Farm and Make-a-Wish, to St. Peter's Kitchen, Breast Cancer Coalition, Center for Disability Rights and Sojourner House," said Reed. "WOCHA (Women of Color, Honor and Ambition), a program sponsored by RIT's Office of Diversity and Inclusion, designed two chairs: 'UNDEFEATED by W.O.C.H.A' (students) and 'Chair of Inspiration' (Women of W.O.C.H.A. Council). Proceeds from the chairs will benefit the Women's Care Center and Center for Youth Services."
Returning artists to the CHAIRity Auction include David Thelen, who works in ITS Network Support at RIT. He said the focal point of "Mom's Rocking Chair" is a bright nature scene, which offers a refreshing visual break from the chair's bold, bright graphics. "It takes a lot of time to create a piece like this, but I don't count the hours; it is a labor of love."
Associate Registrar Irene Hawryschuk has worked at RIT for 39 years but was an art major in the early 1970s. Now in retirement transition, she is getting back to her artistic roots with "Cub Chair."
"I would work on the chair a little at a time as the paint had to dry between the three to four coats I put on it. The tiger cub painting took a little longer—and I used a number of references to make sure he looked like a cub and not my cat," she said.
Susan Northrup, a kindergarten teacher at RIT's Margaret's House Child Care Center, said when her six students (all boys) learned that someone would buy their chair and the money would benefit people that needed help, they got very excited. "They sanded and sanded, decided where the colors would go, and each student painted one of the slats for the seat of the chair, and signed their name underneath," said Northrup. "When I mentioned that looking at the chair made me happy, the boys said, 'We should call it the Rainbow of Happiness.'"
Chairs will be on display in the RIT Student Alumni Lobby on March 10, and the Campus Center Lobby from March 11-15. Online bidding starts today and ends at 2:30 p.m. on Friday, March 18. Payment can be made via credit card online. For additional information, contact Lynn Rowoth at 585-475-7408 or lynn.rowoth@rit.edu.